Instead of sightseeing around the cities they go to for their professional development conferences, young lawyers from international law firm network Multilaw are pitching in to help in local communities around the world.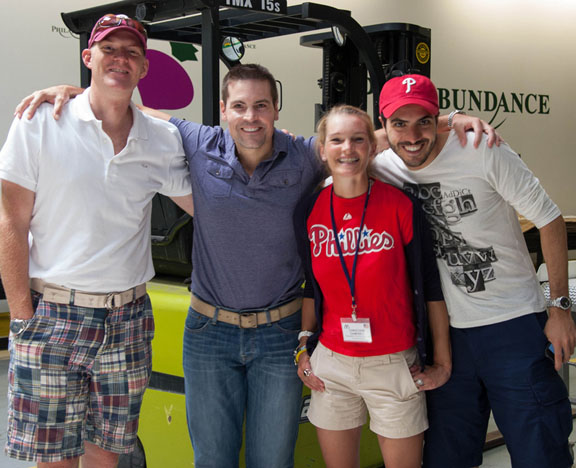 At its training conference in Philadelphia this month, Multilaw lawyers stepped up to help at a local food bank — all part of the network's goal to give back to the communities they work in around the world through its Multilaw Pro Bono Mission.
Multilaw, the Multinational Association of Independent Law Firms, has existed for 20 years and consists of 73 member firms with 6,000 lawyers in more than 150 commercial centres throughout the world including two Canadian firms — Shibley Righton LLP and Miller Thomson in Toronto.
"Multilaw now has an official pro-bono mission and our primary goal is to make a difference in the cities we visit," says Hope Krebs, a partner at Duane Morris LLP in Philadelphia.
The pro-bono initiative includes both monetary donations and hours of service.
"We ask member firms to make a contribution of one billable hour per firm or individual. The billable hour struck a chord with us — every lawyer can relate to what it represents. That's really the way we fund the mission," says Krebs.
From the billable hours project, a donation of €6,865 was made to the Smile of the Child children's charity based in Athens during Multilaw's 2012 European Regional Conference this past May in Greece.
The association also identifies local charities to provide hours of service to during the its weeklong Multilaw Academy for young lawyers, such as the one held recently in Philadelphia.
"Instead of having a sightseeing component to the conference, we helped out at a large local food bank called Philabundance," says Krebs.
All 16 of the academy delegates from 11 countries along with the course organizers took an afternoon out of their study time to take part in service work.
"The reality is our younger generation cares a lot about the welfare of the places they go to," says Krebs. "In the case of Philabundance they didn't want our legal services, they wanted our time to go through the food at the food bank."
The Multilaw Academy serves three functions, says Bill Northcote, a partner with Shibley Righton LLP in Toronto.
"One is the pro-bono effort, and it does cross-cultural and international law training for senior associates. It also builds relationships among the younger lawyers."
About 11 years ago, the network realized most of the lawyers attending its professional development conferences tended to be more senior.
"There was a feeling that in order to ensure Multilaw continued to develop indefinitely we needed to bring a younger generation through and form the leadership base of the association in the future," says Adam Cooke, head of development at Multilaw.
Eric van Emden, a former senior partner from Bosselaar & Strengers in the Netherlands, also saw it as a way to enhance the retention of his associates. The conferences, which move to various cities around the world, became a way for young lawyers to gain some international experience.
"In our firm it's viewed as a sign of appreciation, and the associates who go are on the partnership track and we want to retain them," says Northcote, noting Shibley Righton has sent five associates over the last 11 years.
Bryce Chandler, a senior associate from Shibley Righton based in Windsor, Ont. attended the 2012 Academy in Philadelphia.
"I found the academy to be an excellent opportunity. It addressed cross-border legal, social and cultural issues but also, you're put in a room with 18 to 20 other people with whom you have very little in common and it becomes a lesson in networking and socializing. It also provides excellent insight into business development and getting to know member firms," says Chandler.