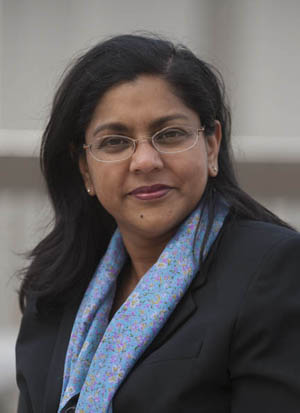 It is one thing to write an academic critique of the Genocide Convention, or to debate the merits of different forms of transitional justice; it is another thing altogether to be present in a courtroom, trying to comprehend that a small, unthreatening-looking man sitting calmly only a few feet away is the same person accused of participating in a mass slaughter of human beings.
Through our summer Public Interest Law/Human Rights Fellowship, law student Janine Lespérance had the unique opportunity to monitor and provide regular web updates on the trial of Jacques Mungwarere for the Canadian Centre for International Justice. This trial is only the second to be conducted under Canada's Crimes Against Humanity and War Crimes Act.
Mungwarere, arrested in Windsor, Ont., is charged with genocide and crimes against humanity for his alleged role in the 1994 Rwandan genocide. He is accused of being one of the murderers in the April 16 massacre at the Mugonero church and hospital complex — an incident in which some estimate 3,000 people were killed — and of partaking in the subsequent, systematic hunting down of any Tutsis who had until then eluded death.
The trial began in late spring. Between May and July, one American expert on Rwanda, three RCMP investigators, and eight Rwandan witnesses testified for the Crown. The trial was then adjourned and will resume Oct. 9, when the defence will call its first witness.
Here is Lespérance's clear and thoughtful account of international criminal law in action in a Canadian courtroom:
As an observer, I was free to form my own opinions on the strengths of the evidence, take note of different interrogation techniques, and closely study the reactions of witnesses to different questions. For me, the trial highlighted some of the many challenges inevitably confronted in the domestic prosecution of crimes that occurred in a different country.
Even before getting to trial, the RCMP faces certain constraints in its ability to investigate crimes committed abroad. The lead investigator in this case testified that he needed to secure the approval of foreign officials to operate on their territory, and that aides supplied by the Rwandan government were used to help locate potential witnesses in an unfamiliar land. There is no doubt that cultural and linguistic barriers affect investigations, and are a factor in trials as well.
Mungwarere's trial was mainly conducted in French, although the American expert and one RCMP investigator testified in English, and one of the defence lawyers sometimes raised objections in English. The Rwandan witnesses, all but one of whom testified by video link from a hotel room in Kigali, testified in Kinyarwanda, translated into French for the court by the two interpreters in Ottawa. In the case of disagreement, the Crown had its own interpreter who could be called upon. There were also translators in Rwanda, who occasionally interjected, and the accused himself would sometimes voice concern if he thought an expression had been incorrectly translated.
The importance of precise translation in the trial of someone accused of what is often referred to as the "crime of crimes" cannot be overstated. One aspect of the defence strategy was to challenge the witnesses' credibility by suggesting inconsistencies between past statements and testimony in court. Defence efforts were complicated by the fact past translations of these statements were not always accurate.
There was, however, plenty of material for the defence to refer to during its cross-examination. The Crown's Rwandan witnesses had previously testified about the genocide in various other contexts, such as in U.S. immigration hearings, Dutch criminal proceedings, at the International Criminal Tribunal for Rwanda, and the Rwanadan community-based gacaca court system.
The defence pointed out when witnesses had failed to mention Mungwarere's name in prior testimony. In response, several asserted that there was no way they could have named every
génocidaire
they knew, because they saw so much murder.
Indeed, all the Rwandan witnesses had survived truly horrific experiences, which they recounted for the court.
Some seemed incredulous when challenged on the details of their account, or even reacted as though their character was under attack. The indignation of one of the witnesses, an 81-year-old woman, was obvious throughout her cross-examination. At one point she affirmed, "I'm not crazy!" with great exasperation.
Another witness, after being asked about the quality of a makeshift bandage for a gunshot wound, retorted, "You think we were on a picnic?"
In addition, some of the witnesses were confused about the roles of different people in the courtroom, and about why they were interrogated about individuals or matters that to them appeared to have little to do with their allegations against Mungwarere.
It is remarkable that criminal trials can now be conducted with the participation of witnesses testifying from overseas. However, using video technology does have limitations. In this trial, it exacerbated misunderstandings about the legal process and its actors (witnesses abroad cannot see everything going on in the courtroom on the video screen), caused delay when the technology failed, and made it more difficult for witnesses to estimate distances using spatial references in the courtroom.
The defence also objected to the way in which witnesses were asked whether they recognized Mungwarere. The camera would be focused in on him, rather than the typical request to identify the accused among the people present.
One memorable moment from the trial was when one of the witnesses exclaimed, "That's him! He looks like his dad!" upon being shown Mungwarere on the screen. There was mutual recognition: he waved to her and she laughed, which was a bit puzzling. She had just recounted her narrow escape from a church under attack, and seeing Mungwarere, armed with a rifle, among the attackers.
Dealing with the fact that one's neighbours committed grotesquely violent acts is a challenge that, thankfully, most Canadians have never had to confront; but it is important to realize that an estimated 1 million Canadians suffered through terrible violence in their countries of origin before coming to Canada.
Trials like that of Mungwarere help to assure them that Canada is doing its part to promote accountability, deterrence, and ultimately, respect for human dignity. It contributes to the sense that, for them, Canada is a refuge.
The Mungwarere trial is historic, and prompts reflection about how to overcome the difficulties inherent in the exercise of universal jurisdiction, and the best way that Canada can contribute to the construction of a global rule of law. It remains to be seen what kind of effect the verdict, and the lessons learned in the process leading up to it, will have on the future of Canada's crimes against humanity and war crimes program.
As the defence presents its case this fall, I will continue to closely follow the trial of Jacques Mungwarere.
To learn more about the Mungwarere trial please visit the
CCIJ web site
.