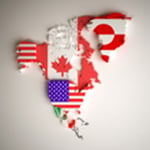 Investment claims have overtaken trade disputes as the leading trend of cross-border legal action related to the North American Free Trade Agreement, says a study released last week by the C.D. Howe Institute.
"The decline in trade disputes may be due, in part, to increased integration of the two economies and to the rise of global supply chains, making the Canada-U.S. border, in this sense, less significant to business dealings," says Lawrence Herman, the report's author and a partner at Cassels Brock & Blackwell LLP.
And Canada leads the pack with 28 investment disputes filed against it since NAFTA's inception in 1994. By comparison, the United States faced only 17 claims, while Mexico dealt with 15, the study shows.
Canada has had to pay US$23 million so far, but there are still 15 claims pending, the study says.
The claims are filed under NAFTA's Chapter 11, which allows corporations or individuals to sue Canada, the United States, or Mexico for compensation when actions taken by those governments or sub-jurisdictions like provinces, states, or municipalities have adversely affected the companies' investments. Canada has largely been targeted for individual provinces' actions. For example, Quebec and Newfoundland have been involved in high-profile cases.
The study, which looked at trends in NAFTA disputes over the past 15 years, shows Canadian companies and their legal counsel have not been as successful with their claims against the United States, with 11 arbitration cases involving both federal and state measures having been dismissed by arbitration panels.
In one
high-profile case
, Vancouver-based Methanex Corp. filed a US$970-million suit against the United States, claiming a California ban on a substance deemed by the state to be bad for the environment was hurtful to the corporation's sales of methanol. In the Aug. 3, 2005, judgment, a NAFTA arbitration tribunal ruled against Methanex.
The company was ordered to pay US$3 million to the U.S. government in costs.
"Methanex's claim is precisely what the NAFTA Chapter 11 was intended for," the Canadian company said after the decision. "Chapter 11 explicitly provides mechanisms for resolving disputes of this kind. The NAFTA's basic purpose is to liberalize trade and encourage investment. The actions Methanex took were designed to protect its U.S. investment against the kind of arbitrary action California has taken."
In its arguments, Methanex also pointed out that many U.S. investors had sued the Canadian government under similar circumstances and achieved a settlement.
A major issue in Canada is that a growing number of these investment disputes entail challenges by American investors against Canada's provincial, as opposed to federal, laws and regulations, says Herman, adding there are constitutional issues that need to be addressed in order to clarify federal and provincial responsibilities.
"As party to the treaty, Ottawa must carry the ball in court," says Herman. "Who is really responsible? Who pays when the provinces, or municipalities, run afoul of Ottawa's multilateral commitments?"
The study offers as a solution that given these unresolved questions, consideration should be given to a federal-provincial understanding or protocol-settling responsibility for payment of NAFTA awards that concern provincial measures.
"Some sort of pragmatic arrangement, in the best traditions of Canadian federalism, would help resolve issues in what appears to be increasing challenges to provincial, and potentially, municipal actions," the study says. "Such an agreement need not be black and white and should be flexible enough so avoid the extreme case of a province having to pay an inordinately large sum."