In what president Helen Beaulieu calls a surprise, the Law Society of New Brunswick upheld a decision today to approve degrees from the Christian-based law school of Trinity Western University.
The LSNB council had accredited the program last June in a vote of 14-5. However members of the law society later voted 137-30 asking the council to reverse its decision.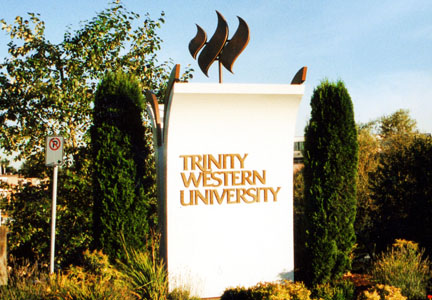 This morning's vote after an hour-long debate ended with 12-12 tie on the second ballot, and thus the
motion
to rescind the accreditation failed.
Like all the debates over approval of TWU's law school, it centred on the university's controversial community covenant that asks the students to refrain from "sexual intimacy that violates the sacredness of marriage between a man and a woman," a stipulation critics argue is discriminatory against LGBTQ individuals.
After the vote, Beaulieu told reporters she was surprised by how the vote turned out and that it showed how complex the issue is in terms of balancing rights. She notes it's going to be up to the courts to decide.
Last month, TWU spent two days battling the Nova Scotia Barrister's Society in court. It had voted in April to ban Trinity Western students from its bar admission program unless the university dropped or changed the covenant. The university took the society to court, arguing the ban amounts to religious discrimination.
A similar case in Ontario, where the Law Society of Upper Canada voted 28-21 in April to reject TWU's law school bid, is set to begin the week of Jan. 19. And in mid-December, TWU l
aunched a lawsuit
against the Law Society of British Columbia, which voted to deny accreditation after initially approving it.
The university's law school has been approved by the Federation of Law Societies of Canada, as well as the provinces of Alberta, Saskatchewan, Prince Edward Island, and the Yukon.