Nominations for the Law Foundation of Ontario's Guthrie Award are now open.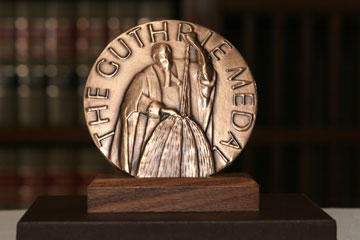 Nominations for the Law Foundation of Ontario's Guthrie Award are now open.
Created in 1996 to honour H. Donald Guthrie, a Law Foundation trustee for 21 years, including 13 years as chairman, the Guthrie Award recognizes individuals who have devoted their careers to improving access to justice.
The number of nominations varies from year to year, and Tanya Lee, chief executive officer of the Law Foundation, says it's a hard decision to choose recipients each year.
"We're not looking for one type of person. We know many people work in different sectors with regards to providing better access to justice, and there's a strong range of nominees, so it's hard to choose," she says.
Guthrie Award winners have many different legal backgrounds, varying from community legal clinics, the judiciary and non-profit organizations. Past recipients of this award have improved the youth justice system, advanced justice for Indigenous communities, assisted women in abusive situations, and strengthened community clinics to help the poor.
Here are some of the previous recipients of the Guthrie Award in the last 10 years:
In 2017, professor Reem Bahdi won the award for being the Canadian Bar Association's first equality adviser and assisting in creating the Arab Canadian Lawyers Association.
In 2015, Julie Matthews won on merit; she was highly respected in the justice and non-profit sectors and was involved in many projects that allowed individuals to seek legal aid and educated legal professionals and the public on the law and the resources that were available to the powerless and poor.
In 2014, the award was presented to Kimberly Murray, who improved access to justice for Aboriginal Peoples as well as her public service as an educator, attorney and community leader for 20 years.
In 2013, Justice Stephen Goudge was recognized as one of Canada's most respected appellate judges and an inspiration outside of the Ontario Court of Appeal for his activities aimed to promote access to justice.
In 2011, one of the University of Toronto's Faculty of Law professors, Judith McCormack, won the award for her lasting impact on her students entering the legal field and her success in achieving systemic changes in legal clinics, law schools and the tribunal sector.
In 2009, the recipient of the award was not a person, but the Barbra Schlifer Commemorative Clinic for its stance and involvement in addressing the underlying causes and immediate consequences of violence against women.
In 2008, Alan Borovoy won the award for his four decades of leadership, specifically as an advocate for the Canadian Civil Liberties Association.
"We hope this award is meaningful to others as much as to the law foundation because we are engaged with this and we all strive for the same goal," Lee says.
The nomination period ends May 17. For more information on submitting a nomination, visit the Foundation website.