If it looks like legal services, it probably is legal services, a judge found last week in issuing an injunction against a non-lawyer who argued he was simply providing clients with his own intellectual property.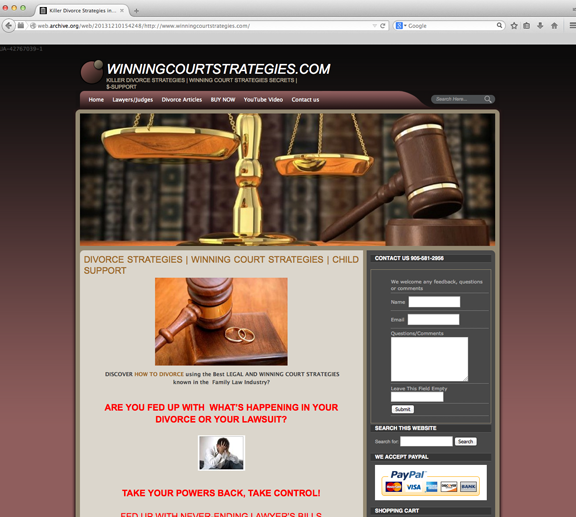 On Aug. 11, Superior Court Justice Frederick Myers issued his reasons for an injunction against John Dzelme prohibiting him from providing legal services and ordering him to remove his web site, winningcourtstrategies.com, from the Internet.
According to Myers, Dzelme prepared documents for use in clients' family law proceedings, gave his views as to strategies to adopt, researched and explained case law, and "otherwise provides many of the services provided by a lawyer in connection with family law proceedings." As part of his services, he had clients enter contracts acknowledging he wasn't a lawyer and couldn't provide legal advice.
"Anything I say are my thoughts," says Dzelme, who argued copyright protection for his work. And while he may have helped clients with documents, Dzelme says they weren't necessarily for use in court. "I have no idea what they do at the end of the day," he says, adding his contract with clients noted the services weren't for that purpose and that if they chose to do otherwise, it was of their own volition.
"The whole purpose of this is for educational information for my clients."
In previous litigation seeking payment for "consulting and legal services" provided to a client, the Divisional Court rejected Dzelme's argument his services were all educational activities and support.
According to Myers, Dzelme suggested he was providing educational services by selling videos on topics such as how to create a compelling factum, how to appeal a judge's final order or judgment, and how to appeal a Small Claims Court judgment in Ontario. But Dzelme says the videos were also for education.
"It says right in the video it's for education. It's not for legal services," he says.
In the current case, he also argued the former clients who complained about him had fee disputes with him and suggested his work was his own intellectual property. In addition, he argued a constitutional violation based on the fact he couldn't get a fair hearing in Ontario. Myers, however, rejected his claims.
"During the hearing, Mr. Dzelme confirmed that he conducts legal research for his clients," wrote Myers in
Law Society of Upper Canada v. Dzelme
.
"He said that he analyzes and synthesizes the relevant legal principles and provides his views on the applicable law to his clients to help them in their proceedings. Understanding and advising on the relevant law in relation to a proceeding before a Court is a central, fundamental legal service. Both in person and through his website, Mr. Dzelme is offering legal services to the public in Ontario despite his lack of a licence."
Dzelme, however, is vowing to press on with his case.
"If I go to court and give moral support and they're willing to pay for that, that's not legal services," he says.
He also says while one Small Claims Court deputy judge found he was providing legal services in violation of the Solicitors Act, the legislation itself doesn't define those services.
"This is a very dangerous precedent in our country. The disclaimers mean nothing anymore," he says of the disclaimers on his web site, which is no longer operational.
He's hoping to appeal the ruling and suspects the case could go to the Supreme Court of Canada.
"If they want to ratchet up their fight against me, good luck."
Update
Aug. 19: Comments from Dzelme added.