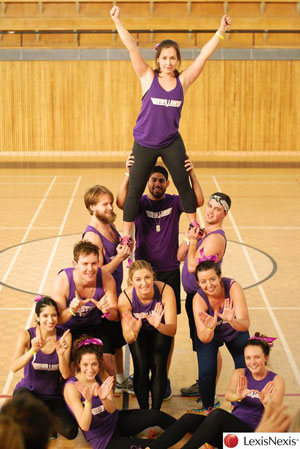 Dalhousie University's law school made the hometown crowd proud coming out as the overall winner of this year's Law Games.
The university was also host of this year's games, which boasted a variety of social events, a trivia competition, a talent show, 15 sporting events, and a moot competition, judged by Dalhousie faculty and a few bilingual third-year law students.
Despite ultimate frisbee being cancelled due to a bad snowstorm on the second day, Ben Pearson, a Dalhousie Schulich School of Law 2L and one of three Law Games directors, says this year was a success.
On Jan. 2, law students from across Canada descended on Dalhousie University in Halifax, N.S. The 640 students from 19 schools came to compete, to network, to learn — but most importantly, they came to let loose before second term picked up again.
Every year, law students gather at a host law school to participate in a variety of events. It is known as the Law Games, the largest gathering of Canadian law students. It has evolved from a one-day, single hockey tournament to a four-day stretch filled with academic and athletic competitions, a talent show, moots, pub crawls, and a formal dinner.
"It was nice to have a hometown victory," he says, especially considering that victory was snatched from Western University, who won the games the last three years in a row. Western didn't leave empty handed however — they brought home the Spirit Cup this year.
Other winners included Queen's University, which took the gold in basketball, University of Sherbrooke, which won the volleyball competition, and the University of New Brunswick's team who beat all in ping pong.
In the moot, Dalhousie lost in the final by one point; McGill took home those bragging rights in the end.
The University of Saskatchewan stood out among the crowd during the talent show, says Pearson. One team member put together an acoustic set and was called on for two encores — a fan favourite for sure, says Pearson.
David St. Bernard, a 2L at the University of Toronto and one of three team captains from the school, says their greatest achievement was winning for best "lip dub" video, a selection of songs the team dubs over with their own lyrics made up of law-themed references and jokes.
He says the tradition of the games is important because it creates "lasting ties" between law students across the country. The Law Games are a great opportunity to network in an informal manner, he says, while also enjoying an "often needed and hard-earned break after the fall semester."
A varsity athlete during his undergrad, after attending last year's Law Games, he knew he'd like to put together a team and compete in the sports section of the games.
"We did well; we made the semis and finals in a lot of events," says St. Bernard, specifically remembering a heartbreaker in the flag football finals.
"We had a strong showing . . . so we were proud and definitely made a statement that we've got a good bunch of athletes at our school and showed our intention to be more of a force than in years past."
Law school can be mentally taxing, he says, and the Law Games can be "one of the mechanisms to release some of the pent-up stress."
As for memorable moments, St. Bernard has nothing but praise for Pearson and his fellow directors.
"Dal was a great host," he says. "They had indoor beach volleyball courts for one of the nights — it was a surprise and after the talent show they opened it up, which was great."
In Pearson's view, the Law Games is "a really cool and different event because it's not often you get 700 law students from all corners of the country coming together."
"A few of us decided we wanted to put in a bid for Dalhousie to host it because it's never hosted it before," says Pearson, who attended last year's Law Games at McGill University in Montreal. "It's a fun way to bring people to the east coast."
He mentions "Law Games relationships" where you meet people during the games and look forward to meeting up with them again the following year, and then "maybe four years down the road across the bench in a courtroom." It's nice to have the opportunity to develop relationships with law students across the country, and foster relationships early, he says.
So in February of last year, Pearson and the other directors put in the bid to host and found out in March they'd won it.
"It got real then. Since then we've been planning away until those last four days when it all came together."
One of the challenges the host school faces is drumming up sponsorship. Pearson says they got support from Stikeman Elliott, Lawson Lundell, Norton Rose Canada, some smaller Atlantic firms, and LexisNexis.
In a more unique sponsorship agreement, Pearson sat down with the CEO of CanLII who had the idea of organizing a competition to boost CanLII Connects' access to justice angle. CanLII offered to put forward prizes to help law students cover travel to Halifax, based on which school could make the most contributions to CanLII Connects. Essentially the law students had to write case summaries and post them on CanLII Connects. Overall, there were 3,100 contributions for over 1,000 different cases — a big contribution by law students, Pearson notes.
So what will Pearson be looking for when the organizing committee is judging the bids from host hopefuls for next year?
"Essentially the ability to host 700 students," he says, which is a tough task for a lot of cities. But besides the logistics, Pearson says the bottom line is the ability to "put on a fun, bilingual, welcoming environment."
Check out the games' official Facebook
page
as well as Instagram pics using the hashtag #LawGames2015 and the wrap up video below.