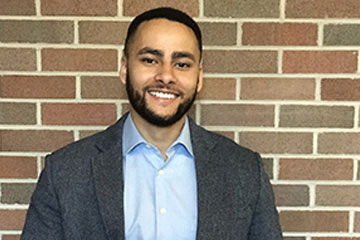 For the first time since its inception in 1958, the Osgoode Hall Law Journal has its first black managing editor this year and he recently received a special recognition during the law school's Black History Month closing ceremony Monday afternoon.

Michael Thorburn, a 3L student at Osgoode Hall Law School, received a plaque of recognition for being the law journal's first black managing editor.

"I thought I wasn't deserving of any kind of recognition. My race has never crossed my mind when I execute my duties as managing editor," says Thorburn, who was elected into his role last year by a senior board of students on the law journal. "But this is something that's bigger and more important than how I might feel internally."

The publication's executive editor, Joe McDonald, recently stumbled upon information that Thorburn is the first black managing editor of the law journal.

"When he was elected, I figured that it's 2016 so surely there's been a black managing editor before," says McDonald. "I mean, Barack Obama was the first black managing editor at Harvard [International Law Journal] in 1990, which was decades ago. I guess I just assumed it wasn't an issue."

The Osgoode Hall Law Journal has had other people of colour in leadership roles prior to Thorburn, such as editors of South Asian and Middle Eastern descents. According to Thorburn, he's the only one who's received recognition for his race in his role.

When asked why he thinks this may be the case, he said that perhaps it's a reflection of expectations for black students. "Maybe black students have faced a rougher road in the history of Osgoode. I don't know. But I look forward to the day when you don't even have to write a piece in a magazine to commemorate a black managing editor because I want it to be normalized," he says.

"It's through shining the light on the firsts that allows us to inspire the seconds, thirds, and fourths of tomorrow," he says. He concluded by saying that "by documenting these moments we can make our contribution to the history of Osgoode Hall Law School — hopefully students can look back on this a few decades from now, when progress has inched a little bit further, and point to it as significant."

Thorburn and McDonald agree that although it's a step in the right direction for diversity, there's more work that needs to be done.

"It's not about diversity for diversity's sake. It's the idea that as a group or lawyers or as a bar, we can serve clients better if we have diversity amongst lawyers because you could understand things from different perspectives," says McDonald. "I'm a very big proponent of diversity for the sake of better client service rather than because we can check the box that we have a black managing editor."

Currently, the law journal doesn't explicitly have a policy in effect for diversity when it comes to electing individuals for executive roles. But it does look for diverse candidates who bring fresh perspectives and different views on journal topics.

Thorburn says he couldn't have done it without the support of the team, his friends and mentors.