Law Society of Upper Canada benchers voted by a large margin on Thursday to limit parental leave benefits to lawyers with to low-net practice income.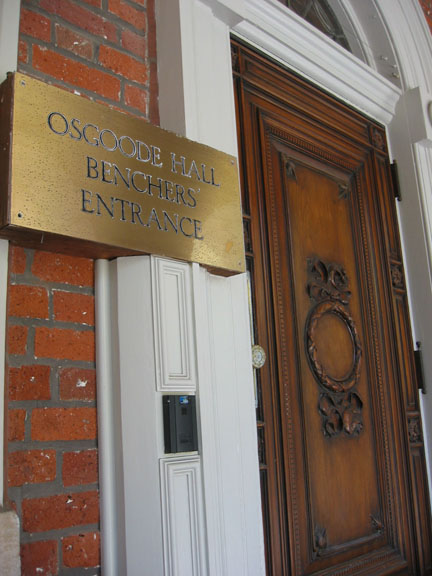 Starting in 2014, only lawyers whose net annual practice income is below $50,000 will be able to access the
Parental Leave Assistance Program
, a modest benefit package meant to cover new parents' overheads while they are on maternity or paternity leave.
Benchers will decide if PLAP, a three-year pilot project, should be made permanent after a committee studies whether it has achieved its goal of retaining women in the profession.
A significant number of women leave the law after five years of practice. According to the law society's retention of women initiative, that's mainly because they give birth.
But PLAP may no longer be necessary or as effective as originally believed, argued former treasurer Laurie Pawlitza. One of the pioneers of the program in 2009, Pawlitza presented on Thursday what she said were "surprising results" of the program.
Sixty-five per cent of PLAP beneficiaries have a household income of $110,000 per year, she said. And while the program's goal was to help lawyers keep their practice open while they're on parental leave, 47 per cent of their "closed their practice altogether during their leave," Pawlitza added.
PLAP is a program "for which I cared the most," she said. "But my time as a treasurer has made me realize that my passion has to be tempered by asking questions."
Pawlitza said in 2009, "there was no other financial support program in place. We believed that our access to justice mandate because women would continue to serve in geographic areas where access is limited."
The EI Special Benefits was launched in 2010 and runs concurrently with PLAP. EI Special Benefits gives new parents 55 per cent of their average weekly net income the previous year. Now that the EI program is in place, some say PLAP is redundant, costly and even "elitist."
But defenders of PLAP argue it's the only benefit that makes sense for new mothers who are lawyers. They criticize the EI program as unrealistic and financially burdensome because it requires recipients to pay premiums a year prior to claiming benefits. Women will not even be pregnant by the time they are expected to pay into their maternity leave, said Bencher Beth Symes, who calls PLAP a "successful and cost-effective."
The EI program also involves a lifetime commitment to pay premiums.
The Criminal Lawyers Association, Family Lawyers Association, and Immigration and Refugee Lawyers Association all strongly urged the law society to keep PLAP.
Bencher Julian Falconer agreed with Symes, suggesting that axing PLAP would not only disadvantage women but also damage the public's perception of the law society.
"There's an overriding interest in the issue not just within the profession but in the public as well," he said. He added it's no secret that "something happens to women in their first five years of practice that does not happen to men."
Ex-officio Bencher Clayton Ruby took the argument one step further. "PLAP may not be enough," he said. "It's not acceptable to keep incurring the loss of women [in the profession]. We have to do better."
In the end, benchers voted 37-5 in favour of more analysis into the program's effectiveness before deciding its fate.
"We're delighted that the program has been extended," said Breese Davies, co-chairwoman of the working group on women in criminal law at the Criminal Lawyers Association who lobbied to keep the program alive. "It's a huge victory for the women in the profession."