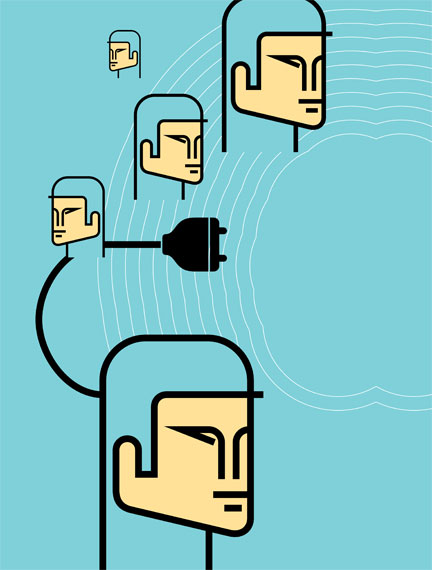 Even before Canada's immigration laws became more complicated earlier this year thanks to a series of changes to the temporary foreign worker rules, Robert Piasentin was using specialized immigration law boutique firms to help the company he works for navigate the often perplexing world of immigration law. "We've had to do a lot of cross-border resourcing because we have projects in Canada and the U.S. and to a lesser degree overseas as well," explains Piasentin, general counsel for Vancouver, B.C.-based IT consulting firm Sierra Systems.
As the only in-house lawyer for the company in Canada, Piasentin says using the services of a boutique firm gives him access to lawyers who are current on the latest in immigration law and can provide quick service. "Because of the minefield that is immigration — if you screw it up even once and get on [the government's] list as being a company that is not complying with immigration requirements it creates a lot of headaches."
Piasentin says Sierra Systems has been increasingly cognizant of that risk and has tried to stay "on side" whenever the company is doing anything involving immigration. "Some of the bigger firms we work with do have the immigration people we could rely on but we've chosen to go to a couple of immigration boutiques — here in Canada and one in the U.S. — that have provided us with the requisite advice for immigration issues."
The costs are probably a little lower, Piasentin concedes, but that's not the primary reason he chooses to use them.
"They still charge a reasonable amount for the work they are doing but the main reason we go that route is because it is such a highly specialized area. Especially with the visas we need for our resources crossing the border, we tend to have the same kind of applications going before the immigration authorities. The firm we use has an intimate knowledge of the temporary foreign worker program in Canada."
But not all of the external legal work from Sierra Systems goes to boutiques. For example, employment law matters specific to B.C. are primarily handled by one partner the company has a connection with at Lawson Lundell LLP. "Really, it's because of a relationship we've had with him and the advice he's given us over the last 10 years. Some employment boutiques may be cheaper but we've been happy with the work he has done with us so we have stuck with him," says Piasentin.
On the trademarks side, the company uses a full-service firm in Canada and in the U.S. the work goes to a firm in Seattle that only does trademark work for them. "The advantage with the bigger firms is if the issue crosses borders it has been easier to co-ordinate logistically when the firm has offices across more than one jurisdiction," he says.
Boutiques make up the bulk of the outside legal services Mark Johnson, of Toronto-based software company Infusion, turns to when sending more complex matters to external counsel, primarily in the areas of immigration, real estate, and labour and employment law. Johnson is part of a three-member in-house team that is often juggling a number of matters that require some external support. "We use boutiques that have specialized knowledge in the area we need. We don't often need huge multi-service law firms; the questions we have on transactions for which we need legal advice are usually on the smaller side. We don't require a lot of multidisciplinary teams and because of that we use small boutiques so we get all the expertise we need but we also get it at a lower price and with good responsiveness," says Johnson.
Infusion also uses boutiques in England for the company's real estate, HR, and immigration needs. The company has quite a few immigration requirements around the world and also uses boutiques whenever possible. "In the U.S., we use HR firms that do just HR law and also tap privacy experts as needed as well," he says. "In England the billables are significantly less as well."
In Ontario, Infusion primarily uses Filion Wakely Thorup Angeletti LLP for labour and employment. "We can get a good answer from them, pretty quickly," he says. For immigration matters Infusion uses a legal service provider called Emigra, which has an office in Toronto. "They have their own captive law firms around the world so we rely on those particular law firms," he says.
There are definitely practice areas that lend themselves well to boutiques, says Nissan Canada general counsel Fernando Garcia. For Nissan, labour and employment and real estate are the primary areas where work is sent out to boutique firms. "In my experience, labour and employment law is perfect for the use of boutiques in dealing with one offs like grievances, terminations, employment contract advice, human right claims, etc.," says Garcia. "The caveat is that where labour and employment is part of a larger transaction [like M&A], that is when it is often better to use a larger firm's labour and employment team as a way of consolidating work and for efficiency purposes.
"Often if it is not a Bay Street-based firm a boutique is spending a lot less in overhead costs. You save some money and you're not losing skill. In many cases they were in larger firms or became part of a specialized group," says Garcia.
The ability to negotiate terms and conditions can also be easier with a boutique. "Cost is obviously an issue, but also if you're not a large institution client and you go into a big firm it's harder to get their attention whereas with a boutique you tend to get better service," says Garcia.
Some in-house counsel say the hourly rates at boutiques are creeping up and the gap is slowly closing as other services become available such as with alternative service model firms such as Cognition LLP and Conduit Law PC. "I'm not sure current rates will be sustainable — people need to push down not up," says Garcia.
Steve Kahansky, general counsel with Mattamy Homes Inc., uses boutiques more often than full service firms. Mattamy has offices in Ontario and Alberta and several in he U.S., including Florida, Arizona, Minnesota, and various offices within each of those states. Mattamy has two in-house lawyers including himself. "It's a very large company so it's impossible to do it all in-house," he says. "Most companies have a major go-to law firm and then fill in some gaps that firm can't provide with boutiques. We on the other hand make use of a lot of boutiques across our various divisions and 12 offices."
Kahansky says he tries to be "very strategic" in how he hires boutique firms. "We don't view firms as fungible — a lawyer isn't a lawyer isn't a lawyer — it all comes down to the expertise and relationship with the individual working on the file. That's kind of core to what boutique firms are all about. I think to a certain extent expertise in a particular area is just table stakes — there are other qualities we would look for in choosing any given boutique."
For Mattamy the range of work they send out to boutiques includes its "bread and butter" — real estate — but also labour and employment and intellectual property. "It's very important to us they have knowledge of the local market. We need, and get, alternate billing arrangements so we look for receptivity to that. In almost every case we also have a relationship manager with that firm — a go-to person so we know we are being listened to when there is an issue," he says. "The hourly rate is still a default setting in many situations but with many of our boutique firms we do have either flat fees or some other type of arrangement."
The fees aren't always less, but Kahansky says for him it's about balancing cost and reliable relationships with good advice:
"It is fair to say if you are going with a boutique and the fee isn't less than what you'd pay a large firm you're probably getting something else out of the relationship that keeps you there."
To find out about the top boutiques in Canada as determined by
Canadian Lawyer
magazine, visit the full digital edition of
Canadian Lawyer InHouse
December issue here:
http://digital.canadianlawyermag.com/i/428615