Queen's University Faculty of Law is making business law "a major area of strategic priority" with the announcement today that professor Mohamed Khimji has been named the inaugural David Allgood Professor in Business Law.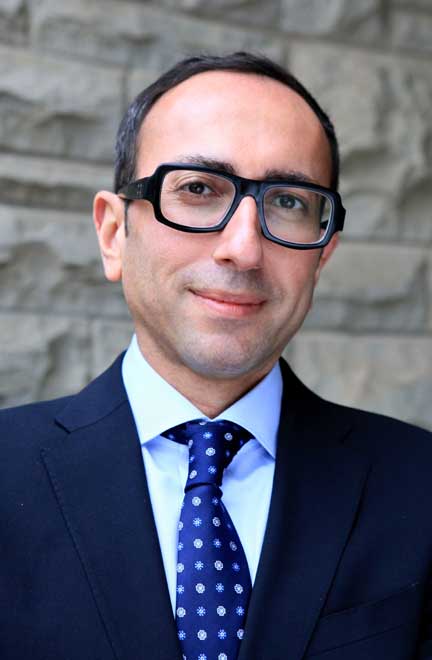 The Allgood professorship is the first privately funded professorship at Queen's law. It will provide leadership for the faculty's business law program and enrich the faculty's research capacity in the field.
"I'm very pleased with the generous support our alumni have shown in establishing the Allgood professorship, and equally pleased to be welcoming a scholar of professor Khimji's renown as the inaugural Allgood Professor," says Queen's law dean Bill Flanagan.
"Building on our existing business law programs, including the Bader International Study Centre program in international business law, the Queen's Business Law Clinic, and the Law '80 Visiting Scholar in Business Law program, professor Khimji's leadership as a researcher, teacher and mentor is going to vault our entire business law program to the next level."
Khimji, whose background has been in corporate securities law, will begin his term at the law school in July. He is currently the Stephen Dattels chair in Corporate Finance Law at Western University. He holds an LLB from the University of Bristol and an LLM from the London School of Economics and Political Science.
His main practice experience has been on transactions.
Khimji says he's pleased to have the opportunity to lead the design and development of Queen's business law program.
"I look forward to working with my new colleagues in enriching the academic program through offering an elevated curriculum designed to facilitate long-term student success and to establish Queen's Law as a focal point for high-level research activity in business law."
Khimji says the business law program is a "major area of strategic priority" for the faculty and has the support of alumni, which he says is "essential" for its continued success.
"That struck me as an exciting opportunity with the resources in which to make the program a success — it's the ideal situation, really," he says.
The professorship is named for David Allgood, who graduated from the law school in 1974. Allgood is currently counsel at Dentons Canada LLP in Toronto. He was previously executive vice president and general counsel for Royal Bank of Canada. Allgood is a member of the Queen's board of trustees and audit and risk committee and served as chairman of the dean's advisory council in the Faculty of Law from 2006-2012, remaining on the council in the role of past-chair.
"It is an incredible honour to have a professorship named for me at my alma mater," says Allgood. "I have the utmost confidence that Professor Khimji will help solidify Queen's Law's position as a leader in business law education in Canada."
Allgood says Khimji is a "well recognized scholar of business law" and will bring a "broader focus" to the school.
Khimji says a business law education is important, not just for those who want to begin as a corporate lawyer or litigator — he says students "need to be engaged with contemporary business law issues. Everybody knows business activity is what drives economic growth and prosperity."
Khimji has been appointed for an initial term of five years and it is a renewable position.
When he arrives at Queen's later this year Khimji will lead the development of the business law program and will include enhancing student educational experience but also faculty research.
On the research side, he says the goal is to establish Queen's law as a focal point for high level research activity and business law.
The Allgood Professorship was created through contributions of Queen's Law alumni and donors, who raised a $1.5 million endowment to support the position. The professorship is part of a larger, ongoing strategic initiative by the faculty to continue to strengthen its business law programming.
A number of significant gifts were received in support of the Allgood Professorship, which the Alberta Alumni Council adopted as its fundraising project. Law '84 launched a class giving campaign to support the Allgood Professorship in celebration of its 30th anniversary in 2014, and has raised a total of $200,000 with a goal of $250,000 for its 35th anniversary.