Queen's University law students Adam Sadinsky and Ian Moore have turned a friendly rivalry — in the form of a bet on opposing Grey Cup teams — into a fundraising initiative for a local refugee relief fund.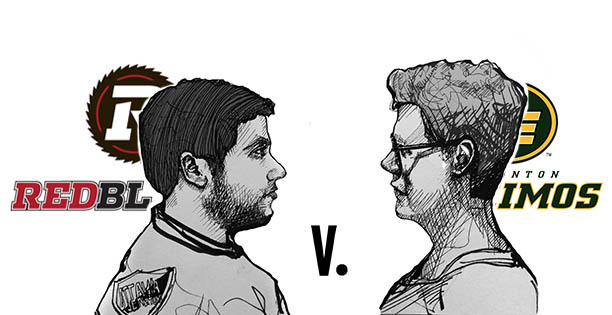 "We thought it would be a fun thing," says Sadinsky, "and we are able to help some people out as well."
Sadinsky says the fundraising initiative was so popular because people "feel very strongly about Canada's obligation to bring in refugees, but at the same time don't exactly know how they can help out, and this was a very easy way."
The avid football fans are both in third year law at Queen's in Kingston, Ont., and are founders and creators of the student newspaper Juris Diction. And they apparently already think like premiers of Canada.
Alberta Premier Rachel Notley and Kathleen Wynne, her Ontario counterpart, recently had the idea to make a similar friendly bet, but the law students came up with it first, says Sadinsky.
According to the the Alberta premier's Twitter account, Notley called Wynne out with "#GreyCup bet? Loser wears opponent's jersey in the House to boast about the winning province" and donates to help Syrian refugees of that province.
Sadinsky hails from Ottawa and Moore is from Edmonton, which made the two friends natural rivals in this year's Grey Cup.
A week prior to the Edmonton Eskimos v. Ottawa Redblacks game on Nov. 29, the students published their wager on the official Queen's Faculty of Law Facebook page. Rather than having the winner keep the loot, students promoted the wager via a local newspaper offering law students to make their bets with proceeds going to future Syrian refugees who would be coming to Kingston.
"We decided to keep it local," says Sadinsky, "I think that local aspect helped out," referring to how donations "snowballed."
Prior to the game students used the Tilt app for donations while announcing the team they were rooting for on Facebook.
Due to the amount of attention the initiative received, they decided to keep the good will flowing until this Friday, Dec. 11. To date they've rasied $590.
Sadinsky says this isn't the only initiative going on at Queen's law. A group of law students have been working since September "to get ready to provide legal assistance to refugees and people sponsoring refugees . . . coming in."
A larger overall initiative to help Syrian refugees is also in the works, he notes.