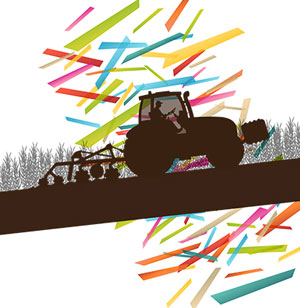 The recent economic downturn in Alberta has spilled over in part to Saskatchewan and Manitoba, but not to anywhere near the same degree, and that means it hasn't affected the amount of legal work being conducted by in-house counsel in those two provinces. In fact, some departments are expanding because of an increased focus on privacy and compliance issues, as well as ensuring that companies are not being used as a base for money laundering or terrorist financing.

Even in the agricultural sector, the potential for funds being directed for improper purposes cannot be overlooked, says Valerie Macdonald, general counsel and integrity officer at Farm Credit Canada. "Knowing your customer is a big thrust in our organization," she says. "The agricultural sector is not immune from possible terrorist financing activity. We are increasingly aware we could be a target."

Farm Credit Canada is a self-sustaining federal Crown corporation and the leading provider of financing and other services to the agricultural sector in Canada, with a current loan portfolio of more than $28 billion. It has more than 100 offices across the country, mostly in rural communities, with its corporate office in Regina.

The corporation is governed by the Farm Credit Canada Act, not the Bank Act, but Macdonald says it is looking to emulate the compliance requirements on financial institutions. "We have been proactively looking at those regimes," she says.

In terms of the overall economy, the most recent data issued by Statistics Canada indicates that Saskatchewan and Manitoba have felt some negative impact in the past year. The unemployment rate in April of this year was just over six per cent in Manitoba, up slightly from the year before. The boom period in Saskatchewan has slowed down, as a result of the volatility in the resource sector. Its unemployment rate in April was 6.3 per cent, up nearly two per cent from the same period 12 months earlier. Still, both provinces are below the national unemployment rate of 7.1 per cent and have a weekly average income above that of the national average.

The economic downswing has not been noticeable in the agricultural sector, which is much stronger than people may realize, says Macdonald. "Our organization is thriving because our customers are thriving. We have not seen an impact on our client base" as a result of the decline in the oil and gas sector, she adds.

That optimism is echoed by Sheldon Stener, general counsel and corporate secretary with Federated Co-Operatives Ltd. "As a co-operative, we are uniquely structured to take a longer-term approach. We are not publicly traded. We are not subject to the whims of the market," says Stener, who is based at the company's head office in Saskatoon.

Federated Co-Operatives is owned by approximately 200 retail co-ops throughout Western Canada. It has 10 business units, including agricultural and retail operations and refinery operations. The company says its sales in 2015 were just over $9 billion and its net earnings from operations were $539 million.

The organization has added two more lawyers this year and the in-house unit has expanded to five lawyers from one in the past four years, says Stener. The increase in legal work also includes more attention paid to compliance issues. "We are looking more broadly at compliance to make sure everyone is on-side," he says.

Federal anti-spam legislation continues to be one of the compliance areas demanding attention. As well, it is important to keep on top of privacy issues and the ways that potentially negative information about an organization can spread through social media. "If you are in the public eye and there is a breakdown, you will want to have the proper procedures in place.
That is just good business. It is about minimizing brand risk," says Stener.

In terms of potential expansion for the company, Stener says it hopes to be part of the increased privatization of the retail liquor market in Saskatchewan, promised by the provincial government.

Along with the oil and gas sector, uranium producers have felt the impact of a steady decline in prices in recent years. However, that does not mean the market in this sector is stagnant, says Bryan Auge, senior legal adviser, marketing and corporate development, at Cameco Corp. "As one of the largest buyers, there is still a lot of opportunity for acquisitions. There can be advantages during a downturn in the market," says Auge.

"There is some belt tightening. But this is not like Alberta. There is still a lot of work going on," he adds. The Saskatoon-based corporation, which is the world's largest publicly traded uranium company, is also looking at new businesses and potential acquisitions in the alternative energy field, says Auge.

In Manitoba, much of the in-house legal work is similar in nature to that of its colleagues in Saskatchewan and the rest of the country, with the increased focus on compliance. "That is a growth area," in terms of the demand for legal expertise, says Donald MacDonald, senior vice president and general counsel at IGM Financial Inc. in Winnipeg.

"It is not necessarily a case of more regulation, but you have to do things better," says MacDonald, who is also chief compliance officer for the financial services company. While he says Canada came through the financial crisis in 2008 relatively well, there is increased scrutiny on this sector. "More attention also has to be paid to international developments," notes MacDonald, because of the impact events might have on the Canadian market.

IGM Financial has about $133 billion in total assets under management, through Investors Group, Mackenzie Financial, and Investment Planning Counsel.

As part of the increased focus on compliance, the company hired Rhonda Goldberg last year to fill a new position as vice president of regulatory affairs. Goldberg was a senior lawyer at the Ontario Securities Commission for many years before taking on the position at IGM Financial.

"It is a more formalized approach" to compliance and regulatory matters, explains MacDonald.

The company has nearly a dozen in-house lawyers and tries to do as much of the legal work as possible internally. "While it is not large by bank standards, we have good support and resources," says MacDonald.

Compliance and protecting the privacy of clients is made more complex because of the constant changes in technology, says Rennie Stonyk, legal counsel at the Manitoba Public Insurance Corporation. "We are still going through a lot of changes, including in our IT department," she says. "One of our biggest issues is keeping up with technology in our industry. We need to stay ahead of it, to pass on the savings to our clients, says Stonyk.

The changes in technology include advances in automobiles and computer-like devices in new cars. "Vehicles are becoming much more complex. Repairs are much more costly. We need to understand the technology," she says.

MPI is a provincial Crown corporation that provides basic, compulsory automobile insurance to drivers in the province. "The biggest driver for us is customer service," says Stonyk. "As a Crown corporation and having a monopoly imposes unique requirements on us," she adds.

For those who practise in the in-house community in these two provinces, the work is challenging yet satisfying. As well, the exodus of law school graduates to Alberta and B.C. does appear to be a trend of the past, says Stener. "That stopped a long time ago," he states.

There may not be a lot of turnover though for those lawyers who want to return home, but if you do find an opportunity, there is a good balance of work and personal life, says Stonyk.
"You have the best of both worlds. The economy is fairly stable and job security is fairly stable. You can find interesting work here and a lot of people in the in-house community have unique careers," says Stonyk.