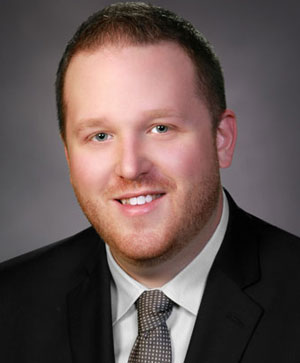 I survived the LSAT and even made it to Western University, but I had no idea the real challenge would be securing an articling position in the aftermath of a global economic recession. It has been called the "articling crisis," though in every crisis lies opportunity and the future is bright.

I grew up in a military family with all the blessings and challenges that come with. We never stayed in one place for long, making it virtually impossible to set down roots. That began to change when my mother and I moved to Barrie, Ont., in 1998 and I began five great years at Innisdale Secondary School. It was there that great teachers, great co-workers, great friends, and an unshakable mom defied the odds and helped build a firm foundation that I still stand on to this day.

After graduation, I moved on to the University of New Brunswick to earn my BA, before finding myself with bleak prospects in the middle of said recession. I decided to go in to the family business as a member of the Canadian Forces, though a back injury ended my career before it began. Despite the injury, and with the support of my chain of command, I upgraded my education and wrote the LSAT. The impossible happened. I was granted admission to Western Law.

Those early days were tough, though. After one less-than-successful written assignment, I told my contracts professor I felt like a Clampett discovering his first cement pond. It was indeed a culture shock adjusting to my new life, but things soon got better.

I was elected as a 1L representative and then vice president finance at our Student Legal Society. I also began doing communications work on political campaigns at the provincial and federal levels. I grew in confidence and skill, becoming more comfortable even though I was still behind many of my classmates who already knew how to build resumes and network.

Nobody would hire me. Toward the end of my second year, I seriously contemplated cutting my losses and leaving Western Law, though I should have known that at the precise moment things seem darkest, the best is yet to come.

I vowed to make my third year count. I began working with Jason Voss at Community Legal Services, a free legal clinic for those not able to afford a lawyer, as part of a course called criminal law advocacy. I cut my teeth with real clients charged with real crimes.

It was, at first, intimidating, though I had a great coach who cut through the noise to show me a path forward. I learned my blue-collar background was an advantage, not a weakness. I remembered who I was and where I came from, and I haven't looked back.

Our clients weren't wealthy and, in fact, some were even homeless. We had the responsibility and the honour of guiding them through their darkest hour, helping find justice in situations that broke my heart and racked my brain.

I was doing exactly the work that I became a lawyer to do. I wish I could tell you this resulted in a big happy ending with a lucrative job offer, but I can't. There are very few articling positions for those interested in criminal and family law, two areas I wish to practise in. Fortunately, this year the Law Society of Upper Canada is launching the ground-breaking Law Practice Program, which gives me the opportunity I've been waiting for. From there, it's all up to me and I like my chances.

In challenging times, we can choose either to sit in despair or to think outside the box. We weren't all meant to get the big job on Bay Street. Don't misunderstand me. I applied for those jobs, but in retrospect I know I probably wasn't thinking about the work as much as the paycheque.

I am about to fly solo in Barrie, practising criminal and family law; two areas that interest me and two areas I believe have growth potential in my city.

Barrie is situated just north of Toronto and is a rapidly growing community that serves as a gateway to Ontario's North. Connected to Toronto by Hwy. 400 and restored GO Train services, Barrie is increasingly home to a large population of commuters. We have Georgian College, which is growing its ties to Lakehead University. We have great festivals, shopping, night life, and an approach to community that sets us apart from other large centres.

To the southwest is Canadian Forces Base Borden and over 3,000 members of our Canadian Forces. To the north is cottage country, including some of the most beautiful natural attractions this country has to offer.

There are few large firms operating in Barrie, though business is good; so good, in fact, that portable court rooms and chambers were recently added to meet increased demand. As population levels grow, so will opportunities for entrepreneurial lawyers looking to build for the long term.

Building my own business from the ground up will not be an easy task, though at the same time I know I am ready. I have had great teachers and I am confident I will meet many more along the way.

I once told a close friend of mine I feel fate has chosen me to do well, despite my missteps along the way. He waved his hand and said that's not what happened. He said I did well in the end because I was able to see opportunity and seize the moment. I think he had something there.

This generation of lawyers is going to have a harder path than some who came before but the future is as bright as we choose to make it. I've seized my opportunity. Are you ready to seize yours?

Matt Hopkins is part of the Law Practice Program at Ryerson University and soon to be a lawyer in the City of Barrie.