Richard Brait is always looking for new ways to get work done more efficiently in-house at Siemens Canada. In fact, it's part of the global legal team's innovation challenge to come up with ways to approach work differently.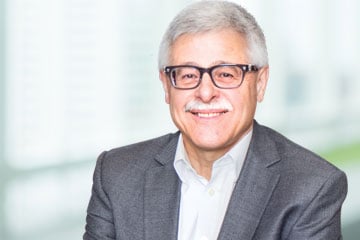 Richard Brait is always looking for new ways to get work done more efficiently in-house at Siemens Canada. In fact, it's part of the global legal team's innovation challenge to come up with ways to approach work differently.
So, when an acquisition transaction in the health-care space came his way recently, Brait took the opportunity to use it as a test case for some of the new technologies being touted in progressive legal departments and firms around the world. He wanted to see artificial intelligence tested during a transaction in real time.
"I thought let's make it a requirement for whatever law firm does it that they pilot some new technologies," said Brait, who had been talking to Carla Swansburg, director of practice innovation, pricing and knowledge at Blake Cassels & Graydon LLP. He said one of the main reasons he decided to choose Blakes for the transaction was its interest in trying new technologies on the deal.
Brait spoke last week at Blakes on a panel about leveraging emerging technologies for transactional efficiency called "Client Case Studies in Innovation: Best Practices in Legal Services Delivery."
Deals for Siemens are typically run out of Germany or the United States, so when the Canadian-based transaction came up, Brait and assistant general counsel Kathy Orysiuk were able to pick Canadian external counsel for the deal.
There are 20 people in the legal department at Siemens Canada and globally there are about 100 lawyers at Siemens who work on M&A transactions. Other than six M&A lawyers in the United States, Orysiuk is one of only three members of the core M&A outside of Germany.
"We don't have solutions we are applying globally, but some of the software Blakes was proposing we looked at were things I knew Siemens AG had looked at two years earlier," said Orysiuk.
Working with Blakes, Siemens embarked on the trial of a number of pilot projects for the transaction, including using a document drafting tool that helps proofread and check references and terms, a closing agenda system that helped in collaborating on the closing agenda and worked to gain efficiency in collecting signature pages and creating closing books. They also tested out a few of the leading AI diligence engines and tested those against actual human results.
For the document drafting, they used a tool embedded in the word processing system in Microsoft Word that simply aims to take away some of the administrative work done by junior lawyers in doing careful checks of documents.
"We found it did increase the quality of documents — it virtually takes all errors out of agreements and cuts down on that junior associate time," said David Kruse, partner at Blakes. "We did find some false positives and, like a lot of technology, we have to remember it's not completely infallible and can't substitute the work done by lawyers."
They also created a collaborative closing agenda online as opposed to a paper agenda. The collaborative closing agenda was just for the Blakes and Siemens side of the transaction.
"Anyone in the transaction team could go in and see where documents are, what the drafts are and the one big benefit was, at the end of it, you have your record book that can be completed by pressing a button instead of spending tens of hours of legal time completing a record book after everyone thinks the transaction is finished," said Kruse.
The team found that there was some additional upfront work required in doing that task, but, overall, the time saved at the end was significant on the record book side.
With the AI due diligence tools, they took a set of the "few thousand contracts" that needed to be reviewed and tested 90 of them through a couple of the different AI diligence engines they were testing and used members of Blakes' inSource alternative service delivery team who were involved in the human-only review.
"The software is very good at things that are typically things you would look for like assignability and chain of control, likely because the creators of the software worked hard on those things. The results were less strong on things more unique to the transaction," said Kruse.
They found the work done by people from the Blakes inSource team working with the technology could cut the average review time by about 50 per cent.
"What the results showed us is that the tools are really good for checking for clauses such as assignment clauses, etc., even if you only ran them on the documents on clauses you identified as lower risk and recognized the machine learning was able to address that it saves at least half that time," said Orysiuk.
When it comes to assessing the risk on such projects, Brait said he follows his philosophy on working in-house, which is to understand where the risk exists and assign resources accordingly.
"I'm very much of the view that you limit your view to what matters. I'm more of a commercial lawyer and, for example, we won't look at a contract if it's under $150,000. We have a process and we trust the process. We know it introduces more risk, but we're prepared to take that. I see tools like this and think this is a great supplement to that process," he said.
Siemens is also working with Blakes on a regulatory application using a technology tool that will eliminate half the time being spent on it by a person.
"The key is to identify where you need processes and then look at where the risk is and decide whether you can bring tools in to automate all or some of your processes," said Orysiuk. "You should not be reinventing the wheel — you really need to focus on what is low-value work, what is low risk and what is important to the business. Where do you have exposure and where do you not? You need to start with the basics and not think the tool is going to be your solution."