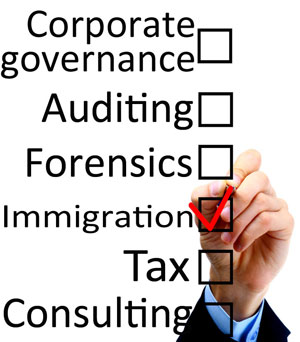 A small Toronto law firm says the move to form an alliance with Deloitte Canada will strengthen its position to help clients better navigate the increasingly complex world of immigration law.

Last week, Deloitte announced Guberman Garson Immigration Lawyers will become the national immigration practice for the professional services firm. The law firm of six lawyers will be renamed Guberman Garson Segal LLP.

Given the constant rate of change taking place in Canada's immigration laws, such as recent developments with the Temporary Foreign Worker Pprogram, Guberman Garson Segal national managing partner David Garson says the alliance with Deloitte will give the firm an advantage for clients expanding globally.

"I think there are, in some instances, places where a large firm can be somewhat more effective than a small firm. It's also more cost effective for us and our clients," he says.

Garson says the immigration system in Canada is "broken."

"Clients are very unhappy with the system they find themselves in," he says. "Many clients, when they do cross-border transactions whether it be M&A, taxation, or immigration — they look at different things and aligning with Deloitte can assist with those issues."

"We look to have access to Deloitte's expertise to discuss these clients' immigration needs," says Garson. "The other side of that is immigration itself is becoming increasingly difficult and time consuming. To be blunt, I think we would be in a better position to represent our clients and react on a global scale than we would if we maintained ourselves as a very small law firm."

Garson says the alliance means the firm has had to "conflict out" of certain clients it previously served.

"We've had to advise certain clients we can no longer represent them because they are an audit client of Deloitte," he says. "That hasn't been pleasant."

Garson says the firm's fees have not increased as a result of the arrangement. The only thing that's different now is that if a client comes and says they need a case done in India or Brazil, Guberman Garson can assist them immediately.

Such alliances are certainly not new. Both Ernst & Young LLP-alligned Egan LLP and PricewaterhouseCoopers Immigration Law LLP offer immigration law services.

Heather Evans, national managing partner, tax for Deloitte in Canada says there is a "very robust market" for providing immigration services.

In Canada, Deloitte will now have immigration services in Calgary and Toronto and as well as in 40 countries worldwide.

"This will really allow us to bolster our North American capabilities," she says.

"Many of our clients are multinationals operating in multiple jurisdictions and sending their employees all around the world as are many large Canadian private companies as they expand outside Canadian markets," says Evans.

As Evans points out, whenever a company sends an individual on assignment outside Canada it means the individual needs to secure necessary work permits or visas and there would also be income tax and payroll obligations that would follow.

"What we found was that as the level of complexity and regulatory oversight has increased with the level of audit on the tax and immigration side, our clients have been looking for a single provider that can help with all of their mobile workforce needs," says Evans. "So we thought if we could bring a bundled solution that dealt with tax and immigration and in many cases payroll, that was very appealing to our clients and it helps them manage risk in an increasingly complicated environment."

From the accounting side, Evans says there are restrictions on providing services to audit clients and they there is a "rigorous" regime around that.

"We're very scrupulous about ensuring that we are respecting the independence of the law firm, and on the immigration side we offer Canadian and U.S. immigration services through our allied immigration firm so we are compliant with both Canadian and U.S. regulatory requirements for legal services. Our clients have access to the breadth of Deloitte worldwide, but we are also very mindful of the need to respect the legal framework from which the law firm operates," says Evans.