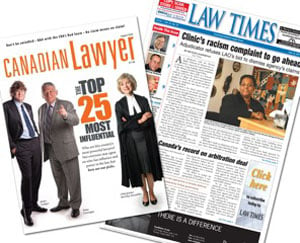 Canadian Lawyer and its sister publications Canadian Lawyer InHouse, Canadian Lawyer 4Students, and Law Times have been bought by Carswell, a Thomson Reuters business headquartered in Toronto.
The sale of the legal group of publications is part of a larger deal that will see Canada Law Book, a division of The Cartwright Group Ltd. owned by former judge Ian Cartwright, aligned with Carswell. The terms of the Aug. 4 deal have not been disclosed.

"Canada Law Book provides unparalleled content, including superior content for the labour, employment, and intellectual property practice areas, and has an extraordinary team of author-experts who will complement the Carswell family of authors and the products and services we produce," says Don Van Meer, president of Carswell. "We are confident our combined strengths will provide true value to our customers and we are committed to maintaining and enriching the high-quality product offerings our customers have come to expect from us and from Canada Law Book."

He adds the products in both businesses are seen as complementary.

According to a statement from The Cartwright Group's president Stuart Morrison, the 75-year-old Cartwright intends to consolidate his personal assets as part of his estate plan and make a significant and meaningful donation to the charities of his choice. He has concluded that the sale of Canada Law Book, CLB Media Inc., and Dye & Durham will allow him to make these donations.

Morrison, a 28-year veteran at CLB, says he "will be continuing on as president of The Cartwright Group and will assist in the transition to Carswell Thomson Reuters."

Canadian Laywer and the other legal periodicals, which have operated as part of CLB Media, are being hived off from the media group for the sale to Carswell. Also part of the sale are CLB Media's legal directories, including the Canadian Law List.

Most of the remaining CLB Media publications and web sites are the subject of a formal "letter of intent" from Annex Publishing & Printing Inc. If all passes due diligence, that sale should go through by the end of August.

According to CLB Media vice president Niel Hiscox, Annex has been steadily acquiring new titles over the past few years, and this purchase would fit with the company's growth strategy.

Hiscox also says "there aren't any competitive titles between Annex and CLB Media."

Office products company Dye & Durham is in the process of being sold to Office Central, with an expected closing date on the deal of Aug. 30.

Also part of The Cartwright Group are recruiting companies RainMaker Group and Kent Legal, which will continue to operate as independent companies.