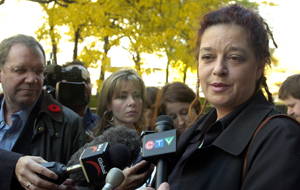 Kimberly Townley-Smith's disciplinary hearing has taken another twist, with the lawyer launching a lawsuit over the Law Society of Upper Canada's handling of her case.
The Toronto lawyer was
suspended
on an interlocutory basis in June 2010 amid claims she repeatedly sought to litigate allegations of conspiracy and corruption among Superior Court judges, despite an earlier attempt to resign from practice.
Hearing dates had been set down earlier this year, but Townley-Smith won an adjournment on medical grounds. At a proceedings management conference on June 13 for scheduling of her matter, she said she had launched the suit because the law society was engaging in an "abuse of power" by threatening her with the prospect of a hearing, "without there being any realistic chance of those hearing dates proceeding."
As well as her own health issues, she said the fact the law society is still providing her with disclosure showed the society was not ready to proceed. Townley-Smith also said that what she had received so far raised concerns about "altered documents" and "insufficient disclosure."
"The law society continues to pretend we're going to have a hearing date as if that's some sort of motivator for me to give in to whatever they want," said Townley-Smith, who was participating in the conference by phone.
The announcement was a bit of a bombshell to presiding bencher Paul Schabas, who was informed that he was among those named in her statement of claim, which has been filed with the Ontario Superior Court in Hamilton.
Townley-Smith said Schabas had shown a pattern of "giving the law society what it wants" in previous PMCs. She added, "I don't know why you would want to continue to do the same thing that got you sued and increase the damages. That appears to be what the law society is doing."
Townley-Smith said her medical condition had improved somewhat after surgery, but that she was still experiencing symptoms and is scheduled to discuss her options with her surgeon next week, so she won't have any idea on her prognosis until at least then. The case returns to PMC on June 27 after the meeting with the doctor.
The judicial corruption allegations at the heart of Townley-Smith's disciplinary proceeding all stemmed from a failed attempt to stop the release of the fourth installment of the Harry Potter film franchise in Canada on behalf of her client Kim Baryluk, whose band shared their name with a fictional band featured in the film.
After a costs award against Baryluk of $140,000, a suit was launched against three judges involved in the proceeding. In a separate
lawsuit
, Baryluk has claimed Townley-Smith acted alone on the judges' suit, although Townley-Smith countered that Baryluk was fully informed at every stage. None of the allegations have been proven in court.
When reached by phone, Townley-Smith said she didn't want to discuss the issue any further.
"I'm going to decline to speak to you given the history of the
Law Times
reporting on this matter, which I don't think has been unbiased," she said.
A blog supporting Townley-Smith's views has been set up with occasional updates on her case. It can be found at
http://ktsandthelawsociety.blogspot.com/
.