Phil Rankin, co-chairman of the Trail Lawyers Association of B.C.'s legal aid action committee is recommending that legal aid lawyers withdraw from handling any of the Vancouver riot cases as the next step in what is now a four-month battle to increase provincial legal aid funding.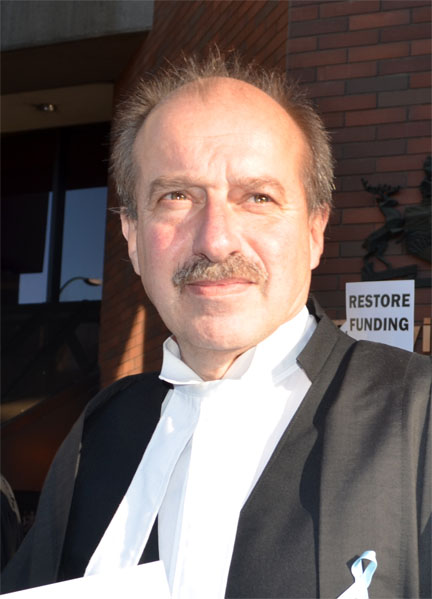 Rankin says that the short-term move to withdraw from handling any of the Vancouver rioter cases should be in place by early May.
A second longer-term recommendation to go before the association's board of governors would see the legal aid lawyers in the province withdraw duty counsel services completely. Legal aid lawyers would also refuse to co-operate with the Crown on matters such as "deals, admissions, agreements — no we don't need that expert and appearances we are not paid for," says Rankin. This move would occur later in 2012.
Last November, B.C.'s legal aid lawyers started an escalating job action that saw duty counsel services withdrawn at 50 courthouses for increasingly longer periods over each of the four months. In April, there was a complete withdrawal. Rankin says the withdrawal of duty counsel has resulted in further delays in processing court cases, as now 25 to 30 per cent of individuals today are self-represented.
"This is taking quadruple the time it normally would for these cases," he notes.
The proposal to withdraw services province-wide was reached after no agreement was forthcoming on increased government funding to restore legal aid services. Rankin estimates that full recovery of the system will take $40 million. On April 10, a small meeting of 35 Vancouver legal aid lawyers was held to determine new job actions.
"We asked what should we do next?" Rankin says, adding there was unanimous support to withdraw from rioter cases but also to stop taking on legal aid cases and co-operating with the Crown.
While he says Vancouver lawyers were ready to "work to rule" immediately, there is still groundwork to be done to ensure other B.C. lawyers want to follow the same course.
"We want to see whether Vancouver is an anomaly," he says.
He expects the meeting to take place over summer with lawyers throughout B.C. and once a consensus is achieved, the proposal will go before the board of governors. Job action would come some time in October.