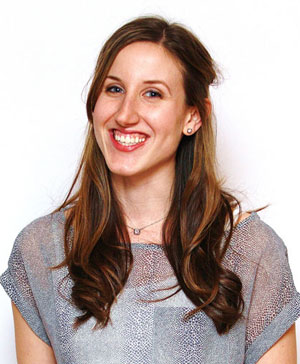 Considering the demands of law school, it's amazing students find the time to eat and sleep — let alone volunteer.

Earlier this month, five graduates of the University of Toronto Faculty of Law received Gordon Cressy awards for their outstanding extracurricular involvement. The students — who just finished their final year of law school and are currently studying for the bar exams — have an impressive list of activities.

When asked how she made time for extracurriculars on top of her schoolwork, award recipient Promise Holmes Skinner says she took part in extracurriculars during her undergraduate degree, which set the tone for law school.

"I didn't consider whether or not I had the time — I just did it," she says.

Danielle Glatt, another award recipient, says she performs better when she's really busy. During her undergraduate degree she worked full time and volunteered, so "law school was actually almost like a break for me because I wasn't working anymore, so I filled that extra time with extracurriculars," she says.

Award recipient Albert Lin, past president of the Students' Law Society, says it takes excellent time-management skills, prioritization, and a bit of sacrifice to be able to do it all.

"When you're really committed to these outside organizations that are putting in the work to build what in your mind is a better school community, you'll find time for it," he says.

Along with his work through the SLS, Lin was the Toronto chapter co-ordinator for Pro Bono Students Canada, the PBSC-McCarthy Tétrault LLP internship volunteer co-ordinator, and an assistant editor of the University of Toronto Faculty of Law Review.

One of the greatest benefits of volunteering is it can help students gain skills firms want in new hires, he says.

"Law firms do look for candidates who have very well-rounded experience because in real practice, the practice of law is as much about rendering good, sound legal advice as customer service," he says. "A good way to develop those skills is getting involved in the community."

Volunteering can also help you figure out your career.

"In addition to building your skills, it really helps you actually understand what you want to do with your law degree," says Lin. "Going out in the community will give you a very good idea of what you like to do and what you don't like to do."

For Holmes Skinner, a lot of her volunteer work had to do with being an advocate for other students.

Along with founding the Aboriginal Law Club at U of T, she was co-president of the Aboriginal Law Students' Association, co-organizer of the annual Justice Conference for Aboriginal Youth and fall feast, assisted with the Promises Auction to raise money for a local aboriginal organization, and spent a summer researching the Crown duty to consult for the Saugeen First Nation through her June Callwood fellowship.

During her first week of law school, she attended a lunch hosted by the ALSA. "That is when I felt a sense of belonging at U of T," Holmes Skinner tells 4Students. "And so, I was very eager to get involved in the Aboriginal Law Students' Association."

"Aboriginal students experience a unique stigma in law school and so helping to develop a community to help create a sense of belonging for aboriginal students was very important to me," she says.

Clifford Anderson was also recognized for his work in various aboriginal initiatives, including the Indigenous Law Journal, Downtown Legal Services, and PBSC, where he helped prepare legal resources for survivors of the Indian residential schools.

Award recipient Anna Cooper founded the Alternative Dispute Resolution Society. She also volunteered with the peer mentorship program and worked hard to increase its health and wellness mandate by creating a web site, arranging to have a counsellor at the faculty every Friday morning along with weekly yoga and mediation classes, and organizing pre-exam activities to reduce students' stress.

Like Lin, Glatt also participated in student government during her time at law school. Most recently, she held the position of vice president of social affairs, where she co-ordinated all funding and organization of events.

One of the most rewarding activities during her time at law school was leading a working group on women's right to property in post-conflict countries through the International Human Rights Program after interning in Johannesburg for four months, she says.

Glatt plans to remain busy. "Being involved generally in the school community is something that I value and I expect that to translate to the legal community in general when I'm articling and also as a lawyer," she says.