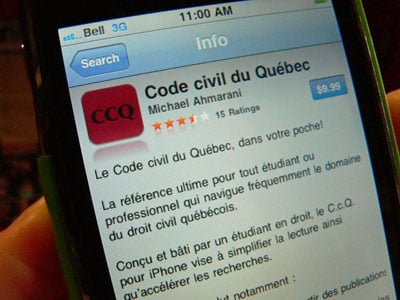 Montreal law student Mike Ahmarani is on a roll and hundreds of tech-savvy Canadian lawyers have already or may soon be joining him. Early this year, Ahmarani, 24, who is about to enter his third year of law school at the Université du Québec à Montréal this month, successfully designed the first iPhone application to help jurists quickly access all 3,168 articles of the Quebec Civil Code.
Granted not all of Quebec's 23,000 lawyers have smartphones and the Quebec Civil Code, the body of rules and regulations that governs all aspects of life in the province, does not apply to other provinces and territories, which all operate under a common-law regime. But Ahmarani is pushing to complete computer programming work on a new app to make the Criminal Code of Canada easy to access and search on a telephone screen. He is also looking at ways to extend that ease of use to other technology devices like Apple Inc.'s new iPad.
"I have had nothing but great, great response — people [including lawyers, judges, and law professors] saying this is the greatest initiative ever and people are asking for more laws and features," says Ahmarani, who designed the first app simply because one did not exist when he looked one day to find a quick answer to resolve a debate with a friend. "It has taken on a life of its own."
His first task after launching a French-language application for the Quebec Civil Code in January — a project that took up to 15 hours each week for close to three months to finish — was making an English version available and building in additional search features. "My first priority was to get it more constitutional," Ahmarani quips. "With the new update you can swipe your finger to the left or to the right and it will bring up the other language. A lot of bilingual lawyers must compare the articles in both languages. In certain cases, the English or the French version will have more validity depending on the intention of the legislator at the time the article was written."
Three different tabs in the application enable a search of contents by book (there are 10 books in the code), chapters, and article number, or by keyword — a model Ahmarani is now using for each new application.
A couple of days before releasing the bilingual Civil Code update on June 28, Ahmarani also finished a second app for the Quebec Code of Civil Procedure, which codifies 1,052 procedural rules for the provincial court system, much like the rules of practice in common law jurisdictions.
While crafting each new app for a different law gets easier, Ahmarani is now wrapping his mind around figuring out an application for the iPad, a tablet computer that is much lighter and more portable than most laptops and is being tested by some law firms. His vision is to create "more of a tool that lawyers and judges can use to help them work, rather than just as a reference."
"It has been really exciting for me," says Ahmarani, who has been playing around with computer technology since the age of 12. "It is nice to find a field that matches up my computer expertise with my law studies — it is a pretty cool common ground."