Police are recommending continued vigilance despite charging litigant Guido Amsel in relation to explosive devices discovered at two Winnipeg law firms in recent days.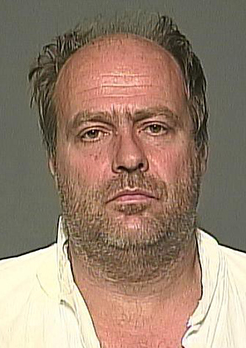 "I want you to know that we still have a lot of work to do," Winnipeg police Chief Devon Clunis said during a news conference this morning.
Police, in fact, told the news conference they were investigating another scene at a Canada Post depot this morning and have issued a warning for people to watch for other incidents. The package turned out to contain only DVDs, reported the
Winnipeg Free Press
.
"Police are concerned that other packages could have been sent out to other legal counsel or justice officials who have dealt with Amsel," the Winnipeg Police Service said in a news release yesterday.
"Police are asking those individuals to be aware and diligent in alerting police to any suspicious packages or items that may be addressed to them."
The warning follows Friday's explosion at the law offices of Petersen King on River Avenue that left lawyer Maria Mitousis, 38, with serious injuries to her hands, throat, and stomach. Police said this morning she remains in hospital and noted her condition had stabilized and she has been able to speak to officers.
Police investigated a second explosive device on Saturday as well as a third at the law firm Orle Barkman and Davidson on Stradbrook Avenue yesterday.
Police had earlier called the original bombing an isolated incident but have since charged Amsel, 49, with two counts of attempted murder, one count of aggravated assault, and a number of counts related to the possession of explosive devices. They are suggesting he has targeted his ex-wife as well as legal counsel who have represented either her or himself in the past.
Response and support from the bar both in Winnipeg and across Canada has been overwhelming says Sofia Mizra, president of the Manitoba Bar Association. Mizra says friends and family say Mitousis is recovering very well but her injuries are quite serious.
Members of the bar in the city are staying alert and looking carefully at packages before they open them, she says, noting the MBA offices were also evacuated on Friday in one of the other bomb scares.
According to police, the devices discovered so far have had distinct packaging and "unique" block lettering. Due to the Canada Day holidays last week, police believe any further packages will likely emerge in the next day or so.
Mizra emphasizes that issues of threats and potential violence are not new to many lawyers who are often involved in very emotional circumstances with their clients, but the situation with the bombings is obviously extreme. Lawyers and judges, particularly in the area of family law, are often on the receiving end of the anger from unhappy parties.
"When litigants hear something they don't want to hear, they can take matters into their own hands," she says, adding, "We have some brave lawyers in our community."
According to Manitoba court records, Mitousis had represented Iris Amsel in family litigation against Guido that dates back to 2004 as well as a separate case filed in 2010 dealing with a numbered company. Mitousis is a family lawyer who had joined family law boutique Petersen King in 2014. Manitoba court records show Guido has also faced other small claims litigation matters over the years.
According to the CBC, police on Sunday deployed the bomb unit as part of the their investigation to two businesses, including EuroTech Auto Body. That business is among the defendants, along with Guido, named in the lawsuit launched by Iris involving the numbered company.
The incidents follow another tragic situation involving members of the legal community in Quebec. According to the CBC, lawyer Benoït Côté, 51, and notary Marie-Josée Sills, 30, died in hospital Saturday after a shooting at a law office in Terrebonne, Que., on Thursday.
Côté had once represented Michel Dubuc, a man found dead in his home on Friday along with the bodies of his two sons. Côté had been facing a $1.2-million lawsuit filed by Dubuc, the CBC reported.
Longueuil police spokesman Tommy Lacroix told the Canadian Press the timeline of events and motives behind the shooting had yet to be established but that autopsies were going to be conducted.
Canadian Bar Association-Manitoba members Laurelle Harris and Kelli Potter have set up a donation page on gofundme for those looking to support Mitousis in what will likely be a long recovery. In two days, it has raised more than $25,000.