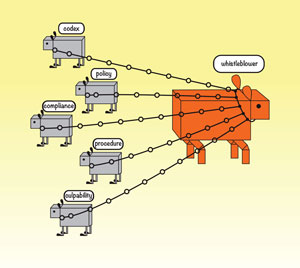 The Ontario Securities Commission has finally started the ball rolling on an initiative it first suggested back in 2011: a whistleblower program to provide financial rewards to people who report securities law breaches. In February, the OSC published a consultation paper on a proposed program framework, to stir up discussion and get feedback.

Judging by the comments from a handful of legal experts who follow these developments, the regulator certainly has stirred things up — and it can expect to receive plenty of input from lawyers concerned that the proposed whistleblower program will shatter companies' carefully crafted internal compliance systems.

Hunt for good information and bad actors
In its paper, the commission said the program aims to motivate people to report misconduct. The proposed system is also designed to enhance OSC investigations by providing the regulator with quality, original information about corporate underhandedness. Whistleblowers would receive up to 15 per cent of the total monetary sanctions awarded in hearings or settlements, but only if the sanctions exceeded $1 million. Rewards would be capped at $1.5 million.

Whistleblowers' identities would be protected, and the OSC would create anti-retaliation measures to keep employers from punishing employees for reporting misconduct. Certain types of employees would not be eligible to take part — for instance, anyone employed as a chief compliance officer, a director, or an officer. People involved in the misconduct, however, may be eligible if they provide quality, original information that enables the regulator to collect more than $1 million in sanctions. Culpability would factor into the OSC's decision on the reward amount.

In a summary of the OSC's proposed program, lawyers at Bennett Jones LLP noted that it's similar to the one that the U.S. Securities and Exchange Commission enacted in 2011, with a few differences. For instance, the SEC doesn't cap rewards, whereas the OSC stops at $1.5 million. As well, the SEC only pays whistleblowers after the regulator has successfully collected sanctions.
The OSC would pay even if it didn't collect. And while the SEC's program has a mechanism to let people deemed ineligible appeal that decision, the OSC doesn't suggest a similar route of appeal.

Effect on internal compliance systems
An important subject of the consultation paper is the impact the whistleblower system could have on companies' self-monitoring programs. The OSC says these internal mechanisms are important "as a first line of action in promoting compliance with securities laws." And "an OSC whistleblower program is not intended to undermine" such measures.

"Those systems may fail, however, for a number of reasons including if an individual fears retaliation as a result of raising concerns within the organization," the OSC says. "The whistleblower program would allow an individual to report serious misconduct to the OSC regardless of the operation of those systems."

Ed Waitzer isn't so sure the OSC is pointed in the right direction. The partner at Stikeman Elliott in Toronto suggests that even though the commission says it doesn't mean for its whistleblower program to undermine internal compliance systems, that's just what the program could do.

"There are no financial rewards when you report internally," Waitzer says. "The only reward is the satisfaction that the problem is remedied. If I have a choice between getting a bounty or just having the satisfaction of knowing the issue was resolved, there's a pretty good chance I'm going to go for the bounty. People tend to like money."

According to Waitzer, the OSC should design the program such that a whistleblower must try to raise the issue with his or her employer first. Otherwise, the OSC gives whistleblowers rich reasons to bypass internal compliance processes. And if too many whistleblowers do that, companies may find fewer reasons to invest in developing strong internal compliance platforms.

Dimitri Lascaris disagrees. A partner at Siskinds LLP in London, Ont., he encourages the OSC to largely stay the course it has laid out in the consultation paper. "Corporations critique the whistleblower program because it potentially incentives whistleblowers to go outside of the organization, circumventing internal reporting structures," he says. "From our perspective, that's a good thing. Oftentimes, whatever a company may say to encourage people to come forward internally, they are frequently subject to retribution and their warnings are not heeded."

Paul Moore: fired for speaking up
Lascaris lists a few high-profile examples. Paul Moore, a manager at U.K. bank HBOS, lost his job in 2004 after warning the company that it was taking excessive risks. Richard Bowen, a senior vice president at Citigroup, was fired in 2006 after he warned upper management that the company was buying and repackaging fraudulent mortgage loans. "He was simply ignored and eventually forced out," Lascaris says. Carmen Segarra, a lawyer at the U.S. Federal Reserve, was escorted from her office in 2012 after refusing to alter her reports on Goldman Sachs, which the Reserve regulated. She took issue with Goldman's apparent conflict of interest with respect to a company it was advising.

Kristine Robidoux, a Calgary-based partner at Gowling Lafleur Henderson LLP, says the OSC's proposed system seems to strike the right balance between supporting internal compliance and giving whistleblowers an alternative way to help address misconduct. "I think overall the proposal looks to direct individuals to see their issues resolved through a company's internal reporting system, which is good. Companies that fail to take appropriate remedial action are then at risk of having that insider report to the OSC."

She notes that the whistleblower program is designed to help the regulator discover well-hidden transgressions. "The OSC is looking to investigate and identify serious misconduct. Oftentimes, that misconduct is carried out by individuals who are very sophisticated. It can be exceptionally difficult to detect this wrongdoing. And even once detected, these are time-consuming and complex investigations. Presumably, receiving high-quality, original information will assist the commission greatly."

Recommended improvements
But the fact that sanctions have to be above $1 million could be a problem. If the OSC chooses that threshold, it risks missing many substantial problematic activities just below the level. "An $800,000 sanction against a company is still significant," Robidoux says. "But it wouldn't result in a payout to a whistleblower, even if the whistleblower's information was key to detecting and prosecuting the fraud."

Waitzer says the OSC also has to consider its ability to run the program. "There's a perception out there that they're having a hard time coping with existing enforcement issues. For them to introduce a whistleblower program without doing something about capacity doesn't make sense. They're just going to get swamped."

Lascaris says the regulator needs to rethink the cap on rewards. "The people who are best placed to expose fraud are frequently fairly high up the managerial chain. If you think there's a realistic risk you'll be terminated and you won't be able to find employment in your area of expertise in your industry, $1.5 million won't provide you with security for life." Instead, there should be no cap.
But if the OSC insists on imposing one, it should be much higher than $1.5 million to compensate people for what could be the end of their careers.

Next steps for in-house lawyers
Ask him what in-house lawyers should be doing at this point with respect to the OSC's whistleblower program, Lascaris recommends thinking twice before discounting it as an inevitably intrusive system bound to disrupt internal compliance. "There's a lot of resistance from in-house legal departments to this program. I think they should reconsider. This is the most sensible way to ensure people come forward."

Robidoux says now's the time for in-house teams to ask hard questions about their compliance programs. "Do we have a paper program, or do we have a living, breathing ethics and compliance program that employees believe in? Do they believe company management will do the right thing when faced with an allegation of wrongdoing? Do they feel comfortable that the company will not retaliate against them?"

Waitzer says in-house lawyers should participate in the OSC's consultation process to help steer the regulator in its efforts to improve securities regulation. "At this stage, [in-house lawyers] should be thinking about and commenting on the details — or lack thereof — in the OSC paper."