Former B.C Crown Jody Wilson-Raybould will serve as Canada's first aboriginal justice minister and attorney general in the new Liberal government.
Wilson-Raybould, a former regional chief of the Assembly of First Nations in British Columbia, is from the Musgamagw Tsawataineuk and Laich-Kwil-Tach peoples and previously served as a treaty commissioner.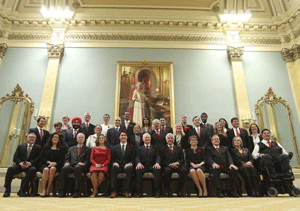 Toronto defence lawyer Bill Trudell says Wilson-Raybould is "an inspirational choice."
"This is a real breath of fresh and experienced air in the ministry," says Trudell. "This is a very distinguished woman."
By appointing her, Prime Minister Justin Trudeau is "clearly sending a signal" that aboriginal issues in the justice system are going to be important to the new government, says James Morton, a litigator at Morton Karrass LLP.
"If you recall, the last government cut back on the application of [R. v.] Gladue principles to a degree, and I suspect we'll see perhaps a greater sensitivity to First Nations issues," he says.
A former prosecutor in Vancouver's downtown eastside, Wilson-Raybould also brings to the portfolio a "considerable experience in poverty law and some of the real issues like drug abuse, prostitution, and predatory actions," says Morton, calling it "a dramatically different life experience, to say the least," from the one former justice minister Peter MacKay brought to the position.
"It's certainly a big shift. You've got a younger person, a First Nations woman with a lot of experience in the criminal justice system as a prosecutor," he adds.
Isadore Day, Ontario regional chief of the Assembly of First Nations, also lauded Wilson-Raybould's appointment.
"Minister Wilson-Raybold is a strong choice for justice minister. Her appointment shows that this government cares about proper representation of indigenous perspectives and women," said Day.
"In First Nations traditional governance models, women are integral to the connection and healing in the community. Mr. Trudeau could not have chosen better."
Wilson-Raybould has a wealth of knowledge about drugs, mental health, poverty, and the impact those issues have on crime, says Trudell.
"If anybody suggested this is tokenism, there is no tokenism here," he adds.
Criminal lawyers had chided the previous government for its mandatory minimum sentences and victim surcharge. Morton says his sense is there will be greater discretion for the courts and sensitivity to poverty issues under the new government.
"I think there are so many people in this country, in this profession who today would like to call up the minister of justice and say, 'Boy, would I ever like to help to work to make the system better,'" says Trudell, noting he's confident Wilson-Raybould will work collaboratively with all participants in the justice system.
Having met Wilson-Raybould, Morton describes her as "gregarious and engaging."
"I think the bar will find her to be really quite refreshing," he adds.