Wylie Spicer is heading West as he leaves his position as counsel at McInnes Cooper in Halifax to take a position with Norton Rose Canada LLP in Calgary.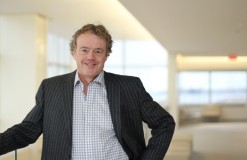 "This is an opportunity for me that I really just couldn't turn down," Spicer told
allnovascotia.com
recently. "I am going to be doing offshore energy, oil and gas, law of the sea, and marine work — basically the same stuff I have been doing here. But this firm provides me with a much bigger platform to do that."
Spicer is hitting several geographic points in his latest move in a career that included a stint as managing partner until 2006 at McInnes Cooper, one of Atlantic Canada's largest law firms. In moving to Calgary, he'll deal with Arctic law, an area where Norton Rose expects to find lots of business in the coming years. His work has included a significant focus on maritime law, energy, and natural resources, all areas that would dovetail nicely with the issues relevant to the Arctic.
Spicer's move continues a recent hiring spree at Norton Rose. Earlier this month, the firm announced it had snapped up six corporate lawyers from Gowling Lafleur Henderson LLP.
Besides his work at McInnes Cooper, Spicer is immediate past president of the Canadian Bar Association's Nova Scotia branch.
"We're really thrilled to have Wylie on board," says Norton Rose managing partner John Coleman, who notes the move is in sync with the firm's growing reputation in the area of natural resources and mining, particularly since its merger with Macleod Dixon LLP earlier this year. "We have a lot of work up in the North," he adds.
In fact, Norton Rose will soon be launching a dedicated Canadian north and Artic law team as the firm seeks to take advantage of the region's business opportunities. With the federal government recently announcing the auction of more than 900,000 hectares in the Beaufort Sea and Mackenzie Delta area for offshore development, the region offers significant economic potential, says Coleman.
As for questions on whether Norton Rose is on a hiring spree, Coleman suggests the firm's merger with Macleod Dixon and existing practices in natural resources have tied the firm into an "incredible network" in that area that has helped make it a "firm of destination."
"We're thrilled we're attracting the kind of talent we're attracting," he says.