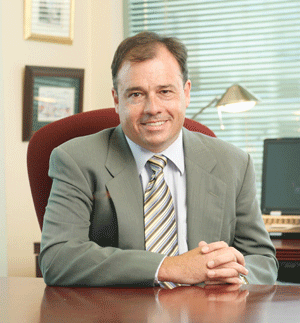 McInnes Cooper managing partner Bernie Miller is running the Atlantic regional firm at an interesting time. The firm is revamping its offices and riding the benefits of its August 2005 coup, when it landed the Halifax office of its rival, Patterson Palmer. That move led to further consolidation in the Atlantic Canada market, with Cox Hanson and the majority of the remaining Patterson Palmer offices joining forces. Miller talks about how his firm is building a regional powerhouse and its recent move to a new office space in Halifax.
You've built quite the new structure in Halifax. Are the other offices jealous?

What it does is allows us the opportunity to give each office a consistent look as we do
lease renewals and expansion in the other regions. Moncton is very much modeled on the
Halifax office. We're doing Saint John in the fall.
We've kept our lawyer premises very functional but not opulent. One thing that's unique
is we are taking our so-called back office — our IT, accounting, and our marketing and
client development — and putting it in separate downtown space for lower cost. We were
able to achieve savings. One of the things we're looking at is distributing our resources a
little bit more to lower-cost centres.

Atlantic Canadian firms have built some of the biggest law organizations in Canada in
terms of multiple offices. What are the challenges to building a regional firm?

You're right. Until we consolidated our two Halifax offices into one, we had seven
offices. Many of the Bay Street firms have less than that or similar. We have some of the
same types of administration and management challenges that large global and Canadian
law firms would have. We have to make sure lawyers in each office are providing a
consistent level of quality client service. We have to make sure that each office is
recruiting and retaining the best people they can get. It involves a lot of communication
and a lot of travel.

What is your partnership and management structure?

We are a single partnership, a single management structure. We believe a single
partnership model is better and gets better results for clients. We don't have a managing
partner in each province or each office. It's a unified management structure. After we did
the merger (with Patterson Palmer's Halifax office), we did a governance review and
restructured the way we did things. We adopted a board of directors and appointed a
managing partner.

What's the biggest challenge to building a regional firm in Atlantic Canada?

Right now it's recruitment of, and retention of, the type of specialist lawyers that can fit
into a practice group. Places like Calgary are doing well and paying salaries that are
attractive. Recruiting and retaining specialists in corporate finance, that's our biggest
challenge. The lure of larger dollars in Calgary or Toronto may not offset the loss of a
really good place to work.

What's the economy like in Atlantic Canada?

We're not having a boom like Alberta. We are having very strong growth. Newfoundland
is doing extremely well. Nova Scotia is ahead of projections for growth. New Brunswick
is also doing well. St. John's, Fredericton, Halifax, and Moncton are each enjoying a
reasonable level of prosperity. There is a fairly good level of entrepreneurship activity.

That was quite a coup, landing most of the Halifax office of Patterson Palmer. How's that
merger going?

The rationale for the merger and the philosophy for merging, for both sides, was to be in
a better position to service our client base. That's what motivated both of us and what
was behind the decision to merge. They had depth in areas we didn't in corporate finance
and we had depth in areas like labour and litigation. That made it easy for people to rally
behind it.