Lawyers need many skills to thrive in today's market, but they also need to be connected to their community.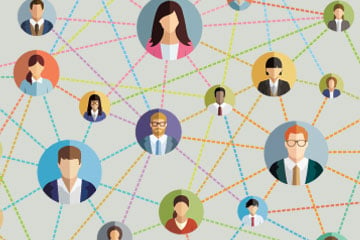 Lawyers need many skills to thrive in today's market, but they also need to be connected to their community. Much has been written about how lawyers need additional skills outside of their legal expertise to be successful in the 21st-century workplace. But in addition to these skills, a truly competitive and innovative lawyer must also have a sound understanding of the needs and challenges of their community. Lawyers must be more than "T-shaped" lawyers and become "Communi-T" lawyers.
The T-shaped lawyer
Technological advancement and innovation are two of the most crucial trends driving change in the legal sector. They are key for law firms intent on growing, staying relevant and remaining competitive in an evolving industry. Legal excellence is fundamental, but today's lawyer needs to have a broader level of expertise and knowledge, an interest and facility in dealing with technology and other fundamentals such as business, project management, financial and digital literacy and government affairs, to name a few. They must understand and adapt to unique approaches, particularly because of competition, client demands and the current state of the legal industry.
In other words, today's lawyer needs to be a T-shaped lawyer. In the T-shape framework, the vertical stroke of the T represents the deep understanding of one or more specific areas of law or the disciplinary legal specialization. The defining characteristic, however, is the horizontal bar of the T, which represents broader, generic attributes such as the ability to collaborate across a variety of different disciplines, problem solving, leading teams, innovating, building relationships and strengthening organizations. The combination of the vertical qualities and the horizontal qualities forming the T will allow lawyers to thrive in the future workplace.
The Communi-T lawyer
Societal challenges faced by legal professionals are big and complex. As the workplace is changing, lawyers must give advice while considering complex issues and multiple viewpoints. No single actor or area of society has sufficient knowledge or resources to meet these challenges on their own. It is important to co-ordinate efforts between actors to create the best conditions for innovation.
To do so, legal professionals must build awareness of the communities in which they will operate and evolve, they must innovate by bridging people's needs and getting involved and they must collaborate on implementing appropriate solutions and be accountable for them. They must be Communi-T lawyers.
Awareness
At the heart of every community, lawyers are working to help and support clients, to facilitate business or provide valuable advice. In addition to fostering a culture of innovation by embracing the game changers, lawyers must identify and map out the legal challenges in the daily lives of the people they are serving. A team of lawyers should, therefore, be from diverse backgrounds, cultures and experiences, have a deep knowledge and understanding of challenges and cultural lenses, maintain strong relationships with key local and regional authorities and grasp their mentality to provide their clients with access to adaptive and innovative legal intelligence.
For example, lawyers are trained to identify discrimination and advocate against it. However, with complementary skills such as statistical literacy, they will be able to recognize and quantify it, even in subtle forms, but only if they have a keen understanding of their community.
Involvement
Communi-T lawyers are ambidextrous thinkers. They often have broad interests such as side businesses, voluntary work or involvement in events across the legal industry and society at large. They emphasize collective interests, sustainability and social justice. The newer cohorts of legal professionals should be aware of the plurality of moral and social values existing in society, and address this plurality whenever it is relevant in the performance of their legal role. Lawyers, individually and as a profession, are often expected to have a special duty to strive toward improving access to justice and to help close the gap between those who can and those who cannot afford legal services. To do so effectively, involvement in the community is important with continuous collaboration with community partners.
Accountability
Communi-T lawyers are also accountable to their communities. Finding an appropriate model for accountability that achieves this can be a challenge, especially with conflicting priorities. In addition to critical interpersonal and empathy skills, lawyers need to value diversity and inclusiveness.
Many legal professionals attempt to become entrepreneurs and eventually launch startups. Their initial goal is to provide better and cheaper service responding to legal needs. Numerous communities are out there to support them as mentors, incubators, accelerators, venture investors or economic development leaders. By entering these communities, not only does it give legal innovators direct access to some of the brightest minds to support them, it also ensures that these legal innovators can continue to be involved in maintaining the diversity of thought that they bring to a growing, innovative workplace while being accountable. Why shouldn't they have the same accountability toward their clients and communities?
Workplaces of the future will be highly connected to allow the right people to collaborate to get the job done. They will operate like startups, meaning they will have unclear governance structures, short time frames and high expectations. Future workplaces will also become more diverse, multicultural and inclusive. Law firms or departments with such workforces will be better able to win top talent and improve their client orientation, employee satisfaction and overall innovation. One way for law firms to apply this idea today is by hiring people whose demographics reflect where they operate.
Educating T-shaped lawyers
The best way to develop T-shaped characteristics in students is to integrate them into the curriculum as early as possible.
The Law Practice Program at the University of Ottawa, known as le Programme de pratique du droit, offers an alternative pathway to the legal profession in Ontario. More than 225 lawyers were involved in creating its innovative program that allows candidates to develop practical skills for today's legal market.
Although the broader goal of this program is to promote access to justice for the francophone community by training future lawyers who can offer high-quality legal services in French in Ontario, the program is an example for training future Communi-T lawyers. Candidates are introduced to a wide range of community groups and organizations with the hope that these local resources will become their future partners in providing holistic legal and non-legal solutions to their community. In building the PPD's team, individuals with a commitment to community is a key component. These individuals bring fresh ideas relating to how they can involve new stakeholders in the program and how these stakeholders can better train candidates to serve their community. These efforts are reinforced by internships, professional education and innovation opportunities such as legal information community clinics or hackathons.
The legal industry isn't going to transform itself on its own to reach the goals of access to justice and innovation. We all have a responsibility to change the playing field and enable legal innovation that celebrates an open, creative and inclusive future. Successful T-shaped lawyers will not only stay ahead of technological developments and seek to continuously improve the services they provide clients, they will be doing so while being deeply rooted in their community.
Christiane Saad is a lawyer and the director of the Law Practice Program in French at the University of Ottawa.