Real GDP should grow 5.5 per cent between the fourth quarter of 2020 and the fourth quarter of 2021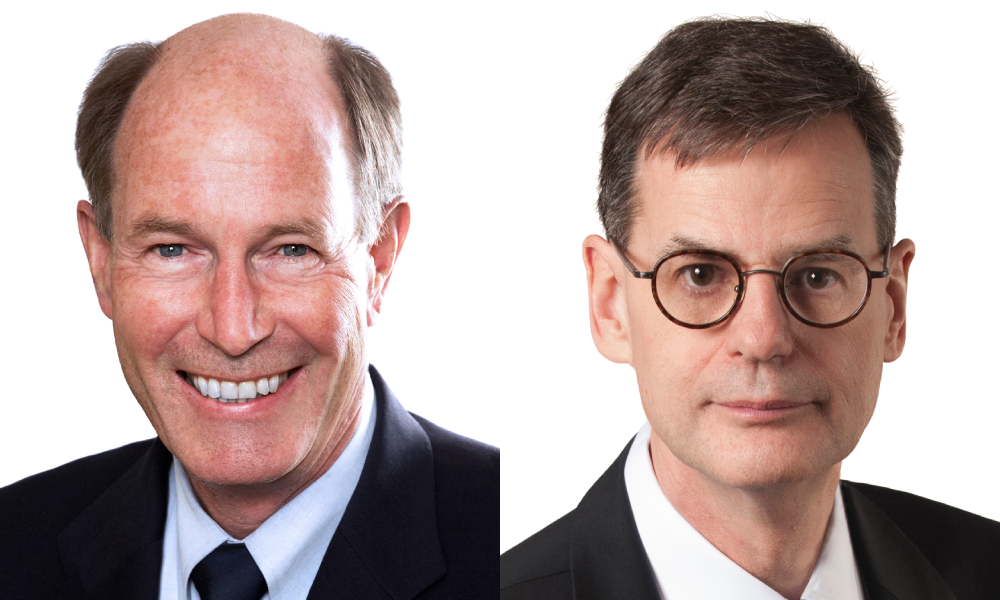 Canada's economy should strongly rebound this year as COVID-19 vaccination rates rise and things return to more pre-pandemic conditions, with growth easing slowly between now and the end of 2023, says an outlook report by Bennett Jones LLP.
However, the authors of the report, which includes Bank of Canada Governor David Dodge, say Canada must focus on overcoming the impact of the pandemic. "The time is right" for Canada to look beyond COVID-19 and to "articulate and execute a strategy for investment and long-term improvement in our competitiveness, productivity and standard of living."
Dodge, a senior policy adviser at Bennett Jones, says that he expects growth to accelerate in the second half of 2021, with real GDP growing 5.5 per cent between the fourth quarter of 2020 and the fourth quarter of 2021. For 2022, the outlook is for 2.6 per cent during 2022 and 1. 9 per cent during 2023.
Economic output should return to its pre-pandemic level by the third quarter of 2021 and back to its pre-pandemic trend level by the end of 2022.
Canada adopted a "fairly rigorous" lockdown and border-control strategy compared to many other countries (though others such as Australia and New Zealand were even tougher). Dodge says that despite a drop in economic growth of more than five per cent in 2020, "Canada was remarkably resilient" and is poised for a strong recovery.
Globally, in terms of output growth, China has been the "star performer" when it comes to recovery, with more than eight per cent growth expected this year, tapering to more than five per cent in 2022 and 2023. However, the U.S. and Canadian economies should outperform most European countries. The European region will see output growth in the four per cent range this year and next, and just under two per cent in 2023. "North America is looking pretty good," Dodge says.
The report says that several factors will support the Canadian economy returning to its potential in the second half of 2022 and exceeding it slightly in 2023." These include improved household confidence and spending, strong U.S. demand for Canadian exports (including tourism) and higher commodity prices.
However, these positive forces will be mitigated by reduced fiscal support from governments, a strong Canadian dollar and "a shortage of industrial inputs and labour in some sectors of the economy."
The second critical risk is inflation and interest rates. Buoyant growth of demand for goods in the United States and China has already stimulated demand for industrial inputs and pushed up commodities prices.
Dodge also noted that tightness in supply chains and adjustment to the recovery has also resulted in sharp rises in the prices of some intermediate inputs, from shipping to semi-conductors. However, while uncertainty exists about how long such cost pressures will last, Dodge says the report outlines expectations that they will start to ease by the end of 2021.
There is, however, a risk that U.S. inflation rises more, and for longer, than anticipated because of more persistent cost pressures and overheating of the economy. Moreover, the Federal Reserve has also indicated it is willing to tolerate higher inflation, compared to the Bank of Canada, which Dodge says is planning to stick with its two per cent target. As a result, U.S. inflation could lead to higher interest rates in 2022 and slower than projected growth after that.
Says the report: "Indeed, there is a serious debate underway regarding the prospects that trend inflation in advanced economies could be higher in the medium term than has been experienced in the last two decades of generally below-target inflation."
Dodge suggests that while "no one knows" what will happen regarding inflation, businesses "should plan as those rates will go up and that they will have to pay more to borrow. That advice is "also for households."
As for the labour market, the outlook suggests total employment in Canada is expected to be back to pre-pandemic levels as early as the end of this year. "By the second quarter of 2023, the employment rate and the unemployment rate may also be expected to return to levels of February 2020."
The outlook also notes that the disruption in the labour market caused by the pandemic differed by sector and segment of the labour force. The impacts "will be felt longer by more vulnerable workers, the report There will also be permanent changes in the way we work, for example with more Canadians expected to continue working from home, at least for part of their work week.
One concern the outlook report notes is that with governments and businesses focused on reopening the economy and recovering losses of output and jobs, there has been less attention to rebuilding our economy for a post-COVID world. One of the report's authors, Serge Dupont, says there is a "clear argument for Canada needing a growth strategy going forward."
He notes that looking beyond COVID, Canada must reverse two trends that started before the pandemic that, if not addressed, will harm the wealth and prosperity of Canadians.
The first trend is declining productive investment as a share of our economy, which dates back to the global financial crisis of 2008. The second trend is a gradual erosion of Canada's position in international markets.
"We don't want to take away from the recovery that is coming post-pandemic," Dupont says. However, if an economy is a combination of consuming today and investing for tomorrow, "were doing more consuming today than investing for tomorrow, and that is not a good trend." He notes, for example, that Canada is not exporting proportionately as much as we used to, as we lose ground in the U.S. market to China and Mexico.
The priority, therefore, is for Canada to allocate a larger share of economic activity to invest in areas such as physical and human capital to allow us to perform better in global markets. What is needed is not a strategy of heavy government intervention and spending in every sector of the economy, Dupont says, but one of developing structural policies around competition, taxation, regulation, international trade, and focused education and training.
Dupont adds focused climate change strategy could also give Canada a competitive advantage, as the global energy system and economy drive toward lower and ultimately net-zero emissions. This includes decarbonizing our oil and gas industry to create opportunities for the future export of energy solutions. Similarly, Canada's automobile industry should take advantage of the growing desire for smart, clean vehicles.
As well, Dupont says, Canada's economy must acknowledge the growing impact of digitization across the economy and take advantage of this trend through competition, investment, intellectual property and data management policies. Such action could create the space for Canada-based firms to emerge and capture global market share.
He suggests that part of the problem is that Canada, with its division of federal and provincial powers, must find a way for all its regions to pull together and develop policies for the country's good. Dupont makes the analogy to the response to COVID-19 and vaccinations across the country. "At first, it was a bit messy," he says.
"But at a point in time, once we started getting the vaccines, there was one priority that everybody understood – distributing the vaccines and getting them in the arms of Canadians, right. Everybody was aligned on that and we started real results." The upshot of that working together means Canada is a leader when it comes to vaccination rates.
"That's what happens when you have a clear priority, and everyone rallies behind it."
Dupont adds that lawyers, especially those involved in areas like energy, taxation, corporate or commercial law, and intellectual property, need to be mindful of Canada's investment and economic environment.
"They need to convey this to clients through advice and the legal services they provide and be part of the policy discussion so that their clients can be part of the innovation that is needed to keep or economy growing."