Commission invites applications to join Securities Proceedings Advisory Committee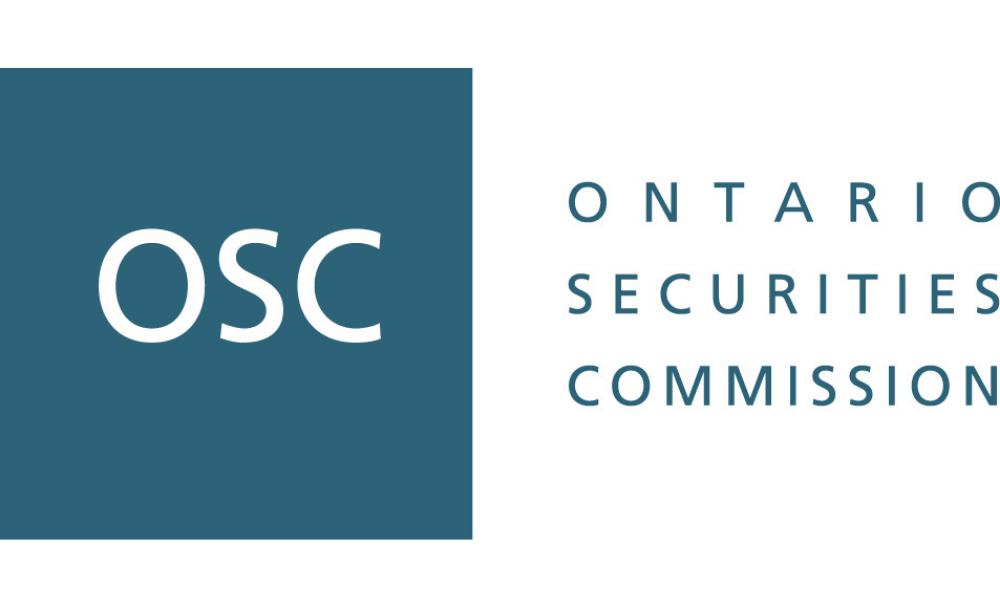 The Ontario Securities Commission has announced recent additions to the membership of its independent Investor Advisory Panel, of its Small Business Advisory Committee and of its Investment Funds Technical Advisory Committee.
The Investor Advisory Panel, which considers the perspectives of a wide array of investors through consultation, aims to advise and to comment on proposed rules, policies and investor protection initiatives, said a news release by the commission on Oct. 5.
"The new Investor Advisory Panel members, who have been appointed for two-year terms effective Nov. 1, include Cary List, retired president and chief executive officer of FP Canada, and James (Jim) Sinclair, who has more than 35 years of experience offering legal services in capital markets settings. Sinclair has served as general counsel at Common Wealth and at the Ontario Securities Commission, as acting enforcement director at the Ontario Securities Commission and as legal services director at Ontario's finance ministry."
The Small Business Advisory Committee aims to offer advice on current business practices and emerging trends impacting small businesses in public and private markets and to give feedback regarding the effectiveness of corporate finance policies and initiatives relating to small businesses, said a news release dated Oct. 1.
The following are the Small Business Advisory Committee's members, who will meet on an as-needed basis and who will serve a two-year term:
Tim Babcock of the TSX Venture Exchange
Chad Bayne of Osler, Hoskin & Harcourt LLP
Melanie Cole of Aird & Berlis LLP
Siri Genik of BRIDGE©
John Fabello of Torys LLP
Peter Irwin, retired managing director of CIBC World Markets
Matthew Ivis of the Canadian Venture Capital and Private Equity Association
Jo-Anne Matear, the committee's chairperson and manager of the Ontario Securities Commission's corporate finance branch
Liis Palmer of Cassels Investment Management Inc.
Grant Redpath of PwC LLP
Kay Schonberger of RBC Capital Markets
Pierre Soulard of Miller Thomson LLP
Rob Theriault of the Canadian Securities Exchange
Jonathan Tong of Miller Thomson LLP
The Investment Funds Technical Advisory Committee seeks to give stakeholders an opportunity to engage with the Ontario Securities Commission for smarter and more effective regulation in relation to investment funds and structured products, said a news release dated Sept. 24. The committee also aims to offer advice on technical compliance challenges in the investment funds product regulatory regime and to identify opportunities for better alignment among investor, industry and regulatory goals.
Melissa Schofield, senior legal counsel of Investment Funds and Structured Products, chairs the Investment Funds Technical Advisory Committee, whose members will meet four times annually and who will serve for two-year terms. The committee is composed of the following:
Shalomi Abraham of Invesco Canada Ltd.
Steve Banquier of TD Securities Inc.
Carlos Cardone of Investor Economics - ISS Market Intelligence
Mario Cianfarani of Vanguard Investments Canada Inc.
Aidan Coulter of Fundserv Inc.
Thomas Di Stefano of Fiera Capital Corporation
Brad Gerster of Franklin Templeton Investments Corp.
Alan Goldhar of Durham College
Matthew Graham of RBC Global Asset Management
Elsa Li of CI Global Asset Management
Robert Lemon of CIBC World Markets Inc.
David M. Morrison of Morrison Financial
Florence S. Narine of AGF Investments Inc.
Anne Ramsay of EMJ Capital Ltd.
Gillian Seidler of Mackenzie Financial Corporation
Michael Thom of CFA Societies Canada
On Oct. 6, the Ontario Securities Commission announced that it is inviting applications to join its Securities Proceedings Advisory Committee, which seeks to provide advice on policy and procedural initiatives relating to the commission's administrative tribunal.
Applicants should have practised in securities litigation within the last three years, should be in good standing with the Law Society of Ontario and should possess an excellent knowledge of Ontario securities law and and a strong interest in developing tribunal policy and procedure, said the news release.