Fasken partner discusses how the confidence of women lawyers propelled her into business law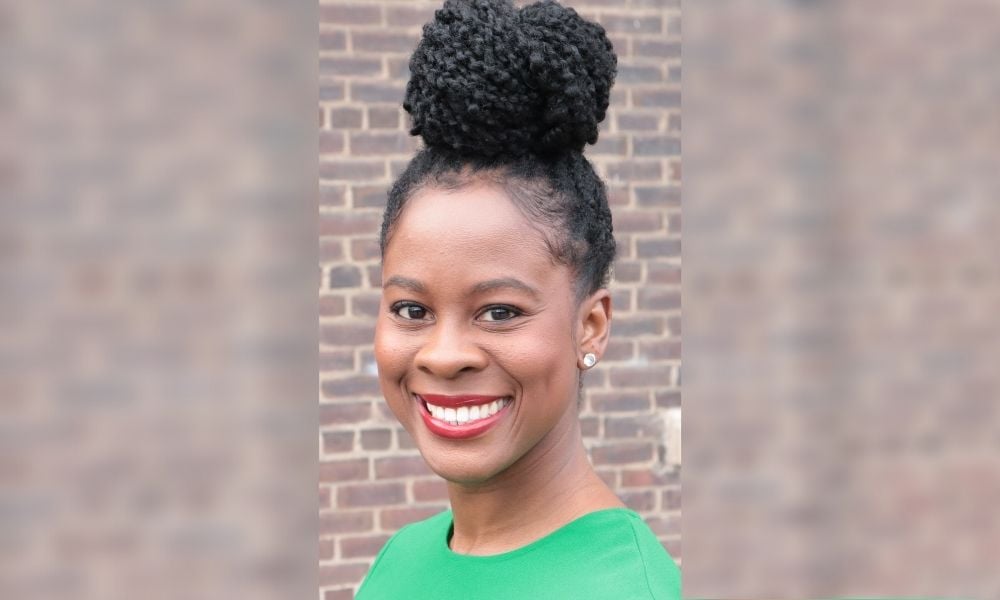 Singing in choirs, participating in dance competitions, and often engaging in group activities as a child, Taisha Lewis, partner at Fasken, says corporate law was a perfect environment for her desire to be part of a team and attaining as much experience as possible played an essential role in defining her legal career.
"My general approach to my career has been to say yes," Lewis says. "Somebody comes to you with an opportunity, just say yes, and you're going to learn something from that."
Networking has been critical in building Lewis' career, and she says meeting new people in person, being social and going to conferences and networking events is a skill that evolves and should primarily centre on developing one's interests. "If you don't like or know how to play golf, you do not have to play golf; you do not need to make that part of your networking strategy."
Lawyers must reflect on themselves and what they enjoy doing, look out for opportunities, or create openings for themselves, Lewis says. "Find what works for you and do that. It makes it more fun, and ultimately, you'd be more successful because you're doing something that you enjoy, and it's not a burden. It's not a drag."
Also instrumental to her career development was being awarded a John Brooks scholarship in high school which was presented to her by Bruce Alexander, a retired lawyer and Lewis' mentor. "We would go for coffee, and he would tell me about the law and encouraged me to pursue it, and we kept in touch throughout undergrad. He helped me get my first law office job."
During her study at McMaster University, she worked in the copy and mail room and as a receptionist and legal assistant at a Bay Street law firm over the summers, exposing her to a business law office. "I could see the women lawyers exuding a lot of confidence and was drawn to that environment."
Lewis started studying for the LSAT and says conversations with Alexander and exposure to a law firm aided her legal career, and when she attended the University of Ottawa law school, she had a keen interest in business law and enjoyed her courses. "It starts with knowing who you are, what you like to do, and then looking for the opportunities to do that thing."
She articled at a boutique business law firm focused on the technology industry in Ottawa before working at Fasken, and she says starting her career at a small firm was impactful because there was a heavy deal flow and fewer hands to do the work. "We were thrown into the deep end and given many responsibilities very early on."
Lewis recalls helping close her first deal a few months into articling, which she says is not the level of responsibility typically given to junior members of the profession. "It was all tech M&A, tech financing, and I really enjoyed it because it was very team-based. Every file was worked as a team."
Lewis's corporate commercial and securities law practice focuses on mergers and acquisitions, and corporate finance. She advises clients on various transactional matters, including domestic and cross-border M&A, private placements, public offerings, and securities regulatory compliance. Lewis also advises clients on corporate governance matters, including shareholder arrangements and fiduciary management duties.
She will be one of the speakers at the Canadian Lawyer's Women in Law Canada summit on February 17 and present on "Designing the career you want."
Lewis says that staying connected with colleagues and law school classmates has also helped her career. "I have no lawyers in my family, so I can't network with lawyers in my family, but everybody that is a lawyer went to law school. So, it's a good idea to keep in touch with your law school classmates because you never know where people are going to end up."
Connecting with their colleagues in similar vintages at other organizations is vital. For example, Lewis says junior associates at a law firm should connect with other junior lawyers or businesspeople at organizations or companies they find interesting.
It is not necessarily about finding industry leaders today, she says, "but looking to those around you who may become industry leaders in the future because you probably have more in common with your contemporary than someone much more senior in the industry."
Mentorship is also crucial to the professional development of lawyers and Lewis says interacting with senior associates or members of a bar slightly ahead in their career and asking about their responsibilities at a junior stage can help gauge a person's experience and create a clearer career path.
She says a proactive approach to getting an evaluation from mentors or supervisors is critical. "Actively seeking feedback on every file, looking at the markups, the black lines, asking how am I progressing? Are there issues that I need to be aware of going forward?"
Lewis says law firms or organizations should also be helping lawyers track their progress. "We [Fasken] have a skills matrix that sets out different agreements and transactions our associates are expected to become familiar with and so, keeping track of the skills you are expected to develop is important, and organizations should be helping to support in that way."
Lewis currently serves as a mentor with the Black Law Students Association. She is a past member of the Ontario Bar Association's Business Law Section Executive and the Young Lawyers Division East Executive. In 2020, Lewis won a 40 Under 40 Award from the National Bar Association, which recognized the top Black lawyers in the U.S. under the age of 40 who exemplify a broad range of high achievement, including in advocacy, innovation, vision, leadership, and overall legal and community involvement.