Court of Queen's Bench ruling says pandemic is an 'extraordinary' event, not failing of the Crown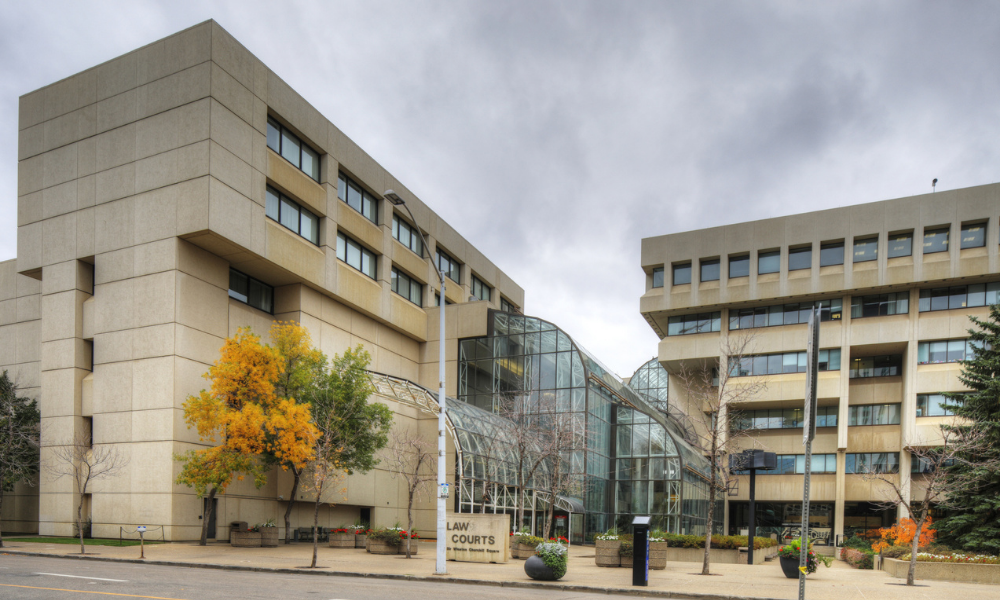 An Alberta judge has dismissed the application of a man who fled to Belize before standing trial for stealing more than $2 million, rejecting the argument that the accused's Charter rights were infringed under the Jordan principle of unreasonable delay, in part because of COVID-19 pandemic protocols and scheduling.
In a Sept. 29 ruling, Justice Robert Graesser of Alberta's Court of Queen's Bench in Edmonton denied the request for a stay of proceedings. He wrote: "In the context of managing a global pandemic and attempting to ensure the health of safety of inmates, neither the prison system nor the government health authorities should be considered . . . 'government actors' for whose conduct delays should be attributed to the Crown for Jordan."
While the defendant Francis Emanual Mella did contract COVID-19 during his time in custody, Justice Graesser ruled any failings "should not be visited on the Crown for Jordan purposes."
Added Justice Graesser: "I find it somewhat offensive to treat someone in . . . Mella's situation the same as someone who has not chosen to flee the jurisdiction to a non-extradition country and only returns when he is forced to do so by the foreign jurisdiction's authorities, and then decides he wants a speedy trial."
Justice Graesser concluded that the defence failed to prove that any delay resulting from Mella's unit being shut down or him contracting COVID "should not be treated as an extraordinary event and not counted towards Jordan time."
He added: "There may be situations, such as wilful violations of accepted procedures and protocols or malicious acts that might be treated differently, but I do not see that [the Fort Saskatchewan Correctional Centre or Alberta Health Services] or any level of government should be viewed as a guarantor of the health of its residents, even those who are detained."
He also described the COVID pandemic as "undoubtedly one of the extraordinary circumstances spoken of but not articulated in Jordan." When "all levels of government declare health emergencies and impose restrictions on the liberty of all residents, that must be extraordinary circumstances."
However, defence lawyer Eric Gottardi of Peck and Company Barristers in Vancouver says that while COVID-19 has been deemed an "extraordinary" or "exceptional" circumstance, the longer the pandemic drags, "maybe we enter a gray zone" where that characterization needs to be revisited. "I mean, at some point, the circumstances no longer are exceptional, they become the norm,"
He adds: "We have to be even more vigilant that COVID-29 doesn't become a blank check to chalk up all delays to extraordinary circumstances.
Mella was charged with fraud and theft on Jun. 28, 2017. He is alleged to have defrauded or stolen $2.26 million from an Acheson, Alta., business between July 2008 and October 2014. It is also alleged Mella made multiple fraudulent transactions while he was the financial controller of a business.
The accused did not make a court appearance in March 2019, about a month before the first trial scheduled was to start, and it became clear he had left the country. More than a year later, on Apr. 28, 2020, Mella was arrested in Belize on unrelated matters. Interpol in Ottawa and Belmopan, Belize, were among the agencies that helped bring Mella back to Canada in early May 2020.
He was initially detained at the Edmonton Remand Centre, then was transferred to the Fort Saskatchewan Correctional Centre to begin serving a one-year sentence for a different charge, civil contempt of court.
For various reasons, including COVID-19 and Alberta Court of Queen's Bench priorities in setting criminal trial dates during the pandemic, Mella's judge-alone trial is not set to start until later this month and is expected to conclude on Oct. 22. That makes it just under 52 months from the date he was charged, putting it "presumptively over the Jordan threshold," Justice Graesser wrote.
The Jordan principle gives provincial courts a maximum of 18 months to complete the process of conducting a preliminary inquiry or a trial without preliminary inquiry. Where the accused is committed for trial in a superior court or has a provincial court trial following the preliminary inquiry, the maximum time to complete the trial under the Jordan rule is 30 months.
In August 2020, after Mella retained counsel, a second trial date was set for Jan. 11 – Jan. 15, 2021. However, the week before the trial was to start, someone in Mella's unit either got COVID or was close to someone who had COVID. The unit was quarantined. Shortly after that, Mella contracted COVID.
Attempts to book a new trial for September 2021 were hampered because any earlier dates were only available for those in custody who had been denied bail. That requirement came from the Court of Queen's Bench COVID priorities and directions given by court administration to the trial coordinators. Since Mella had not been denied bail, the first available trial dates for his case would be Oct. 18- Oct. 22, 2021.
Mella's lawyer, Kathryn Quinlan, acknowledged that the period from Apr. 29, 2019 (the start of his first scheduled trial) to May 6, 2020 (after he was returned to Canada) was a delay caused by her client fleeing the country. But she said that this 12-month period only reduced the total time since he was first charged to a little less than 40 months.
She argued that in that period, Mella did nothing to delay the matter himself or through counsel. She also argued that periods during the entire 52 months should be treated as Crown delays, including the impact of COVID and the protocols used.
One example Quinlan cited is the loss of the January 2021 trial date, which she said was because of negligent prevention and protection by the Alberta government and, in particular, staff at the Fort Saskatchewan Correctional Centre. The pandemic itself may be an "extraordinary event" covered by Jordan. Still, the early January 2021 shut-down and quarantine of Mella's unit, and his contracting COVID-19 at that time, were "the direct result of negligent policies and practices," she argued.
In making his ruling, Justice Graesser attributed 22 months as "defence delay" relating to Mella's disappearance to Belize – from Mar. 21, 2019 (when he failed to appear in court) to Jan. 15, 2021 (when that scheduled trial would have ended). Subtracting that figure from the period of just under 52 months total time, from when he was charged to the expected end of his trial this month, would bring it just below the 30-month threshold.
Said Graesser: "That is under the Jordan maximum, and results in there being no presumption in favour of a stay."
As for the delay between the trial set in January and the anticipated conclusion of the trial this month, Justice Graesser said it is "the result of the extraordinary circumstance of the COVID pandemic." He ruled "that nine-month period is not to be included in any delay calculations."
If those nine months relating to COVID is subtracted and not attributed to Crown delay, that brings the total period down to 21 months, what Justice Graesser described as "unadjusted time, as if Mr. Mella had not absconded and the first trial proceeded." He added that it is well below the Jordan maximum for superior court trials.
Criminal defence lawyer Matthew Nathanson says courts have consistently been treating COVID as a discrete exceptional circumstance to be deducted from the delay calculation under Jordan. " This is not surprising, since a global health emergency is perhaps the perfect example of an unforeseen event that is not the 'fault' of the Crown or the system."
However, he says, it is important that COVID "not be allowed to overwhelm the Jordan analysis, nor be used as a trump card to effectively extinguish the s.11(b) rights of accused persons."
He adds: "Even in the pandemic world, there remains a positive obligation on the crown and the court to take proactive, reasonable steps to minimize delay."
Nathanson also noted it's important for courts to be fair and realistic in their analysis of covid-related delay arguments. For example, the court, in this case, found that since the accused hadn't proven how he got COVID in jail, his delay claim could be summarily dismissed.
"With respect, this sets an impossible burden to meet. The state of medical knowledge does not allow for such proof, let alone in a custodial setting, he says. "In my respectful view, courts must be flexible and nuanced in their analysis of these issues, having regard to the realities of the situation accused people now find themselves in."
Gottardi says his concern is at what point are courts "going to stop using the pandemic as an opportunity to simply write off huge chunks of delay?" Maybe "we should look more meaningfully at what efforts are being made to determine what is reasonable or unreasonable given the context of an ongoing pandemic."
As well, he says what is considered unreasonable delay needs to be judged in the context of which region and what the pandemic conditions are like - Alberta and P.E.I. have very different situations. However, Gottardi also says he understands how judges don't want to make sweeping statements about how health authorities and other parts of government are handling the pandemic.