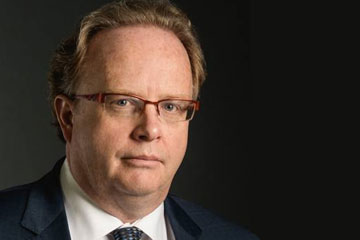 One Edmonton correctional officer's outrageous alleged remarks about female lawyers smuggling narcotics in their uteruses is not necessarily a sign of an anti-lawyer culture in the city's jails.
"You can certainly contemplate the possibility that, well, there must be a culture of that kind of talk if he's going to say that to the general public — or you might just be dealing with one fellow who's got no controls or filters whatsoever," says Kelly Dawson, president of the Alberta Criminal Trial Lawyers Association.
Dawson was nonetheless shocked by the openness with which Edsel Lim, a guard at the Edmonton remand centre, allegedly defamed the law office of Thomas Engel and one of his colleagues.
"I couldn't believe what was coming out of this guard's mouth, allegedly," he says.
The remarks came to light after Engel Law, which is well-known for pursuing abuse complaints against police and correctional officers, filed a statement of claim on Monday for $75,000 in punitive damages. Engel tells Legal Feeds the firm did not move to sue immediately but sent repeated complaints before deciding to file statement of claim.
"We made a complaint to the government and we got the brush-off. We were told it was investigated and that appropriate action was taken, but they wouldn't tell us what it was. And then we made a complaint to the new justice minister, Kathleen Ganley, and also to the premier, Rachel Notley, and didn't even get so much as the courtesy of a reply," sayd Engel. "And so it was decided, all right, that's not going to work, so we're going to deal with it this way, especially when we found out that this guy is still in the same position."
According to the statement of claim Lim told criminology students on a tour of the facilities in 2014 that lawyers were to blame for routine smuggling of drugs into the jail — and particularly female lawyers, who were stashing contraband in their uteruses.
"The issue is with you people," Lim is alleged to have said, while pointing to female students. "If vaginas can fit a baby, they can suitcase drugs."
Beyond general statements about his dislike for lawyers, Lim is also alleged to have referenced Engel Law specifically when he said that "the firm that always sues us" and "the female lawyer that sued him" were smuggling drugs into the centre.
One of the members of the student tour in 2014 was the sister of one of the members of Engel's firm, he says, so that is how they found out about the comments.
Dawson says, if the guard made those statements, it's obvious who he was talking about.
"It's common knowledge. People reading the paper, they see Mr. Engel's name in there on a routine basis conducting these files, and he's also sued and involved the remand centre in a lot of litigation over the years. . . . Pretty much, he is the go-to guy in this province and the one who gets all the press in terms of any such involvement with the police."
Engel and his firm have become notorious in the province for filing more complaints about police abuses and mistreatment of prisoners than any other firm. Police have retaliated by filing dozens of complaints against Engel, none of which has succeeded to date.
In recent years, Dawson says Engel has tried to smooth over the animosity by reaching out to Edmonton's police chiefs — both individually and on behalf of ACTLA — and by inviting them once a year for a candid discussion with the association's lawyers.
That being said, Dawson acknowledges that some resentment may have built up over the years among rank-and-file police officers.
"There's a history of a lot of rancour between them and Tom because they're the ones directly affected," he says. "The remand centre guards are not police officers, but they are certainly part of the law enforcement apparatus and they probably have a lot of sympathy for some of the police officers being attacked in this way."
Dawson, however, insists that one correctional officer's vulgar alleged remarks should not be used to smear the entire institution.
"Tom is well known for being a thorn in their side, but I have spoken to remand centre guards in the past who know him and grudgingly respect what he does."
Updaet 4:10 pm: Comments from Thomas Engel added.