Chapter will promote development of criminal business law practice in Quebec among female lawyers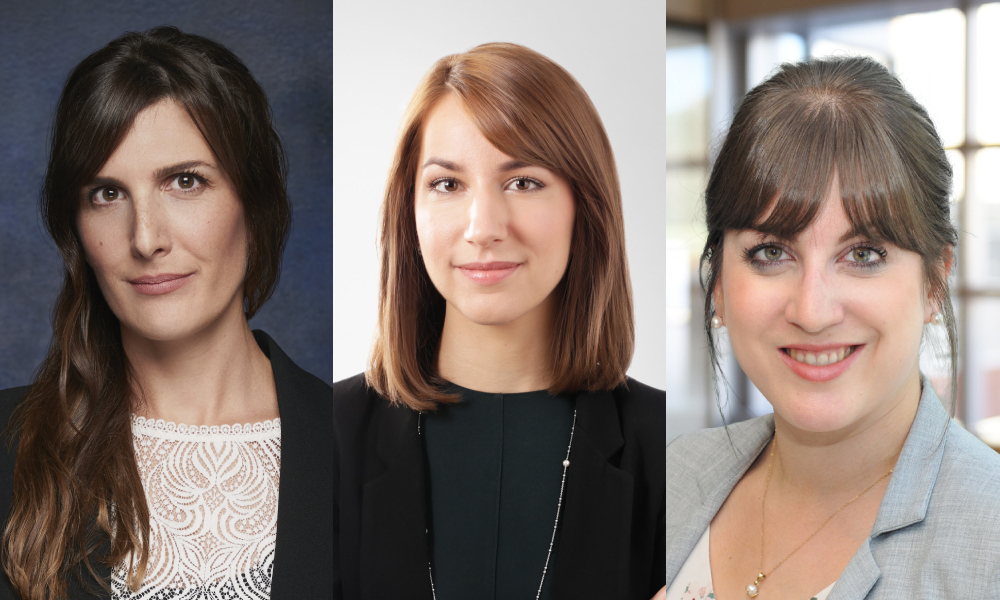 There's a dearth of women working in white-collar defence work, which was the impetus behind founding the Women's White Collar Defense Association (WWCDA). Next week, the global organization will get a new member when a Quebec chapter of WWCDA officially launches.
"It's a virtual launch" on May 4, explains Fanny Albrecht, an associate in LCM Avocats in Montreal and a co-founder of the new Quebec chapter with Sarah Gorguos of Davies Ward Phillips & Vineberg LLP and Lauréanne Vaillant of Deloitte Canada. "We contacted women we know who are practising in this field" in Quebec, "and it's going to be a success" -- even without the champagne.
Nicole Duval Hesler, former chief justice of the Court of Appeal of Quebec, and Karen Popp, co-founder of the WWCDA, a partner at Sidley Austin LLP in Washington, D.C. and global co-leader of Sidley's White Collar Group, will be special guests and speakers at the event.
The WWCDA was formed in 1999 to promote female lawyers working in white-collar defence by providing them with opportunities for professional development, networking and referrals.
There are currently 43 chapters in the association worldwide, says Albrecht, including in Toronto and Vancouver. The launch of the Quebec chapter will mark "an amazing opportunity for female lawyers practising in Quebec and in Montreal," she says.
"The idea is to promote the development of the practice of criminal business law in Quebec among female lawyers and give them the opportunity to have an exceptional forum for networking, to share experience and ideas on criminal [business] matters."
White-collar crime covers "a very large area," she adds. It encompasses a full range of frauds committed by business and government professionals, including public corruption, money laundering, corporate fraud, securities and commodities fraud, mortgage fraud, financial institution fraud, bank fraud and embezzlement, and fraud against the government. Albrecht's practice includes insider trading defence.
"It is more a male-dominated practice area. We really want to promote our practice because we believe that we can shine in this field, and you don't need to be a male to shine in white-collar defence. This is why we think that it's important to promote this type of association, and, obviously, by the creation of the Quebec chapter, because . . . it's an exceptional forum.
"It's a networking forum, too; we can refer colleagues, . . . and the more you share, the more you connect, the better your practice will be."
The WWCDA states its aims as to:
Promote diversity in the legal profession and the legal fields of criminal, civil, regulatory, and administrative enforcement and internal investigations, compliance, and ethics.
Provide networking and business development opportunities for our members and participants in their local markets, nationally and internationally.
Develop educational programming focused on the legal fields of criminal, civil, regulatory, and administrative enforcement and internal investigations, compliance, and ethics.
Facilitate collaboration and communication among our members and participants.
Develop resources to assist our members and participants.
"What we want to do with the Quebec chapter is to reflect the diversity and richness of Quebec," says Albrecht. "We work and practise in a very dynamic environment; Montreal is very diverse [and] we want our chapter to reflect this greatness also. We practise in an amazing environment in Montreal and Quebec; it's almost unique in the world. It's bilingual; it's very dynamic, we've got amazing clients [and] a lot to do here.
"We want to recognize our talent in criminal business law; we have many here who are very, very talented, and they need to be recognized in their field of practice."
The launch will take place virtually at 12:15 p.m. Eastern time on May 4. Parties may contact any of the co-founders directly if they are interested in attending.