IP lawyers welcomed the new processes to help pandemic-related health products get to market faster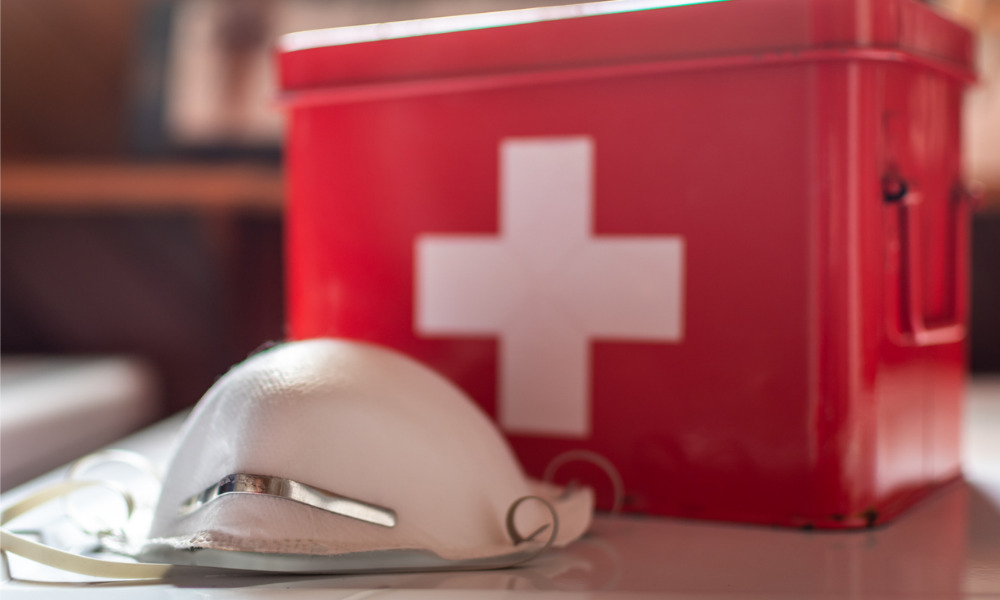 With an unprecedented rate of medical innovation during the pandemic, regulators and tribunals have released expedited processes to help prevent legal decisions from slowing down the COVID-19 response.
In normal times, legal determinations for health products could take years, and nowhere has that been more evident than in the trademarks space.
"If you file a trademark application, it's not getting examined within two years of filing, which is an exceptionally long period of time," says Mark Evans of Smart & Biggar LLP. Evans says Canada's trademark examination timelines are the worst among major countries in the world.
So, when the Canadian Intellectual Property Office announced an expedited trademark examinations process in December for goods or services used to prevent or treat COVID-19, it was welcome news.
In fact, with paper filing and in-person proceedings grinding to a halt in March, and a new trademark act in 2019, trademark determinations were even slower than usual in the spring of 2020, says Sanjukta Tole, a trademark lawyer at Marks & Clerk Law LLP.
"It's caused a severe backlog at the trademarks office. Because they were at least until very recently operating largely in paper," says Tole.
Tole, like Evans, welcomes the expedited process, but she wonders how fast these new determinations will be. "Are we going from a current 24- or 26-month delay to 12 months? Or are we going to be examined within two months?" asks Tole.
Evans also says that, while this expedited process "serves as an admirable public goal," its application is "relatively narrow."
For regulatory approvals, IP lawyer Kamleh Nicola says Health Canada has done a "tremendous job" at being agile and innovative and responding to what industry needs to get products to the medical field.
Nicola, who does patent litigation and health regulatory work for the pharmaceutical industry at Baker McKenzie in Toronto, points to Health Canada's recent interim order to expedite the review process for drug applications submitted for authorization. This allowed companies to file data on a rolling basis instead of sending it all at once, and it was widely credited with helping COVID vaccines get to market so quickly.
"That has been a tremendous success story for Canada," says Nicola, "seeing just how Health Canada, which has always traditionally been seen as this big, slow-moving iceberg, actually pivoted and exhibited great agility through a huge time of need."
Nicola, who does not do patent applications but litigates patent disputes, says "there hasn't been the same degree of agility" on the patent protection side. CIPO's response on patent decisions, she says, has been "muted" and the only accelerated process for patent examinations related to COVID-19 applies only for businesses with fewer than 50 employees.
"For the vaccines and treatments that we know about . . . those products have not been developed by small entity companies."
Noel Courage, a patent lawyer and co-leader of the COVID-19 practice group at Bereskin & Parr LLP, says his clients have not yet been focused on expediting their patents during the pandemic.
"What I've seen is that companies are more focused on getting their collaborations going and getting their funding in place and getting their R&D complete. Patent filings are getting done, [but] I don't find that there's a lot of expediting."
What all IP practitioners seem to agree on, though, is that although COVID caused significant delays at first, the shift to virtual proceedings and e-filing should pay off in the long term.
In fact, Chief Justice of the Federal Court Paul Crampton says that his court's goal of limiting trials to 10 days has been easier to reach as the reforms put in place before the pandemic were put into overdrive starting in March.
"We were already trying to affect a culture shift in the IP space, in particular, for these big drug patent trials and other IP matters," Crampton says.
Pre-pandemic, "it was surprising to see that in a number of specific cases, people would give all sorts of reasons why their particular trial couldn't get done in 10 days. . . . So COVID has really helped to the effect that that culture shift in the bar was necessary."
For the Federal Court of Appeal as well, Chief Justice Marc Noël says that, while the pandemic did cause delays initially, total dispositions in 2020 were 405 for his court, compared to 479 in 2019, and 23 IP matters were heard since the beginning of the pandemic and seven IP motions were heard since June.
"The IP bar has been very responsive to our new means of proceeding," Noël says.
Expediting COVID decision-making
The following expedited processes were announced in 2020:
March 18: Health Canada announces it will fast track the authorization of the importation and sale of masks and respirators.
July 8: The Canadian Intellectual Property Office announces accelerated examinations for Canadian patent applications related to COVID-19 relief for small entities employing 50 or fewer employees.
Sept. 17: Health Canada issues an interim order to expedite the review process for drug applications submitted for authorization where applicants can file further information throughout the course of the review as it becomes available.
Dec. 14: The Canadian Trademarks Office announces that it will grant requests for expedited examinations of trademark applications for goods or services used for the prevention or treatment of COVID-19.