Charles Osuji of Osuji & Smith shares his story of immigration and success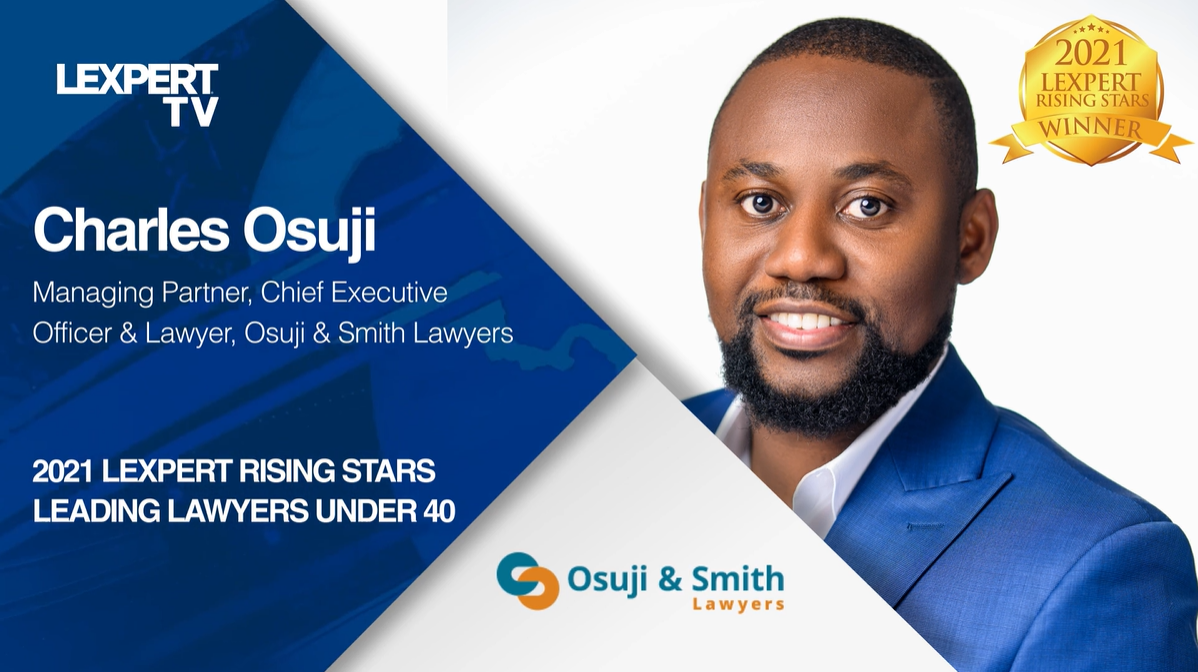 Nigerian-born lawyer Charles Osuji, one of Lexpert's Rising Stars in 2021, aims to be an exemplar of diversity in the legal profession in Canada. He joined James Smith's law firm in 2013 as an articling student, was called to the Alberta bar in 2014, and became a partner in 2016. When Smith retired, Osuji became his successor, which gave the young lawyer an opportunity to own the firm in 2017.
"[The] story of Osuji & Smith is beyond just the practice of law. There's more to it. We have this old white man who just turned 80 versus this young Black man from Nigeria, from across the world, coming together and putting their heads together to run their practice without focusing on that racial divide," he says.
For Osuji, an "entrepreneurial, multicultural and holistic" practice is his way of sharing the narrative of those who are like him and represents hope for young immigrants in Canada. He says he is inspired by family members who are successful in their careers, as well as by the experience of foreigners and people of colour who encounter "ceilings" in their profession.
"I also consider the fact that law is more than just practice. There's also the business side of it, and I didn't know this until I took over the firm. […] However, I cannot sacrifice my obligations to my clients as a lawyer on the altar of business interests. In as much as law is the business, [my duty to my clients is] to be competent, to have integrity and be honest with them, and ensure that their best interests are upheld."
Through volunteering and mentoring, Osuji supports his community and passes on the guidance he has received from Smith, as well as from Bruce Randall, executive director of the Calgary Region Immigrant Employment Council. Osuji says that giving back is in accordance with a lesson he has learned earlier on: to be a good lawyer, one must be a good person first.
"The legal profession is a profession where many people easily lose their soul and their core values because of how adversarial the business is, how adversarial the practice is. Once in a while, we have to step back and remember that people that come to us are not just fine numbers. These are real people with real challenges, real problems, and they must be looked after from a humanistic perspective. So, I try my best to bring kindness to work every day and also inspire my lawyers in the firm to do well," he says.
The multiple award winner defines success as the act of enabling another person to succeed by giving them a reference letter or work experience. He believes that being courageous in his profession encourages others and creates more opportunities for them, which ultimately benefits those who see him as a role model.