David Wotherspoon advocates for those who need a voice.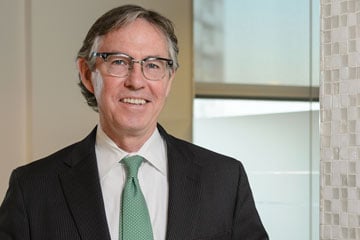 David Wotherspoon advocates for those who need a voice.
After more than 20 years as a commercial litigator, David found himself looking around, seeking other ways to apply his litigation talents.
"As a commercial litigator, you spend a lot of time in your office and never enough time in court, but you're helping champion commercial interests, which is important and valuable, but there are so many other needs in the world and people who can't afford those [commercial] kinds of rates. Most lawyers couldn't afford to hire themselves," says Wotherspoon, who, as of March 5, will head up the commercial litigation practice at Dentons in Vancouver.
The first pro bono project he took on was with DJ Larkin when she worked at West Coast Prison Justice Society and launched a lawsuit against then-federal minister of Justice Vic Toews and the ministry over cancellation of part-time prison chaplain contracts across the country.
Soon after Larkin moved to Pivot Legal Society to became its housing advocate, the City of Abbotsford sued a group of homeless people. "Katrina [Pacey, then Pivot executive director,] knew I was looking for opportunities to do social justice pro bono work and they asked me if I would assist with an injunction being brought to close a homeless camp in Abbottsford," recalls Wotherspoon. "I said, 'Sure, I've done lots of injunctions.'"
Wotherspoon, who was at Fasken Martineau DuMoulin LLP at the time, estimated it would take about half a day of his time. It morphed into a six-week trial with many applications and a trip to the Court of Appeal. "That injunction application was in December 2013. We did the Abbotsford trial in the summer of 2015 and then the cost application was after that," he says.
In that case, the B.C. Supreme Court handed down a judgment in favour of Abbotsford's homeless, striking down bylaws prohibiting the homeless from setting up temporary shelters and sleeping on city property.
In an 81-page judgment, Chief Justice Christopher Hinkson ruled that prohibiting the homeless from sleeping in city parks was in violation of s. 7 of the Canadian Charter of Rights and Freedoms that ensures the right of security for a person.
"The Abbotsford case was the most rewarding — I've never worked harder but have never been more satisfied," he says.
After the Abbotsford case, more cities and municipalities have changed their bylaws and some have been struck down in breach of s. 7. "I think there was a positive effect as a result of the Abbotsford case — more from the analysis provided by the chief justice about what s. 7 actually provides people who are homeless. I think that has resulted in some positive change and in part why the City of Maple Ridge is taking a different approach to that homeless encampment."
When issues in Maple Ridge arose last spring, Wotherspoon contacted Pacey and Larkin to see if they wanted assistance again. Last fall, he and the legal team at Pivot Legal worked to help residents of the Anita Place tent city in Maple Ridge, B.C. in their fight to protect their encampment. For the second time, the City of Maple Ridge had threatened the residents with eviction by way of injunction. In October, the city reconsidered its approach and decided to adjourn its application.
During the B.C. Supreme Court hearing, the legal team entered into a consent order with the municipality to address life safety concerns at Anita Place and provide for resources such as fire-safe tents and tarps, as well as the installation of a modular washroom onsite.
Some might wonder what a commercial lawyer knows about defending the rights of the homeless, but Wotherspoon says it's about marrying together his years of litigation experience with the expertise of those at organizations that work for those who can't afford legal services.
"What I bring to the party isn't specialized knowledge in encampments but . . . 25 years of commercial litigation. DJ and others at Pivot [Legal] are the subject matter experts, but they don't have the same kind of depth of experience in litigation. DJ and I worked so much together we developed an excellent relationship with her deep knowledge in the subject area and my litigation skills," he says.
Wotherspoon concedes pro bono work is not always a short-term commitment.
"We were originally set for a three-week trial and then counsel for Abbotsford said, 'We think it's a six-week trial' and I was not about to bail out because of that. What I did was call out to a number of my friends in the commercial litigation bar in Vancouver to see if they could assist in a variety of ways and everybody I asked said yes, from small and big firms, and that was a heartening moment that so many people were ready to lend a hand," he says.
In one instance, Bob Cooper of McEwen Cooper Dennis LLP did all the expert evidence to allow Larkin and Wotherspoon to focus on the rest of the case, freeing Wotherspoon to continue to work for a longer period of time than if he was just getting ready for a six-week trial without that extra support.
"One of our concerns was getting witnesses to trial because we're dealing with a group of people who are homeless and many suffer from mental health issues, are regular drug users or both. So DJ [Larkin] put a lot of time and effort into developing relationships with people in the homeless camp, which created a lot of trust and allowed her to get people to come to trial," he says.
One of the impediments was that Abbotsford is a long way from where the trial was and so they asked Hinkson if he would go to the homeless camp. He said no, so Wotherspoon asked if some of the trial time could be in Abbotsford to make it easier for people to attend the trial. Hinkson said yes. That resulted in two days of evidence being heard at the Super 8 Motel in Abbotsford to allow those living homeless there to get there easily. "Some of the evidence was riveting," he says.
One man had grown up on a reserve in Saskatchewan. His mother had been through the residential school system and she taught him at the age of five how to inject her with heroin. "There were times she was so messed up she couldn't inject herself. Every word he spoke was painful for him, but he recognized the importance of having an opportunity to tell his story to the chief justice so that the chief justice would understand his particular path to homelessness," says Wotherspoon.
That man had gone on to become an auto body mechanic and had a wife and children. But he became allergic to some of the chemicals in auto body repair work and turned to injection drug use. "Those two days in Abbottsford were dedicated to giving people in Abbottsford an opportunity to get into court and explain their path to homelessness. When you learn that, I think it changes your perspective on homeless people. It could be any of us," he says.
Wotherspoon hopes those two days in Abbotsford have opened the door for other opportunities to accommodate access to justice. He would also like to see more lawyers consider what they can do to offer their time to pro bono work.
"I know lots of people who do this kind of work, but it's still a significant minority of the lawyers who participate in that kind of pro bono work. To do a six-week trial is hard — I was fortunate Fasken backed me the whole way. I was really lucky to have a firm that recognized the importance of the work and gave me the space to take it on," he says.
The Maple Ridge case has been very different. "We have developed a good working relationship with the external counsel for Maple Ridge and were able to negotiate a few things that are more helpful for both sides," he says.
Taking on pro bono work still remains a risk for some private practice lawyers. Wotherspoon knows of lawyers who have taken on significant pro bono cases and been punished for it. "I know someone who went down in the compensation grid for it and I think that's despicable," he says. "Dentons looks to all of their lawyers to do a certain minimum number of hours of pro bono work every year, which I think is laudable.
"What is five to 10 or 20 hours to a lawyer over the course of the year? It's nothing, but there are people who, if they had access to that little bit of [a] lawyer's time, would benefit dramatically. We're very fortunate to be lawyers. I personally think it's incumbent upon all of us to provide at last some pro bono support to people in need."
While he acknowledges that law firms are businesses and have to make a profit, at the same time, taking on pro bono work gives young lawyers an opportunity to do things they might not have an opportunity to do if they were only doing client work.
"You can be exposed to different areas of practice and get more court time by devoting even a small amount of time to pro bono work. It's built into my business plan."