Alberta created four new judicial positions, filled eight judicial vacancies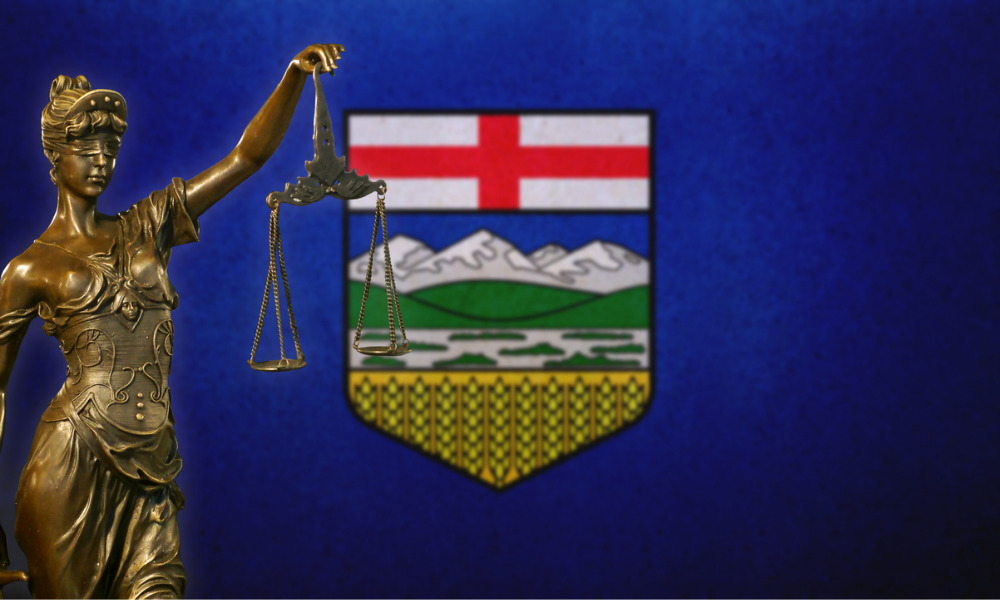 Ministry of Justice and Solicitor General has announced the appointments of 12 new judges to the Provincial Court of Alberta.
The ministry said that the Alberta government created four new judicial positions and filled eight judicial vacancies to increase the ability of the provincial court "to provide a fair, accessible, and timely system of justice for all Albertans."
"I am proud to be part of a government that recognizes that invaluable contribution and honoured to be able to announce the first expansion of the provincial court since 2018," Minister of Justice and Solicitor General Tyler Shandro.
The provincial government appointed Aldo Argento, Joanne Heudes, Kimberley Palichuk, and Jayme Williams to occupy the four new judicial positions.
Argento is a former senior partner at Norton Rose Fulbright Canada LLP. He practises litigation and dispute resolution, focusing on Indigenous law, interpretation of treaty and Aboriginal rights, international commercial arbitration, and insurance and tort cases.
Heudes was operating her own law firm, Law on Main, in Athabasca when she received her appointment. She regularly deals with family, real estate, wills and estates, and child welfare law matters.
Palichuk recently served as an executive legal counsel for the provincial court chief judge. She has practised primarily in the areas of civil litigation, tax, finance, energy, construction, administrative and regulatory proceedings, Aboriginal rights, and constitutional law.
Williams was previously with the Alberta Crown Prosecution Service, where she held the roles of project counsel, executive director, and chief prosecutor. She is currently the vice-chair of the criminal section of the Canadian Bar Association.
Meanwhile, the following appointees filled the eight judicial vacancies:
Annetts was a member of the Royal Canadian Mounted Police for 25 years. He served as an executive director of the legal and regulatory services division of the Edmonton Police Service (EPS). He also worked as a general counsel for the chief of police and dealt with matters involving the EPS and its members.
Chang (Trang) Thi Doan Du
Du recently worked as a senior counsel for the tax law services section of the Department of Justice of Canada. She has extensive expertise in taxation and tort litigation. Aside from her legal practice, she is an active member of the Federation of Asian Canadian Lawyers.
Findlay has been with Findlay McQuaid Law as a partner since 2016 until his appointment. He has regularly advised clients on matters relating to child protection, wills and estates, adoption, private guardianship, and residential real estate.
Hinkley is a former chief Crown prosecutor in Grande Prairie. Moreover, he served as a legal counsel for the RCMP and prosecuted criminal and drug cases in Northwest Territories and New Brunswick. Outside legal work, he is involved in various restorative justice committees, mentorship programs, and community outreach teaching initiatives.
Linton was operating her own firm for over 30 years when she joined the bench. She has represented clients in child protection proceedings, dependent adult applications, and custody disputes.
Nordin was the chief federal prosecutor for the Public Prosecution Service of Canada in Alberta when he was appointed. In this role, he provided advice on major criminal organizations and assessed applications to intercept private communications.
Putnam recently served as a managing partner at Putnam & Lawson in Gibbons and Morinville, where he has assisted clients on matters related to real estate, corporate law, wills and estates, and subdivision and land development.
Tchir worked as an assistant deputy minister for the legal services division of the Ministry of Justice and Solicitor General. She was a prosecutor in federal and provincial prosecutions services for over 20 years and worked as a law professor at the University of Alberta.
"On behalf of all the judges and justices of the peace of the provincial court, I welcome these outstanding appointees to our bench," Derek G. Redman, provincial court chief judge, said.