B.C. legal regulator says mitigating factors to make clients whole enough to avoid disbarment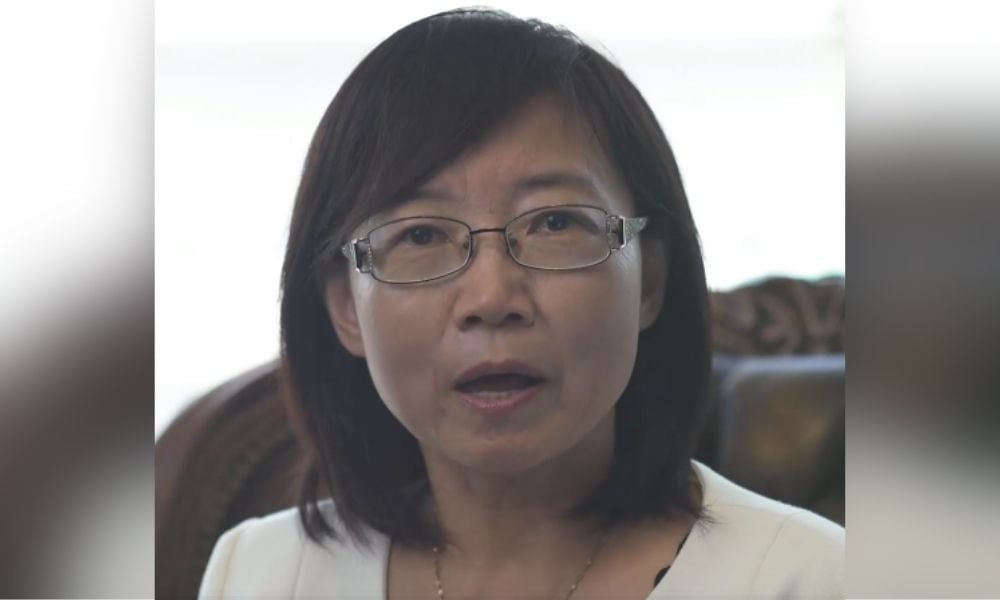 Hong Guo, a well-known B.C. lawyer and former mayoral candidate for the City of Richmond, has been given a one-year suspension for failing to properly supervise her bookkeeper, who is alleged to have stolen $7.5 million in trust funds and fled to China in 2016.
A Law Society of British Columbia tribunal had found in late 2020, following a hearing earlier that year, that she committed professional misconduct.
She did this by failing to supervise her employees, failing to comply with trust accounting rules, and leaving a series of blank signed trust cheques with her bookkeeper, which facilitated her bookkeeper's theft of $7.5 million of client trust funds. As well, the society tribunal found Guo, who deals mainly with real estate and immigration law, had breached several undertakings and orders, which it had imposed earlier after investigating her practices.
The panel also ruled Guo, admitted to the bar in Saskatchewan Bar in 2000 and B.C. in 2009, misappropriated trust funds from some clients to replace funds missing from other clients' trust accounts needed to complete pending real estate transactions.
The Law Society of British Columbia was seeking disbarment. However, the tribunal dealing with the case said in its ruling on disciplinary action released this week that the steps to mitigate the damage of the theft (which itself led to misconduct breaches as she moved money around) warranted a punishment less than total expulsion from the legal profession.
The panel also noted that Guo currently has no access to a trust account and is practising under the supervision of a lawyer. Her suspension will commence on December 1, 2021.
"We accept that the presumptive sanction of disbarment would at first glance apply to the respondent., the tribunal wrote in its decision. "However, we agree with the respondent that exceptional circumstances exist that explain and mitigate her misconduct."
It pointed to three circumstances that collectively amount to exceptional circumstances that mitigate against disbarment.
First, Guo provided family funds of about $2.6 million ($1.69 million shortly after noticing the theft in April 2016, the rest between 2017 and 2019) to help eliminate the trust shortage caused by the theft. Second, she attempted to deal with massive theft allegedly made by a trusted employee. And finally, with some exceptions, most, if not all, affected clients were eventually made whole through funds paid from the family funds and an employee defalcation insurance policy that paid out $4 million.
"To be clear, we do not condone [Guo's] actions in this case. However, for the purposes of deciding whether. . . disbarment should apply in this case, we find that the three circumstances viewed collectively amount to exceptional circumstances that explain and mitigate against an order of disbarment."
The tribunal made the point that while Guo created the circumstances that led to the theft, she was "essentially caught between a rock and a hard place," and many of her clients' pending transactions were impacted by the massive theft. Guo deliberately manipulated her clients' trust funds to close pending transactions, the tribunal ruled.
However, "we accept [Guo's] evidence that she believed that by manipulating her trust funds in the manner she did, she could minimize the global impact of the massive theft on her clients."
The tribunal also said Guo's intention of minimizing the adverse impacts on her clients was "not contrary to the public interest," although "her means of doing so by intentional misappropriation of trust funds constitutes professional misconduct."
The case dates back five years when from late February to March 31, 2016, $7.5 million in trust funds was taken from Guo's former conveyancing assistant using the pre-signed blank trust cheques. On April 1, 2016, after returning from a holiday, Guo discovered the theft when she could not find her bookkeeper to review her monthly trust reconciliation statements.
The former employee, who was later arrested in China, is believed to have laundered the cash at a casino before fleeing. Guo had told the society's disciplinary panel that her mistake "was placing trust in her employee who took advantage of her trust to commit a sophisticated scam," but that her actions didn't amount to professional misconduct.
In its argument for disbarment, the law society argued that Guo, who made a failed bid for mayor of Richmond in 2018 while her case was being investigated, denied the extent of her misconduct and attempted to downplay her role and responsibility for creating the circumstances that led to the bookkeeper's theft. Accordingly, it said, she should not be given credit for her "last minute" admissions of responsibility.
Alistair Vigier, CEO of ClearWay Law – a database where people can connect with lawyers like Guo and retain services or leave a review – said in an email the law society tribunal "has made it clear in their decision that Ms. Guo was not involved in the fraud and theft.
She "did not benefit from the fraud, and perhaps was the second-largest victim in the case, after the insurance company."
He added he believes the one-year suspension is the "correct decision" given the mitigating factors outlined by the tribunal."
Vigier also said that while lawyers have a duty to oversee non-lawyer staff, "it's impossible to oversee the staff" at all times.
"Lawyers go to court, they go away on vacation, and they have meetings with clients. Lawyers must be able to trust their legal assistants, paralegals, bookkeepers, and accountants. Lawyers cannot micromanage non-lawyer tasks, nor should they."
The "teachable moment" from this case, he said, is how a lawyer should react when the worst-case scenario happens – checking the trust account to find that money is missing.
"Ms. Guo was in a panic and started moving trust money around in order of priority. She shouldn't have done this. She should have left things as they are - a total disaster with $7.5 million missing. She then should have contacted the police, the law society, and her clients right away. By trying to make things better she opened up herself to discipline from the LSBC."