She worked on cases such as the Sixties Scoop and the forced sterilization of Indigenous women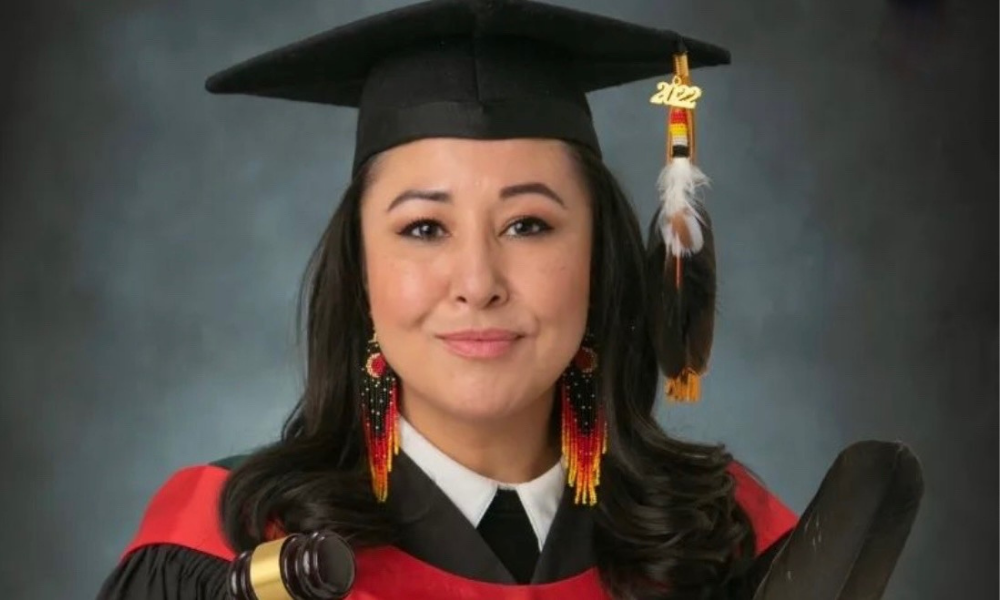 Beside Anita Cardinal-Stewart's junior high yearbook photo was a caption saying: "Ambition: To be an actress or a lawyer." Today, she is a kokum (Cree for grandmother), a mother of three, a paralegal and a law student graduating from the University of Alberta.
From Woodland Cree First Nation, Cardinal-Stewart had her eldest son at 17. The barriers she faced at the time put her academic career on hold, and her dream of becoming a lawyer, she says, became "unattainable."
As her children aged, the desire to pursue a legal education grew. Thinking law school wasn't an option, so she became a paralegal.
Her family moved from Northern Alberta to Edmonton, and she completed the paralegal program at Grant MacEwan Community College.
Cardinal-Stewart worked on files such as the Sixties Scoop, the Newfoundland and Labrador Residential School settlement, and the forced sterilization of Indigenous women, of which her mother was a plaintiff.
After six years of working for a firm, she thought about law school again. This time, her dream felt more realistic.
"I can do this. I'm going to do this, however long it takes. Not for my career but for my community. My heart has led me to law," she says.
Now, at 45 years old, Cardinal-Stewart poses for her graduation portrait. The portrait shows her tassels replaced with hide from her late grandmother's traditional dress, an eagle feather gifted from her aunt's husband's nation, and a bear claw, which also belonged to her grandmother. Beading on the tassels represents the Four Directions and Treaty 8 colours: red, yellow, white and black.
She didn't meet an Indigenous lawyer until she was an adult, and that lack of representation played a role in why she hadn't pursued law earlier in life.
Cardinal-Stewart was drawn to law school because she wanted to be an agent of change. She joined the University of Alberta's Indigenous Law Students' Association and National Indigenous Students' Association and was elected president of both. She also sits on the Indigenous Bar Association as a student representative. These positions gave her opportunities to advocate for change.
"It's hard work, but it's worth it because of the positive changes you can make in people's lives and in communities."
Law school opened doors that played to her strengths. She says she learned what it takes to succeed.
"When you have a community around you, it's easier to succeed. When we come together, we don't even realize how powerful we are as a team and as a community. When people come together from their hearts, wanting to effect positive change, it can change the world. I'm starting to see that more and more."
Cardinal-Stewart is a winner of the Justice Rosalie Silberman Abella Prize, awarded by the Royal Society of Canada to 23 graduating law students. She says the award came as a surprise and reminded her of why she chose a legal career.
She didn't expect law school to be such a positive experience. Studying law has "fuelled a fire for justice," and she will devote the rest of her life to advocating for it.
"I don't want to ever limit myself ever again, and I realize now that there is no room for that in my life. I will say that to everyone else. Don't place limits on yourself."