Jurivision aims to promote the sharing of legal knowledge through accessible audiovisual content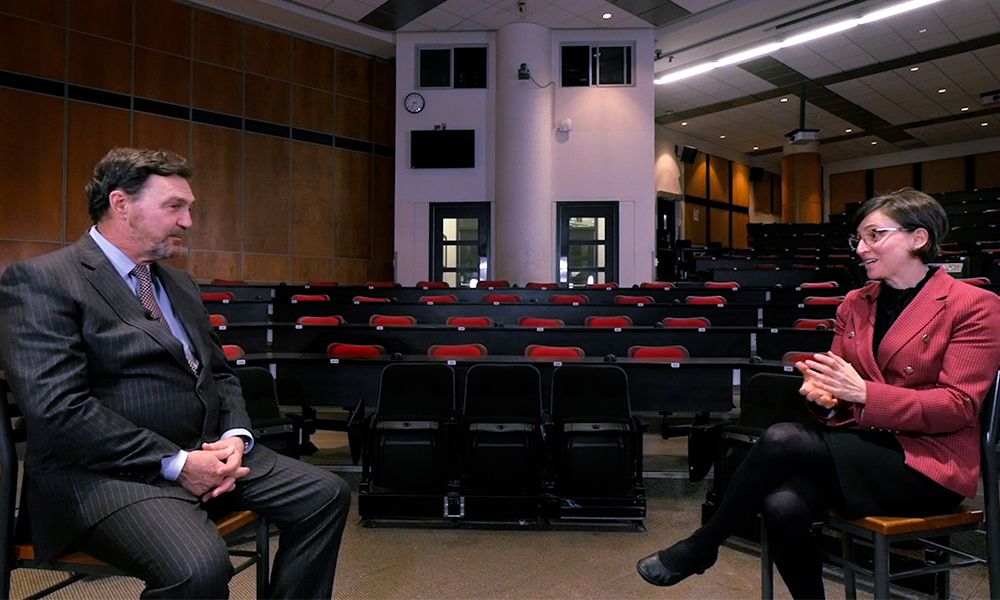 In February the University of Ottawa's Faculty of Law, Civil Law Section launched an innovative video storytelling project. Among the first crop of videos was an interview with the chief justice of Canada, himself an alumnus of the school, discussing his vision for the Supreme Court.
Launched on Feb. 9, Jurivision now has 15 visual posts; "and it seems like the sky's the limit right now," says Andrew Kuntze, research communications strategist for the faculty. Located in the nation's capital, the school is in the right location to get judges and legislators to participate, he notes; "there's a lot of possibility here."
Jurivision describes itself as "the audiovisual platform for law," a knowledge mobilization and visual advocacy project that aims to promote the sharing of legal knowledge through accessible audiovisual content. It's the brainchild of Étienne Trépanier, a lawyer at Justice Canada who has worked there as a litigator and as a legal adviser for the Department of Canadian Heritage legal services unit.
Trépanier, who also has a background in filmmaking, considered some of the work he was doing in Justice Canada, "trying to promote the use of audiovisual for knowledge mobilization, and the visual advocacy concept in law," and pitched the idea of a visual advocacy program to Marie-Ève Sylvestre, dean of Ottawa's Faculty of Law, Civil Law Section, and to the Deputy Minister of Justice. The idea was to create a platform that would host content, "not only for knowledge mobilization, but also for legal awareness."
The idea was accepted, and Trépanier was sent to the faculty from Justice Canada to lead the project for two years, as its filmmaker-in-residence.
Legal scholars and lawyers must learn to "write and read in images," he says, and "to reach out broader than our textbooks and our jurisprudence and our documents. There's a gap there," especially as younger generations use visuals and video more, which can also be more accessible to the public. Chief Justice Richard Wagner has also identified public accessibility of legal information as a priority, he notes.
Jurivision's "visual posts" cover several legal themes, including courts, criminal, labour and famliy law, and four "visual genres": JuriExperiences, or paths into law, to inspire law students (Canada's chief justice also discussed his own career in the law and his student days at the University of Ottawa; JuriKnowledge; JuryMetho, on researching law; and JuriDocs, which takes a researcher into the field, and shows how research is having an impact. A JuriDoc on food law is in the works, with the researcher and film team having been out to one farm already, with three others planned.
Other visual posts created so far include Professor Mariève Lacroix discussing how engaging in comparative law can help researchers gain new perspectives; and Professor Eva Ottawa, a member of the Atikamekw Nehirowisiw Nation, explaining her work on the traditions and customs that form the basis of her nation's legal order. A collaborative effort with the Public Law Centre of the University of Ottawa also looks at the legal responses to COVID-19.
"We're trying to take the knowledge from our researchers at the law school, and linking that to stories," says Trépanier, "to be able to produce little vignettes of legal awareness or knowledge mobilization, to draw the attention to the great work that they're doing, to the impact that their work may have on the system, in the community in general."
Elsewhere, Osgoode Hall Law School's Fund for Innovation in Law and Media funds "experiential education programs focused on the use of visual advocacy to address social justice issues, educate the public about the law and legal process, and enhance the practice of dispute resolution." Trépanier made a film, Collared: A Story of Insider Trading and White Collar Crime, on Canada's one and only criminal conviction for insider trading, through this program.
And Yale Law School has a Visual Law Project that "curates workshops, lecture series, and visual media that foreground the increasingly important intersections between visual content and the law … and train[s] law students to deploy visual content as a tool for advocacy."
Trépanier would also like to see more law students trained to use images as part of legal practice, and is teaching a class this semester called Visual Advocacy and Cinema Law, part of his role at the University of Ottawa's Faculty of Law.
"There's a great sense excitement around the law school," about the project, says Kuntze. "And who knows where we'll go from here? The sky's the limit."
Related stories