Lawyer explains why tech tools like digital client portals are key to the systems she now needs as a practice owner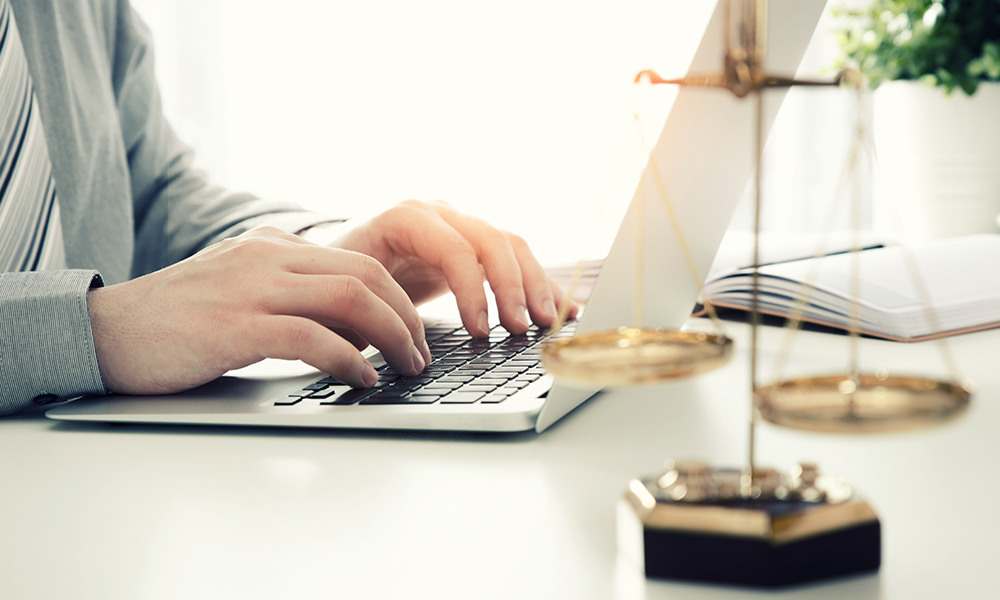 Sponsored article
Law firms haven't been exempted from a societal shift towards digital systems. Lawyers across Canada have come to rely on digital tools, be they for document management, paperless record keeping, workflow, staffing or practice-area specific tasks like conveyancing for real estate law. One area has been left relatively analog, though: client engagement. Lawyers have run most of their client engagement in person, via phone, or email without many holistic engagement platforms on the market for them to use, largely because what exists doesn't boast the security or deep record keeping a lawyer needs. According to one lawyer, partnering with a client engagement platform has been key in both navigating the new challenges of the COVID-19 pandemic and moving her practice into the future.
Marcela Halmagean immigrated to the U.S. from Romania at the age of 19 and went on to graduate law school, pass the bar, and build a successful practice in corporate litigation and family law. She built that practice around systems, organizing and creating efficiencies wherever she could. Technology has played a key role in creating those efficiencies in Halmagean's practice. Recently she's partnered with a client portal called Moxtra. Halmagean has used Moxtra to digitize aspects of her practice that had previously been stuck in analog. Moxtra's digitized client service has proven essential to her during the COVID-19 pandemic. To Halmagean, though, this platform isn't just a stop-gap during an unprecedented event, she sees digital client portals as the future for legal practices worldwide because they create systems that can cope with the demands of a modern practice.
"I needed [a digital platform] to pull in my staff," Halmagean says. 'If a client has a question and I'm in court for a trial, someone can get back to them and ask 'can I help? If not, she's in a trial but can get back to you when she becomes available.' There's a constant umbilical cord that exists between clients and the practice…On a Saturday, I found Moxtra in an article that compared several platforms…the rest is history."
Halmagean needed a that system for continuous communication with clients. A private voicemail with the promise of a 24 or 48-hour callback isn't enough for client service in today's digitally connected world. Moxtra provides a platform for secure instant chat, allowing clients to message the whole firm, meaning any issues that can be addressed by Halmagean's staff are dealt with immediately. If the issue takes Halmagean's personal attention, the client is immediately informed with a quick note from Halmagean herself, making contact with client in case of an emergency.
Addressing some of those issues takes more than a phone call. Halmagean says when she's on the road, or forced to social distance from her clients, she relies on Moxtra's integrated video chat functionality. While video chat platforms seem dime-a-dozen these days, Halmagean says she, her staff, and her clients love the integration of the video chat in the wider client communications portal, meaning the conversation is seamless as it shifts from instant message to video chat and back again, with the ability to share documents in real time.
The record of those conversations, too, can be quickly archived in Moxtra's binders. The platform allows Halmagean and her employees to search those binders rapidly, rather than combing through years of past communication, to pull up the most relevant information. All those records exist under Halmagean's sole administration, which she says is crucial for a small independent practice. She has the control over confidentiality and can audit the activity of her whole staff. If someone leaves the firm, there's no risk that they could take any confidential information with them.
Learning Moxtra took Halmagean one day. "Moxtra is completely intuitive," she said. That quick uptake was crucial, too, as she found Moxtra at maybe the most critical moment for a firm to add a digital portal.
"I found Moxtra right at the right time, just as North America went into lockdown. New clients, old clients, everyone accepted Moxtra. I had nonstop business because clients didn't have to drive to my office and I didn't have spend almost half my day in the car while managing the office. We have daily meetings with clients, one after the other, meeting one deadline after another. All of this has been done on Moxtra."
Halmagean says that tech tools like Moxtra are key to the systems that drive her success. She says that lawyers need to invest regularly in software to ensure security of their files, and that their systems are as efficient, protected, and modernized as they can be. She developed that philosophy as a young immigrant, adapting to a new culture and a new language, and a systems approach has taken her from strength to strength.
"I know Moxtra is going to do amazing things for professional firms," Halmagean says. "It coordinates, it pulls things together, it keeps teams and clients informed and involved in the process. They are part of the work, part of the goal. It shows everyone the reason they're working together and serving their clients."