Some tips for dealing with relatives who want legal advice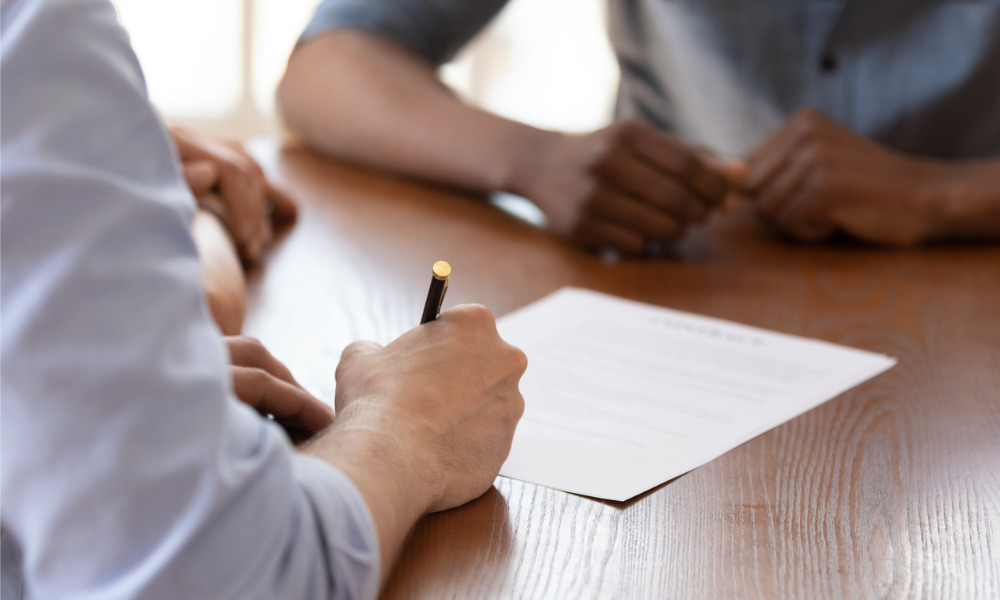 For many people, a lawyer in the family is often seen as a way to get free, or almost free, legal advice. But can a lawyer represent a family member in court, or outside? Should a lawyer represent a family member?
The answer to the first question is a qualified yes. Courts do not typically intervene in allowing a family litigant to choose their lawyer, just as they generally don't interfere with litigants who represent themselves. However, there have been exceptions.
The answer to the second question is a bit cloudier. "There are many risks in representing a family member," says Juda Strawczynski, director of practice with LawPRO, the professional liability insurer for Ontario's lawyers. "It's risky because you already have a relationship, which can impact on your ability to give competent, candid, objective legal advice." A lawyer may feel a duty of loyalty to a friend or relative, but they also have the duty of loyalty to the legal profession.
So, if you're a lawyer who Aunt Minnie has asked to handle her real estate transaction or prepare her will, or if you're the daughter or son of a lawyer who is going through a nasty divorce and you want advice or representation from Mom on a legal matter dealing with family law, here are a few things to consider:
How about a potential conflict of interest?
Simon Chester, counsel for conflict and regulatory matters at Gowling WLG, says that "most regulators don't actually prohibit acting for family members, although they insist that lawyers be competent and avoid negligence." The Canadian Bar Association Code of Professional Conduct also deals with broad issues of real and perceived conflict of interest but doesn't specify when a lawyer can represent a family member in court.
Some law societies' codes more specifically take on the issue of when a conflict of interest arises with family members or friends.
The Law Society of Saskatchewan says lawyers can advise friends, family members, spouses, and other people with whom they are acquainted. The society's conduct code also says that "a lawyer is not in a conflict of interest simply because the lawyer is representing a family member or a friend." However, it also points out that "if the relationship is close and the matter acrimonious, the lawyer may be unable to remain professional and objective and, in such cases, it is best that the lawyer does not act as counsel."
Ontario's law society says a lawyer must be "honest and candid" in advising clients and prohibits acting in situations where there is likely to be a conflict of interest. "Where a lawyer is acting for a friend or family member, the lawyer may have a conflict of interest because the personal relationship may interfere with the lawyer's duty to provide objective, disinterested professional advice to the client."
The Law Society of British Columbia also describes how the judgment of a lawyer who has "a close personal relationship, sexual or otherwise, with a client" may be compromised. "The relationship may obscure whether certain information was acquired in the course of the lawyer and client relationship and may jeopardize the client's right to have all information concerning his or her affairs held in strict confidence."
When might it be okay to represent family?
Chester says that if you are a specialist, and the work doesn't involve family sensitivities, it's probably okay. "For example, if a lawyer has a reputation in the community for dealing with driving while impaired cases, the fact that she is doing it for a relative is irrelevant."
Similarly, Chester says if the task is essentially navigating a government system or registry, it shouldn't pose a problem. "So, somebody who does a lot of house purchase and sales would be perfectly fine handling the legal aspect of a house purchase for a relative."
The one thing to avoid is highly contentious litigation, particularly when the family interests are divided. Says Chester: "It would be absolutely inappropriate for a family member to try and litigate a custody dispute," he says. "The court would have real doubts about the lawyer's independence and objectivity."
Two Ontario cases reflect the potential for conflict. In Zaldin v. Zaldin, the Superior Court of Justice ruled that a lawyer representing the husband in a custody dispute had to withdraw because the he was the husband's uncle and had a close personal and business relationship with husband's father. In Windsor-Essex Children's Aid Society v. D.(B.), the Court of Justice ruled a lawyer could not represent a respondent because he was the respondent's father and found to be personally and emotionally involved with both his daughter and her child.
Advising a family member can be a risky business
So, when does representing family or friends become risky for a lawyer? For starters, a lawyer may not be insured to act on behalf of family members, even if the regulator's rules don't specifically prevent it.
For example, in B.C., an exclusion in the province's compulsory professional liability insurance policy denies coverage for a claim arising from an error where the payment would directly or indirectly benefit the lawyer, their family, or the law firm. Family members are defined as a spouse (including a common-law spouse), children, parents, and siblings.
So, suppose a lawyer settles a family member's personal injury claim and is later sued for professional negligence for mishandling the case. In that case, the lawsuit against won't be covered because payment of it would directly benefit the family member.
Another risk in representing family and friends is that a lawyer may take on a legal matter in an area of law outside of their capacity, just to be accommodating. "In some cases, the lawyer may be asked to act for a family member even though the lawyer doesn't have experience in the area of law," says LawPRO's Strawczynski. "It's always safer for lawyers to avoid dabbling in new areas."
The message here is that a lawyer representing family in court doesn't always win like Joe Pesci does in "My Cousin Vinnie." That's the 1992 firm where a Brooklyn personal injury lawyer who failed the bar exam five times and has no trial experience still manages to get his cousin off on a first-degree murder charge.
Says Chester: "There are always risks that a lawyer will fall short of the normal standards they would apply to any other work when representing a relative." He adds that 'we've all heard relatives say, 'You're a lawyer, of course you know how to draft a will.' But if you spend all your time doing intellectual property or business law, your memory of what's involved in drafting a will may date back decades."
Payment may be awkward
Taking on a family member or friend as a client can lead to some awkward moments regarding how a lawyer will be paid. The friend or family member may expect a "friends and family" discount and may not be prompt in paying whatever fee is negotiated, or not pay at all. And, of course, it's likely harder to "fire" a client who is a relative or close friend if things go south.
On the lawyer's side of the equation, there might be too much informality due to the close relationship. Files may not be opened, steps might be omitted, correspondence might not be up to date, and agreements and instructions not put in writing.
A lawyer doing a favour by representing a family member or friend for free or at a reduced rate might not apply the same conscientiousness they would give a full-fee client.
Other possible risks of having a family member as your lawyer
Someone intent on hiring a lawyer who happens to be a family member or friend should also consider its impact on the relationship. If it is a private or embarrassing matter, or a sensitive family law case, will it be challenging to deal with them in social situations? Is there a risk that the lawyer may spill the beans on confidential information? All of this could cause the relationship to deteriorate.
Chester also points out that "simply because there's a lawyer in your family doesn't mean that they are the best person to help you – you wouldn't ask a paediatrician in the family to do a heart operation, would you?"
He adds, "bear in mind that you need to look at the experience and skill of your relative. And if it's something that's critical, you will be better off with a specialist." In addition to skill and experience, you turn to lawyers for their independence and objectivity. "Lawyers need to be able to give you bad news," Chester says.
It may be hard, but just say no
Strawczynski says the safest thing for a lawyer to do when asked by a family member is "to decline to act for family members by letting them know that you simply don't act for family." Many large firms have policies prohibiting their lawyers from acting on behalf of friends or relatives.
If appropriate, Strawczynski says, "refer them to other legal professionals for help." This could mean exploring a reduced billing rate with lawyers at the same firm for friends or family clients, or referring them to another firm, where a reduced rate might be offered as a professional courtesy.
Chester agrees, pointing out the best way to handle the situation "is to be candid about the complexity of what's involved and the need to have a good lawyer advising the family member." Have practical suggestions for where the family member could get help by giving directions to public legal information sites.
"It's always a good idea to have some names of lawyers available to offer, rather than having a family member reduced to googling the names of lawyers in the neighborhood, who is prominence on the Internet may not necessarily reflect the skill or competence. "
Some tips for dealing with family members who want legal advice
If you decide that you will take on legal work for a friend or family member, here are a few things to consider:
Schedule a meeting to specifically talk about the case
Don't talk about the case during family gatherings or in an informal telephone conversation
Maintain your usual practice standards
Open a file on the matter, have a retainer letter drawn up
Do a check for any potential conflict of interest
Communicate how the case is going - preferably in writing
Discuss fees, or whether this is one, at the start. Give any discount at the end
Check with your firm that it is okay to represent friends or family
If a sole practice, check with another lawyer
Says Chester: "If you are going to represent a family member, remember to formalize the relationship."
The relationship between you and a relative or friend "lacks the professional distance you have with other clients, and the emotional connection can cloud your judgement."