A new and unique program launched today by the Ontario Bar Association aims to identify, develop and advance innovations that will help members better serve their clients.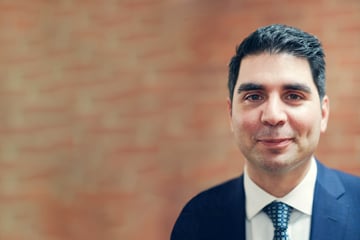 A new and unique program launched today by the Ontario Bar Association aims to identify, develop and advance innovations that will help members better serve their clients.
The OBA's Innovator-in-Residence program is groundbreaking in being the first that a bar association in Canada is offering, OBA president Quinn Ross told Legal Feeds.
"The amount of disruption, the speed of change and the dynamism of the legal marketplace is unprecedented," Ross says. "We wanted to provide our lawyers with the tools . . . to take advantage of this disruption and change."
Beginning in September, the OBA will appoint and support an innovator for a 10-month term each year, during which they will focus on a designated innovation theme of importance to practising lawyers. The OBA president will select the theme each year, and for this inaugural year it will be "law's people." The inaugural Innovator-in-Residence will be Peter Aprile, a tax litigator and founder of Counter Tax Lawyers and a producer of the firm's Building NewLaw podcasts.
Aprile's "visibility is impressive," says Ross in explaining the OBA's choice of its first Innovator-in-Residence. "He's known across North America as a leader in the innovation sector. A lot of people are talking about innovation . . . but there's no tangible, concrete method" with which to derive results, he adds.
"Peter will be able to take what he's learned" through his podcasts and innovation at his own firm, which has included new internal law firm and tax litigation methodologies, processes, software and other tools. "His passion is contagious," Ross says. "Once people get a load of Peter, they'll be engaged by not only the delivery but the passion by which he delivers it."
The OBA sees the innovator's role as identifying, developing and advancing innovations that will help lawyers better serve their clients. The association will then deliver the tools, services and support to its members and their firms.
"The innovator will be the visionary and architect, and the OBA itself will assist in creating the deliverable for the members," says Ross. An intellectual as well as practical component "will appeal to a wide range of members," he adds.
During the residency, Aprile hopes to "investigate ways in which law firms can evolve and unleash the potential in their people," he told Legal Feeds. "I think it starts with an open-minded investigation in terms of what's out there, what's possible and what's needed."
Technology is secondary in importance to organizational structure and culture of law firms, Aprile says, and while it's fine to look at "shiny new objects" such as artificial intelligence and blockchain technologies, "it's talent that wins."
The most talked-about technologies are not going to change the structure or organizational culture of a firm, he adds. Rather, "the people . . . form the foundation of these law firms and are arguably the most powerful members." Change through people can start with putting law students in the right positions and providing the right training, for example.
"The power is in the people; that's key before we can layer on technologies," says Aprile. Building a stronger law firm foundation through its people might include lawyers, their allied professionals, clients and traditional law firm leaders, i.e., partners, he says.
"Working to change people's actions without changing mindsets is folly," Aprile adds. But, "if our north star is client service . . . the particular tack will become much clearer."
It's critical to society that the legal profession continues to thrive and survive, says Ross in explaining the motivation behind the OBA's new program.
"As client expectations and economic pressures grow, the OBA innovator program will provide the tools to take advantage of disruptions and change, year over year."