Though he enjoyed his work as a commercial litigator, Allan Stitt found clients were rarely satisfied with the results. If they won — well, big deal, it was inevitable anyway. And if they lost, they felt betrayed. Litigation wasn't appearing, to him, an effective path to resolution.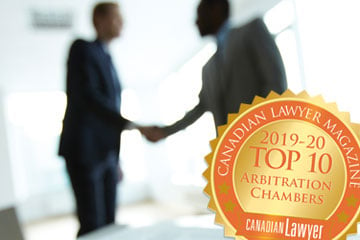 Though he enjoyed his work as a commercial litigator, Allan Stitt found clients were rarely satisfied with the results. If they won — well, big deal, it was inevitable anyway. And if they lost, they felt betrayed. Litigation wasn't appearing, to him, an effective path to resolution.
"Winning didn't feel nearly as good as losing felt bad," says Stitt, president and CEO of ADR Chambers.
It was a common refrain from those leading the 2019 Top 10 Arbitration Chambers that the catalyst for making the transition to ADR was the sorry state of the civil justice system, recently degraded even further by delays stemming from the Jordan decision.
"What we've really seen in the last 20 years is a quiet revolution in a civil justice system, where the expectation of counsel and their clients is that you're more likely to see your case resolved in a meeting room than in a courtroom," says Paul Torrie, founder and president of top arbitration chamber Global Resolutions, which he founded in 1996 and which has since grown to a panel of 16. Global Resolutions does arbitration in every area but family and labour law, and it offers mediation and class action services.
But there is a movement to continue the momentum toward faster, more efficient, less expensive dispute resolutions and a schism in the collective vision of where ADR needs to go. Stitt and others at the top arbitration chambers see change in the future of ADR, but they say professionals in the practice often disagree on the form it should take. Artificial intelligence tools are quickly becoming sophisticated enough to replace the flesh-and-blood meeting room negotiations, but at what cost? Some in the practice say that businesses want fast results and it's the job of arbitration chambers to deliver them. Others say that due process cannot be sacrificed for expediency.
According to Stitt, the future of arbitration is "faster, cheaper with less process." He says the "vast majority" of disputes are not fit for the courts or traditional ADR. It is up to professionals like him and his peers to be creative and develop faster, less expensive processes — even at the expense of due process. The test, Stitt says, as to whether someone is sufficiently forward thinking is if they are comfortable with a dispute resolution being subject to the flip of a coin.
"Many of my colleagues would say that that's heresy," he says. "The business people that I've talked to about it want to stand up and cheer."
Stitt adds that much of the pushback concerning due process, which is focused on the satisfaction earned by parties through the process, comes from a mistaken confidence that long, drawn-out processes produce a feeling of fairness and justice.
"They're less concerned about fairness because they think that, even in the long processes, they don't get fair results," he says. "So, they're going to be just
as uncomfortable in a short process as they will [be] in a long process.
"What we have to do is find a way to make due process faster and more efficient," Torrie says. "I don't think we can abandon due process. It's the bedrock of our system. So, we have to find more efficient ways to deliver due process."
Stitt, with the support of partners at Osler Hoskin & Harcourt LLP, went out on his own and started an ADR practice. Over 25 years, he has built ADR Chambers into one of the largest providers of private arbitration and mediation in the world. At the beginning of 2019, ADR Chambers and York Street Chambers — which was also voted on to the Top Arbitration Chambers list — merged and are now under the same management.
Canadian Lawyer determined the top arbitration chambers through a month-long survey of legal professionals across the country. Since ADR Chambers and YorkStreet Dispute Resolution Group Inc. had merged at the beginning of the year but were separately voted on to the list, they are included as one among the top 10. The nine other top arbitration chambers are: Alternative Resolution Group Inc., Arbitration Place, British Columbia International Commercial Arbitration Centre, Canadian Commercial Arbitration Centre, Global Resolutions Inc., Amicus Chambers, Ottawa Dispute Resolution Group Inc. and Bay Street Chambers.
In 2012, Brian Casey founded Bay Street Chambers, which practises commercial arbitration, split evenly between domestic and international matter. The firm's work focuses on commercial disputes, construction, shareholder and M&A, technology and intellectual property. Casey says he's recently seen an upsurge in technology and intellectual property arbitrations. While historically, he says, tech firms did not use arbitration, they appear to have changed their minds.
In 2019, a pressing issue for all arbitrators in Canada, he says, is the trend of companies using arbitration clauses to extricate themselves from class actions.
"What we're seeing is the courts are struggling to maintain the ability to have small consumer matters dealt with by class actions in the face of an arbitration clause," Casey says. "And the courts
are, in my opinion, stretching the law to try and attain justice but are harming commercial arbitration precedence."
Some provinces have passed laws to the effect that arbitration clauses are void with respect to consumers. Casey says the courts sometimes offer this benefit to commercial entities because it is being given to consumers, "and that is a problem." He says provinces need to look at the legislation more carefully.
"You've got to change the legislation one way or the other, because what's happening is courts are now saying we can in fact hear commercial cases, even though the arbitration clause is valid," Casey says. "And then the question becomes, OK, how far are people going to try and push that?"
Though he maintains that legislation is needed, Casey says a recent Supreme Court decision gave guidance on business customers subject to arbitration clauses that are participating in class actions. In TELUS Communications Inc. v. Avraham Wellman, customers of the telecommunications company formed a class action alleging TELUS rounded up calls to the next minute and thus overcharged them without notification. The motions judge certified the class as containing both consumer and non-consumer claims and declined to stay that of the non-consumers. TELUS argued that the non-consumer claims are governed by the mandatory arbitration clause and ought to be stayed. The Court of Appeal of Ontario ruled the motions judge had it right, but the Supreme Court differed — in a five-to-four majority — finding the judge was entitled to stay the claims and force the business customers to arbitrate.
Top arbitration chamber Alternative Resolution Group Inc. is led by Shari Novick and Guy Jones. Earlier in her career, Novick was a litigator in private practice, but she says she was drawn to the neutrality of ADR. She became an arbitrator with the Financial Services Commission of Ontario and served two terms in the office of adjudication at the Ontario Labour Relations Board. Now having moved from public to private sector ADR, she spends her time mediating employment disputes, including disability and wrongful dismissal, as well as human rights disputes.
She arbitrates many unjust dismissal claims and other
labour grievances.
"We have a lot of collective experience between the two of us," she says. "We've got something like 50 years between us of dispute resolution experience. And that means that I think we hit that sweet spot between being flexible and letting the parties involved dictate the process that works best for them. But we are skilled enough to guide the ship, so to speak, toward an effective resolution."
How we did it
Canadian Lawyer asked lawyers, in-house counsel and clients from across Canada to vote on the top arbitration chambers. They were asked to rank their top firms from a preliminary list, with a chance to nominate a firm that was not included on the list. To be considered in the vote, firms were required to have at least 80 per cent of their business come from arbitration. The final rankings were determined through a points system, in which firms were rewarded on a sliding scale for the number of first to 10th-place votes received. The quantitative results are combined with feedback from respected senior members of the bar and in-house counsel when applicable. For additional information regarding the methodology & criteria, please find a full description of our methodology here.
---
Top 10 Arbitration Chambers
(listed alphabetically)
ADR Chambers
Toronto
adrchambers.com

ADR Chambers was founded in 1994. It is the largest private alternative dispute resolution company in the world, having administered more than 55,000 arbitrations and mediations over the last seven years. ADR Chambers has more than 50 neutrals who conduct arbitrations and mediations across Canada and internationally. It has regular arbitration rules and expedited arbitration rules for faster and less expensive arbitration. On top of arbitration and mediation, ADR Chambers offers ADR systems design, coaching, fairness monitoring, ombuds, neutral evaluation, training, workplace investigation and other services.

"Professional."

Alternative Resolution Group
Toronto
argroupinc.com

AR Group was formed in 2000 as a boutique arbitration and mediation firm providing dispute resolution services in the personal injury field. Its initial areas of focus included tort, accident benefits and LTD claims. When Shari Novick joined founding member Guy Jones in 2001, the firm expanded its focus to include similar services in the field of labour and employment law. Jones and Novick have each conducted thousands of mediations, throughout Ontario. They are both actively involved in conducting private arbitrations between insurers in priority disputes and loss transfer cases. Novick also conducts grievance arbitrations under collective agreements, adjudications under the Canada Labour Code and workplace investigations.

"Easy to deal with."

Amicus Chambers
Toronto
amicuschambers.com

Amicus Chambers is a collaborative group of retired judges of the Ontario Superior Court. Extensive judicial experience leads it to independent practices that create distinctive and innovative dispute resolutions. Amicus members manage complex matters efficiently and effectively through all levels of the process, from evaluative and interest-based neutral mediation to adjudicative arbitration. Its offices are located at Neesons Court Reporting in Toronto. As a collaborative group of retired judges, its services cover arbitration, mediation and complete case management with superior bench strength.

"Excellent service."

Arbitration Place
Toronto, Ottawa
arbitrationplace.com

Arbitration Place is an arbitration centre with world-class facilities in both Toronto and Ottawa. Featuring a roster of internationally renowned resident and member arbitrators, Arbitration Place offers an "all-encompassing approach:" state-of-the-art hearing rooms, a full suite of administrative services including court reporting and transcription, an on-site commercial kitchen staffed by a team of chefs and in-house legal counsel to act as tribunal secretary. Arbitration Place puts parties in the best possible place to resolve disputes. Arbitration Place also serves as a hub of Toronto's and Ottawa's litigation and arbitration communities, and it frequently runs educational programs on domestic and international topics of interest.

"Good service, great results."

Bay Street Chambers
Toronto, London (U.K.)
baystreetchambers.com

Founded in 2012, Bay Street Chambers consists of senior barristers practising exclusively as arbitrators and mediators in international and domestic commercial disputes, both ad hoc and administered under the auspices of the leading international arbitration institutions. Bay Street Chambers has three active members, all with more than 40 years of experience as commercial litigators: Brian Casey, former international partner at Baker Mackenzie, Joel Richler, former senior litigator and partner with Blake Cassels & Graydon LLP, and Martin Sclisizzi, former senior counsel and partner at Borden Ladner Gervais LLP. The group specializes in infrastructure, energy and complex corporate and commercial disputes.

"Efficient."

British Columbia International Commercial Arbitration Centre
Vancouver
bcicac.com

The BC International Commercial Arbitration Centre is a non-profit organization committed to offering businesses and individuals alternatives to resorting to court to resolve disputes. Established by the province of British Columbia in 1986, with active support of the Canadian federal government, BCICAC was part of an early initiative to position Vancouver as a leading centre for international commerce and finance. Almost half of the centre's 117 panelists serve on the international panel, but domestic commercial arbitrations, including domain name disputes and underinsured motorist protection disputes, are a major source of cases for BCICAC.

"Excellent client service and thoroughness."

Canadian Commercial Arbitration Centre
Montreal, Quebec City
ccac-adr.org

A non-profit organization and recognized leader since 1986 in alternative dispute resolution services, Canadian Commercial Arbitration Centre acts as representative and independent manager of private, public and para-public arbitration programs. CCAC ensures (via the centre's clerk office) that procedural acts, proceedings and choice of arbitrators, in view of costs and time, are proportionate to the nature and purpose of the claim and the level of complexity of the litigation. Because it is a non-profit organization, there is no charge for services related to the opening of the file and associated services, particularly those relating to the study, evaluation and material organization of the file, including the preliminary discussions with the parties as well as registry, filing and treasury services.

"Seem to resolve many cases, which free up the courts. Well-run sessions."

Global Resolutions Inc.
globalresolutions.com

Global Resolutions is a provider of mediation and arbitration services. Its expert panel members are all seasoned counsel retained to resolve complex, commercial, insurance and estate matters, mass torts and class actions. Global Resolutions, with clients in Canada and the U.S., continues to grow and expand its panel to service its clients in all regions of the country. The firm practises in the areas of agriculture; class actions; municipal, police and government liability; sports and entertainment; corporate and commercial; health care; insurance; personal injury; real estate and construction; wills and estates and workplace disputes.

"Great customer service."

Ottawa Dispute Resolution Group Inc.
Ottawa
odrg.net

Ottawa Dispute Resolution Group Inc. was founded in 2004 by James Chadwick, former Superior Court regional senior justice for the east region, and two long-time colleagues of the Ottawa Civil Bar, Brian Parnega and Walter Langley. They were joined in 2014 by Albert Roy, former Superior Court justice for the East Region, who for 20 years presided over a wide variety of cases in both official languages. Together, the firm offers extensive judicial and civil litigation counsel experience in mediation, arbitration, settlement conferences and private trials, and individually, the members of ODRG work with all parties to resolve complex civil matters.

"Fantastic!"

Taylor & Martyn Mediators
Toronto
taylormediations.com

Since 2001, Taylor & Martyn Mediators has been providing mediation and negotiating services, conflict system designs, and in-house training for negotiation, mediation and conflict resolution skills. The firm's three dispute resolution experts, Pamela Taylor, Barbara Martyn and Albert Suissa meditate short and long-term disability, creditor, life, and personal injury litigated claims as well as employment claims.

"Better than most."