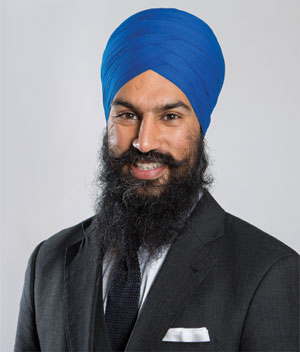 Jagmeet Singh stands out. In the bespoke suits and custom-fitted shirts he favours, Singh looks like he should be on the cover of a glossy magazine — which he was when
Toronto Life
named him to their best-dressed list last year.
His election to the Ontario Legislature in 2011 was similarly eye-catching. Singh increased the NDP vote in his riding by 26 per cent, capturing a seat his party had previously never been competitive for. This year, while NDP candidates across the Toronto region were being mowed down by the Liberals' Big Red Machine, Singh increased his vote share by another six and a half points. He's young too — at 35, the former criminal defence lawyer is one of the youngest MPPs at the legislature.
And there's really no other way to say this, but Singh is cool. He's a mixed-martial arts practitioner and has competed internationally. He gets photographed for street-fashion blogs by people who have no idea what his day job is. Save for the three provincial party leaders, Singh has more than 28,000 Twitter followers, that's 10,000 more than the next closest MPP.
Jagmeet Singh is used to standing out. But he didn't always think it was a good thing. Born in Toronto's Scarborough area, Singh lived at various points in India and Newfoundland before settling down in Windsor, Ont., a fairly homogenous city at the time. "Being brown-skinned, having a name like Jagmeet, having long hair while being a boy — these were three really good reasons to get picked on," says Singh, speaking at his Queen's Park office. He's dressed to the nines as usual in a three-piece suit with thick pinstripes and a bright-red dastar on his head.
At a young age, Singh realized that wherever he went, he was going to get looked at. He figured he had two choices: "I could hide from the stares, but I'm not going to get very far with that because I'm pretty noticeable. Or I could say, I'm going to get looked at anyways — let me give them something to look at. If they're going to look at me, be the sharpest-dressed person. Let me be the most confident person. Let me be someone who is well-spoken and articulate."
And along with that swagger, his childhood imparted him with a sensitivity to the injustices and inequality faced by everyday people. When he went off to the University of Western Ontario, Singh expected to follow in his father's footsteps and become a doctor. But a philosophy of law professor urged him to consider a legal career. He decided at the last minute to apply for law school and drove to Guelph, Ont., to submit his application directly to the Ontario Universities' Application Centre hours before it was due.
He found law school intellectually engaging, but couldn't settle on a career path. By the time his bar admission course was coming to an end, Singh still hadn't settled on a practice area, but he knew he wanted to focus on social justice. So he went to court to watch lawyers at work. At one bail hearing, he watched Richard O'Brien, a Brampton, Ont., lawyer, cross-examine a police officer and expose an unlawful arrest. "It triggered in me a memory of growing up in Windsor and sometimes feeling mistreated and that maybe that mistreatment that I received from police officers was unbalanced and driven by the fact that I was a visible minority."
So Singh decided to pursue criminal defence. "I thought that seemed like something I could really enjoy, making sure we defend the rights of those who are otherwise amongst the most vulnerable or who don't have a strong voice." He eventually landed a position at Pinkofskys, which was at the time the largest law firm in Canada that specialized in criminal law.
When Singh looks back at his time as a lawyer, the cases he recalls are of fundamentally good people caught up in bad situations — the community activist who grabbed a gun from a drug dealer and shot him in self-defence, or a man overloaded with debt, who steals someone's identity and then becomes a model citizen. As a lawyer, the fact that Singh stood out won him clients. "People would see me in court and say, listen, I like your style, I like your confidence, I like your swagger."
Singh would often volunteer his time with various social justice-related causes. One of them would eventually lead him to politics.
Kamal Nath, an Indian politician who is alleged to have led an armed mob that slaughtered Sikhs in Delhi 30 years ago, was coming to Canada to speak and meet with the government. "And we went to our local politicians for some assistance," says Singh, "and they turned a blind eye." The group of activists decided they needed one of their own in political office and they chose Singh as their man. "It took about six months of strong persuasion and some serious guilt-tripping, but I eventually caved in."
He decided to run under the NDP banner in the 2011 federal election, but lost by 539 votes. The Ontario NDP recruited him for the provincial election that same year, and he beat incumbent Kuldip Kular, giving the NDP its first-ever victory in Peel region.
At Queen's Park, Singh has served as the party's justice critic and the point man for auto insurance issues. And he continues to frame these debates through a social justice lens. For Singh, auto insurance isn't just a pocketbook issue, but a problem of discrimination. He likens the tactics of the insurance industry to "redlining," the practice of charging more to people based on the racially determined areas that they live in.
Singh has also emerged as the most high-profile advocate for Sikh rights in Canada. He's helped pass laws allowing kirpans, the ceremonial daggers worn by observant Sikhs, into courthouses. He's fought for exemptions to helmet laws for turban-wearing Sikh motorcyclists. And when a white supremacist massacred Sikhs at a Wisconsin gurdwara, Singh went down in solidarity.
For his efforts, Singh was acclaimed as Sikh of the Year in 2013 by SEWA, an India-based non-profit that promotes Sikhs globally. But when he tried to go to India to collect his award, Singh's visa was denied. "I am not liked by the Indian government very much," he says. That's because of his criticism of that government's human rights track record, especially when it comes to its decision to not prosecute officials accused of organizing the 1984 Delhi pogrom.
While his activism and profile have gained him plaudits around the world, Singh has also been rumoured to be a possible successor to Andrea Horwath for the NDP leadership. For now though, while Singh continues to stand out of the crowd, he's a little bit taken aback by his meteoric rise. "It's such a shock to me still that I've received so much attention," he says.