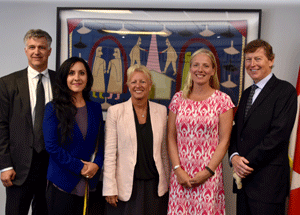 Renée Pelletier, managing partner at Olthuis Kleer Townshend LLP, has been appointed to the federal government's environmental assessment review panel.
Pelletier is of the Maliseet First Nation from Nova Scotia whose practice focuses on aboriginal and treaty rights litigation. A member of the Indigenous Bar Association, Pelletier has worked at Aboriginal Legal Services of Toronto, volunteered for the Native Women's Resource Centre and was a Native Court Worker at College Park Criminal Court.
Federal Environment Minister Catherine McKenna announced Monday that the four-person panel will deliver a long-promised review of how natural resource development projects are approved in Canada.
Environmental lawyer Rod Northey, partner at Gowling WLG, joins Pelletier, with Johanne Gelinas, former federal commissioner of environment and sustainable development, leading the panel and Doug Horswill, the retired vice president of Teck Resources, rounding out the foursome.
Pelletier says she is "excited and honoured to have been provided the opportunity to contribute to the government's review of environmental assessment processes."
The panel aims to "introduce new processes that are robust, incorporate science, protect the environment, respect the rights of indigenous people and support economic growth," Pelletier says.
"Additionally, the panel is aware of the importance of this review as it relates to the government of Canada's support of the principles of the United Nations Declaration on the Rights of Indigenous Peoples and its goal of renewing its relationship with Indigenous people and moving towards reconciliation. Further to this end, the panel has been directed by its terms of reference to reflect the principles of the declaration in its recommendations, as appropriate."
According to a press release, "Panel members were selected based on their knowledge, experience and expertise relevant to federal environmental assessment processes. The Minister also considered the need for diversity in terms of Indigenous, regional and gender representation."
"The panel had the opportunity to meet with the minister of Environment and Climate Change," Pelletier says. "We shared with her our goal, which is to deliver to her a robust report summarizing our recommendations and the input we receive from Canadians."
The panel will take into account industry's concerns that environmental assessments are too lengthy and complicated, as well as environmentalists' complaints the process fails to consider the protection of fragile ecosystems.
The panel will also take into consideration other reviews being conducted by Natural Resources, Fisheries and Oceans and Transport Canada.
The panel begins its work, starting with consultation opportunities, next month and is scheduled to finish by the end of January 2017.