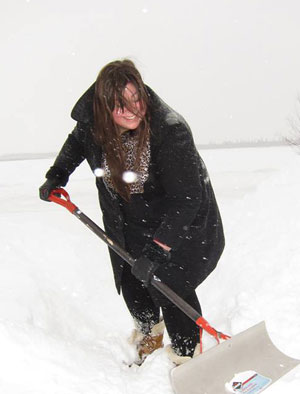 I thought I was well-prepared for life in Northern Ontario since I had an internship in Iqaluit in my last year of law school. Boy, was I in for a surprise!

I was shocked to find out that just to get to Moosonee, Ont., I had to drive to Cochrane, Ont., and then put myself and my car onto the aptly named Polar Bear Express. Moosonee is 19 kilometres from James Bay and accessible only by air or rail (where the track ends).

When the train first pulled into Moosonee in June 2012, I was warmly greeted by my articling principal who gave me a tour of the town. I was surprised there was absolutely no asphalt. There is a miniscule downtown (a.k.a. uptown depending on who you speak to) where the majority of the businesses are located, including the Northern. As a "southerner," I was mesmerized you could buy bread, a four-wheeler, and do your banking all at the Northern.

I articled with Keewaytinok Native Legal Services with executive director Paul Lantz as my principal. The experience was nothing short of life changing.

As a young First Nations woman, I knew I wanted to give back to my community through my legal career and KNLS was a great starting point. At first, I shadowed Lantz and staff lawyer Kathryn Hookimawillene, but I was soon given independence over files.

I was given a wide variety of work including the Criminal Injuries Compensation Board, Landlord and Tenant Board, Social Benefits Tribunal, and wills and estates. I was lucky to work in an incredibly collegial, supportive, and down-to-earth environment. This made dealing with difficult files so much easier.

Although I have spent a considerable part of my academic career focusing on aboriginal issues, seeing the real impact of long-standing socioeconomic issues facing the First Nations communities of James Bay was incredibly hard for me. I did a lot of work on CICB files and worked directly with mainly First Nations victims — a very eye-opening and tough experience. Sometimes those files took their emotional toll on me; once or twice I sat down for a good cry by the riverbank.

Life in Moosonee was a little lonely in the beginning as it was hard to meet young people. I noticed the mainly Cree population of Moosonee was more reserved than I was used to coming from a French-Canadian and Mi'qmag background.

After a few weeks, I was incredibly lucky to meet the wonderful receptionist who graciously invited me to a community dance. This turned out to be the best social invitation ever. A community dance is the pinnacle of Moosonee nightlife and everyone in the community attends these events. This is where I met a great group of young Cree women who helped make Moosonee a much livelier and less lonely place.

KNLS has a satellite office on the island of Moose Factory, Ont., home of the Moose Cree, located just across the Moose River from Moosonee. There is no bridge connecting Moosonee and Moose Factory so the locals have come up with an efficient, informal transportation system to conquer the divide. Depending on the season, you can take a taxi-boat, Ski-Doo taxi, car, or helicopter to the island. I always felt a bit terrified but also excited about the adventure of going over to Moose Factory.

Although KNLS doesn't practise family and criminal law, I became more familiar with both of these areas by attending court in Moosonee, which is held once a month and mainly serviced by the Timmins, Ont., bar. All of the lawyers and judges were very encouraging of my presence and allowed me to observe many aspects of the circuit court, including settlement conferences and client interaction. Going to court soon became my favourite time of the month!

Articling in Moosonee really was a once-in-a-lifetime experience. From travelling to work by helicopter, taking an impromptu trip to Attawapiskat First Nation on the ice road with a friend, fishing with a co-worker and her family, or hanging out on sandbars in the middle of the river on a sunny afternoon, I wouldn't change a thing about my experience there.

This summer, I joined Evans Bragagnolo & Sullivan LLP, a firm in Timmins, as an associate. I'm happy I'm able to continue to serve Moosonee and other Cree communities on the James Bay coast because really, the best thing about this experience was working with the people of Moosonee.

Lydia Lehoux was awarded a Connecting Articling Fellowship, funded by the Law Foundation of Ontario (lawfoundation.on.ca), for her articling term at Keewaytinok Native Legal Services.