After six years at Bank of Montreal, Bindu Cudjoe is moving to take on the role of senior vice president, general counsel and corporate secretary at Canadian Western Bank.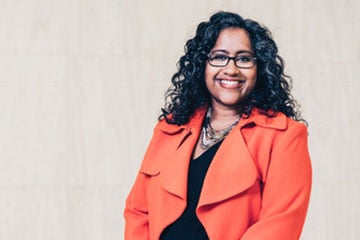 After six years at Bank of Montreal, Bindu Cudjoe is moving to take on the role of senior vice president, general counsel and corporate secretary at Canadian Western Bank.
Cudjoe is taking over the role from former general counsel Gail Harding who was in the job for 15 years and recently retired. During six and a half years at BMO, Cudjoe held a variety of roles, rising to the position of vice president, deputy general counsel, technology & operations, legal and chief knowledge officer. She is seen as a leader in the area of legal operations, diversity and inclusion and using technology to drive efficiency in-house.
"Reaching for a different opportunity gave me a lot of pause," says Cudjoe. "I've had such a terrific run at BMO and it's such a good organization. I've learned a ton and had a great boss [BMO EVP and general counsel Simon Fish] and terrific colleagues. It was a bit of a moment in time for me about where I am in my career. I feel like I have accomplished a lot but there's always more to do."
Canadian Western Bank is headquartered in Edmonton but Cudjoe, who lives in Oakville, plans to split her time between Toronto and the bank's home base in Alberta.
"I plan to do a lot of commuting," she says with a laugh. "The Ontario operation is based in Richmond Hill, but there is a desire to eventually establish a presence in downtown Toronto," she says, noting Harding lived in Calgary and commuted to Edmonton each week.
The bank serves personal and commercial clients primarily in Western Canada, but it has expansion plans for Ontario and beyond.
"I am super excited about the opportunity. It's been very bittersweet leaving BMO because I had such tremendous opportunities and met so many good people," she says. "It was definitely my choice and was about reaching forward towards something new."
Cudjoe was named one of Canadian Lawyer magazine's Top 25 Most Influential Lawyers in 2016. At the time, she led the operations of the legal, compliance, and investigative and security services groups for BMO. She was also the founding member of the Diversity Council of the legal, corporate and compliance group and co-chairwoman of the talent development committee in the areas of recruitment and retention. She has also played a key leadership role with the South Asian Bar Association.
Moving to Canadian Western Bank will be a big change in part because of its considerable smaller footprint and history compared to BMO. The bank has been in existence for 35 years and has 2,100 employees — a significant difference from a global entity such as BMO.
"When I started to think about what the other opportunities would be, obviously, banks were part of that. When I think about the larger Canadian banks why would I leave BMO to go to RBC or Scotia? They are all unique and different, but if I was going to leave to be part of another large organization I wasn't going to leave BMO to make a lateral move," she says.
She sees the opportunity at Canadian Western Bank as one to use all that she has done and learned at BMO to help grow the financial institution in Canada and specifically in Ontario.
"It's huge in Western Canada and for a long time most of its business was in Alberta and B.C., but it has a lot of ambition. That kind of lines up with who I am as well. While I think I was successful in navigating a large organization with a focus on growth in the U.S. the interesting stuff was happening in the growth market. The real innovation, and things you can do in a smaller organization, is pretty exciting," she says.
Cudjoe says Canadian Western Bank has invested heavily in its technology platform and the way they use technology "is exciting," adding that she wants to find ways to automate processes and use technology more broadly at the bank.
"I come from a legal department that was larger, but it had a different level of complexity. This is more a focused play. What I like about the company is I've seen them get into businesses and then get out when it doesn't make sense for them," she says. "It behooves us as a bank and as a legal function to really make sure we're wearing the lens of a consumer as we do things."
The legal team at Canadian Western Bank includes eight lawyers. Cudjoe says her first priority is to get to know the team and what they have been doing and what they see as areas for change.
"By my nature I am action oriented, but I certainly do not want to be arrogant enough to think whatever they have been doing hasn't been working because clearly it has. Do I see an opportunity for legal departments as a whole to work more efficiently? Absolutely. So, I want to look at what the business of the law department has looked like and make sure we have the best people and provide the best opportunities for those people," she says.
The legal function at Canadian Western bank grew organically under Harding and Cudjoe says while she doesn't have immediate plans to add lawyers she says it is at a "tipping point" to now say "How do we do law going forward?"
"I've got a lot to learn about how they've been running, but also I want to bring some technology and contract automation into play that I wanted to bring into places at BMO but was harder to do because it's a big organization with so many departments to bring on the journey. All of that learning and enthusiasm will be well put to use in this organization," she says.