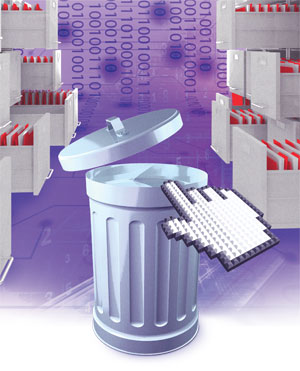 When an e-discovery project lands on her desk, Lisa Alleyne, senior counsel at Bell Canada, focuses first on making it smaller.
"I find our biggest success is doing a lot of the upfront work to make the file as small as we can, within reason, before we send it out to try to manage costs," says Alleyne. "That's the leading driver for why the [e-discovery] team was developed. We're always involved [in the process]."

As pressure mounts on in-house counsel to reduce legal department costs, they're rolling up their sleeves and taking up a portion of the work involved in the e-discovery process. Often, they're finding ways to reduce the scope of their collection work wherever possible.

Bell's legal department, like a growing number of others, relies on its in-house e-discovery team to do a fair bit of work before shipping out the review portion of the work to external counsel.

To make the work more manageable from the get-go, the key step, "and I think it's still a work in progress for most counsel," is having a direct and upfront meeting with opposite counsel to get as much agreement as possible on exactly what is required for production, Alleyne says. "You want to try to focus those issues as early as possible and narrow what the scope is of what we're looking for."

It's a growing trend external counsel are noticing, too.

"There's lots of technology now that makes managing e-discovery much easier and cost efficient for companies, so we're finding that some of our clients are bringing the tools and expertise in-house, in terms of the technology, even if they don't have large legal departments full of lawyers who are specializing in that area," says Kathryn Manning, who provides legal advice on e-discovery to law firms, corporations, and government at Wortzman.

"If the client's in-house resources are such that they've done a proper targeted collection, it makes it easier because we then get a data set that's already been reduced as much as possible," she adds. "We will often then have some other techniques and expertise that we apply to reduce it further before we give it to our review teams because we're always looking for ways to make things efficient for our clients whether they're in-house counsel or a law firm."

But in-house counsel should be mindful of the risks they're taking, says Sarah Millar, an e-discovery expert at Osler Hoskin & Harcourt LLP.

"The identification and the collection piece is, in my mind, probably where some of the greatest risks lie," she says. "So you can over collect and it ends up costing you when you have to deal with it down the line, or you can under collect, miss stuff, and get called out on it by opposite counsel or the regulator, whoever you're dealing with.

"There's absolutely a significant risk in doing it internally if you don't have a good sense of what you're doing," Millar adds.

Lloyd Wilks, managing director of CounselQuest Inc., agrees: "If you feel you've got a strong process but you do miss something, the inference is one that you may be trying to hide something or you may run into issues of spoliation."

Perhaps no one has been called out in a more public way than the Ontario government for faulty information governance in the recent scandal involving missing e-mails in relation to the cancellation of two gas plants in the Toronto area. South of the border, the U.S. State Department took heat for its inability to locate missing e-mails from its own records and the personal e-mails of former secretary of state Hillary Clinton.

"Ensuring organizations have strong information governance, along with employing more proactive e-discovery policies and methodologies, reduces the risk of inadvertently losing or missing important information, which often serves to build disclosure credibility and defensibility," says Wilks.

"When organizations are able to proactively identify information and disclosure challenges, they're more likely to get the benefit of the doubt," he adds.

The collection piece of e-discovery, while fraught with risk, can actually be done inexpensively, says Millar. "A custodian interview only needs to take half an hour. If you have 20 custodian interviews, that shouldn't be more than 15 hours," she says. "If I were in-house counsel, I think it would make sense to focus on ensuring your external counsel reduces costs during the processing and review piece."

The key, Millar says, is learning as much as possible about the e-discovery process before deciding to do any part of it in-house. Wilks suggests companies get an external "second pair of eyes to review their process" to ensure what they're doing is compliant with the requests they've received.

"Because the landscape is changing quickly, getting a second opinion or others involved is important," he adds.

At Bell Canada, what makes the e-discovery team successful is having a good forensic team, Alleyne says. "The people we have on it really know their stuff and can deal with data and managing volume."

Millar and Wilks agree that finding experienced e-discovery professionals can be a challenge. Millar contends people who work in his area seem to have the tech or legal aspect of e-discovery nailed down, but rarely both. "Law clerks don't have the tech and the tech people don't have the law," she says. "So finding an in-house resource is often difficult in terms of someone knowing what they're doing."

A major part of knowing what you're doing is being able to spot where data actually resides within your company, Millar says.

"I think that's probably the biggest issue that I see in in-house counsel," she says. "Like most lawyers, they're not particularly well versed in technological issues — they don't have a good understanding of the IT structures of the company or the firm that they're working at."

Often, lawyers tend to think they've got their bases covered if they can access e-mails and hard-copy documents for the purpose of e-discovery. "They don't realize that data can be stored in all different places — a file server to a SharePoint system to even people with iPhones," Millar adds.

Counsel also fails to appreciate how to collect information in a way that protects the integrity of the data, according to Millar, who adds it's important to know what data was collected when, and making sure it's collected in a way that preserves the metadata associated with it.

Things are even more complicated in companies that encourage employees to bring their own devices to work, Wilks says. In those circumstances, "I'd advise them to have a policy with respect to BYOD, but at the same time, you need to know what your limitations are," he says. "If someone comes asking for information, you might say, 'Well, we actually were aware of this device, but we know that there's no way for us to forensically capture it. We may be able to copy some information from the device, but there may not be a forensic way of doing that.'"

Another issue for in-house counsel is getting other people in their companies engaged in the process of e-discovery, says Millar.

"You've got in-house counsel doing their best, but nobody else at that client [company] really cares," she says, noting they don't always get a response from people they're reaching out to internally.

Despite these challenges, a variety of tools are making it easier for legal departments to tackle e-discovery with reduced costs. Alleyne likes e-discovery software from Relativity. "Most of the hosting vendors would use that or have access to a variation of it, and it's essentially a technology-assisted review format. It helps you to tag your documents in kind of a bulk way," she says.

The Relativity system makes it easier to identify duplicates, Alleyne adds. "The software works so that if someone reviewed the first document and tagged it, the system recognizes the duplicates and will tag all the others so that someone doesn't have to review each independent document."

But Alleyne says choosing the right technology isn't a one-size-fits-all exercise. Each company can get the tools customized to its needs, she says.

According to Manning, one important aspect of ensuring you have the right technology is making sure the tools help you with information governance and preservation for doing legal holds.

Most importantly, getting your house in order before there's litigation is important, says Wilks.

"Folks only turn their minds to that when there's an event, not before an event," he says. "Look at all your information and decide whether or not that information could be the subject of a discovery exercise — what it is, where it resides, and how best to extract that information."

The benefits of putting these systems in place and having good information management systems extend beyond e-discovery, Manning says, especially in an era of data breach and fears around cyber threats. Companies are realizing that if they have a breach, and documents are not in order, it could be a real problem. "They may have customer data that's been stored for 10, 15 years that gets hacked when really that information could have been disposed of if they had proper procedures in place," Manning adds.

Seven tips on doing e-discovery right
• Get to know your company's IT systems: Understand where information is stored, and think beyond e-mail and hard-copy documents.

• Know your limitations: You may be unable to capture some or all of the information stored in specific devices at your company. That may be the case, for example, if your company asks employees to bring their own devices to work. Create a policy around what information you can capture and what's beyond your capabilities.

• Know what you're doing: Learn as much as possible about the e-discovery system before you jump into the work.

• Find capable people: Ensure you have the best possible team armed with the right training to do the work. A good balance of technological and legal knowledge is important.

• Limit scope of production: Work with opposite counsel to reach consensus on what's required for production. A more manageable scope will reduce costs and allow for greater efficiency.
Be careful not to under collect information and get called out by opposite counsel, regulators, or, in some cases, the general public for incomplete production.

• Get the right technology: There are various tools out there to help you do e-discovery better. Find out what works best for your company and its needs. Get the right system in place before litigation arises.

• Seek external expertise: Getting a second opinion on your processes may work to your advantage. Talk to an e-discovery expert to see what you're doing right and what
you could improve on.