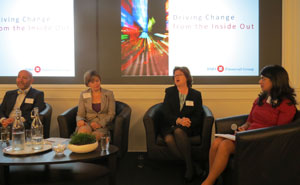 While some of the largest organizations in Canada have established the business case for embracing diversity in the legal profession, some law firms still aren't buying into the importance of diversity and inclusion.

On Sept. 30, the Bank of Montreal hosted a panel discussion featuring Canadian legal and business leaders from Dentons Canada LLP, Deloitte Canada, Xerox Corp., and NEI Investments. The discussion highlighted tools and insight to increase workplace diversity and inclusion.

The audience included managing partners of Canada's largest law firms that are also members of the Law Firm Diversity and Inclusion Network.

In 2013, as part of an RFI process, BMO began asking the law firms it works with to advise if they collected diversity metrics and, if so, to disclose them to BMO. That year, 34 per cent of the firms who responded, indicated that they did collect metrics and disclosed their numbers. In 2014, BMO followed up with a second request to the firms that they are working with. Ninety-seven per cent of those who responded indicated that they now collect metrics and disclosed those diversity metrics to BMO.

BMO executive vice president and general counsel Simon Fish said that in the future, the metrics will influence who the legal group chooses to do business with. He added that the TD Bank Group has also committed to requesting metrics from the firms it deals with.

"The banking industry is a major employer of legal services in Canada and is in a position to move the needle in the corporate diversity space," said Fish. "Law firms have never before been challenged in this way. This initiative will be an evolution for the industry with the goal of making a difference in the way we do business with suppliers."

Fish added, "This policy we're announcing will have traction. Firms who wish to do business with us now clearly understand that there is a bona fide opportunity to gain a competitive advantage over other companies vying for our business, not just by complying with our request for diversity metrics but also in our assessment of their diversity performance relative to their peers."

The bank hopes its diversity efforts will give law firms another reason to ensure their teams include people from different ethnic groups, members of the lesbian and gay community, those with different physical abilities, and a balance of men and women.

Dorothy Quann, vice president and general counsel at Xerox Canada, told law firm lawyers in the audience it's important they make sure all of their lawyers understand that if they're members of the Law Firm Diversity and Inclusion Network, they know it and understand what it represents.

"When you look at what is happening with in-house departments, you will start noticing there is a lot of diversity and we're the buyers of the services," said Quann, who's also president of Legal Leaders for Diversity.

"They are going to start noticing the requirements the banks have and you would hope that would start driving some meaningful engagement with the firms. Make sure the folks in your firm — associates and partners and managing partners — are aware of what [Legal Leaders for Diversity] is asking for and that you are all signatories to [the Law Firm Diversity and Inclusion Network]."

She said the business model for diversity is clear thanks to organizations like BMO and noted firms must now realize what it means for their future.

Dentons partner Kate Broer talked about the firm's diversity boot camp, something it created five years ago.

"People understood there were organizations like BMO asking us for diversity metrics, but in order for that to resonate and connect the dots internally, we started this boot camp. It was designed to be a booster shot for anyone in the organization with hiring and firing and promotion responsibilities," says Broer, who's also the firm's Canada region co-chairwoman of diversity and inclusion.

Every partner at Dentons has now been through the boot camp that addresses issues such as unconscious bias.

"For a period of time, we actually banned the word 'fit' in the organization when we were talking about recruitment because we realized it had no tangible meaning. We have worked to redefine this concept of 'fit' at Dentons. In some respects, it can mean 'unfit,' understanding we are now trying to look for differences because we know it brings things like creativity and innovation and different perspectives are what we really need," she said.

Broer said "a lot of skeptics come in the door" at the boot camp but lots go out the door "begging for more."

"When we're having those critical discussions around the partnership admission table, permission has been given to raise questions like: 'What do you mean that person has great potential? How come this other person doesn't have great potential?'"

Even the most progressive organizations should be challenging their own notions of diversity and inclusion to make sure they're on track, said Sonya Kunkel, chief diversity officer and vice president for talent strategies at BMO.

More than two years ago, BMO embarked on a "major change effort" it now calls its "diversity renewal agenda." "We had long been a pioneer in diversity and inclusion efforts, but there was a general sense we had plateaued a bit and perhaps even stalled in terms of our overall efforts," said Kunkel, adding it led to a concerted effort to revamp its governance structure around diversity and inclusion and establish goals around workforce representation, such as the proportion of women it wanted to see in senior leadership roles and an overhaul of its reporting system.

Kunkel says BMO also looked at the "attitudes and perceptions" that might be getting in the way of creating a culture that would support progress over time.

"We recognized that in order to effectively embrace diversity, we actually had to start thinking more critically about what it meant to create an inclusive workplace," she said.

Kunkel said the bank also wanted to look at how it could more effectively challenge judgments about talent.

"Sometimes I would hear comments about particular labels that were applied, whether it be to women or about other minority groups, and people wondered if that was really fair or could it be challenged in an effective way so that people would not be afraid of the conversation that might result," said Kunkel.

The bank also looked at how to prompt more effective conversations with employees. "We found that managers do not feel comfortable having effective career conversations with team members who are unlike themselves," she said. "It's not because they are not good intentioned or because they don't want to but they were afraid they might say things that were politically incorrect or they would come across as being biased. So as a result of being afraid, they would opt out of having the conversation, which of course over time accumulatively and disproportionately disadvantaged certain groups in terms of advancement in organizations."

Kunkel talked about "blind spots" people can develop over time that can develop into a stereotype they apply to someone who's different from them. "There's an old trope in organizations that [says] like respects like, that it's the very senior male who pulls up another male within the organization who looks like him. That is a real dynamic and often it's done unconsciously because of the way we are hardwired," she said.

To help bridge the gap between law firms and in-house counsel on the diversity issue, Quann talked about a mentorship program recently launched with Legal Leaders for Diversity and the Law Firm Diversity and Inclusion Network. Together, they're working to mentor pre-partner lawyers from the law firms. There are 22 participants representing about 17 law firms.

The pilot project pairs senior in-house counsel with pre-partner lawyers from the law firms.

One of the mentors is John Mountain, senior vice president for legal, chief compliance officer, and corporate secretary at NEI Investments.

"If there is one thing I hope to convey, [it] is the power of standing up and saying, 'I don't understand.' It's the importance to challenge. Certainly for me, as a gay person, I wanted to be invisible a lot of the time because I was afraid of being picked on or abused, in fact. So I want to help give him the comfort that I have gotten to over my 28 years of practising law," said Mountain.

Mountain said he wished law firms would "talk more fulsomely" on their web sites about their recruiting practices and provide contact information for those who lead diversity efforts and include videos of partner-level lawyers and their experiences working there.

Quann suggested firms that provide continuing legal education sessions should be more mindful about making sure the speaker panels reflect the firm's diversity.

"Make sure your panel is diverse. See if there is someone else who could speak to that issue," she said.